I first came across gDoc Binder at CES on a table Windows PC. The software enables you to digitally create a ring binder of documents, which can be formatted and organised as you would with a real-life ring binder. The table PC showing off the product in Las Vegas really helped demonstrate the ingenius user experience of the product, you could swipe through pages just as we are now used to when reading books on tablets.
gDoc binder officially launched on the 5th of March, and I've been playing around with a copy for a couple of weeks now. I've been trying out the traditional desktop experience. The instruction manual (which is a gDoc) was really useful in setting up, but it was really easy to get going. You start off with a template, choose how many tab dividers you want and create.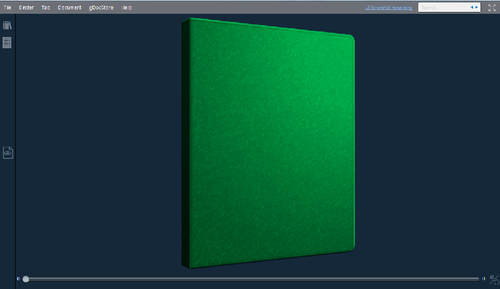 You "open" the binder by clicking on the cover once, and it opens to reveal a traditional looking ring binder along with a table of contents. Now this is where I began question the desktop user experience opposed to the tablet – the way the binder opens and pages turn is a little clunky on the desktop and also to mention that the graphics are a little Windows 95 for me.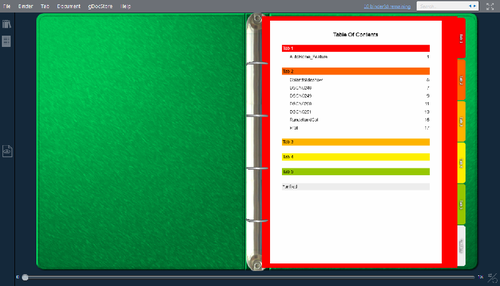 The good thing is that it supports over 32 different file formats, including PDF and word documents. I found that inserting files took a little while to load, but once it got passed the first couple of documents, it sped up. You can also drag and drop documents as well as multiple files, but it did have a little trouble with over ten documents.
The table of contents also automatically updates with the file names of the documents you insert.
I found the tablet view quite intuitive, being able to drag it into different positions and angles, and it also demonstrated to me again how I think this works much better as a tablet application. It currently exists as a Windows 7 and 8 PC and tablet application, with other operating system applications hopefully in the pipeline,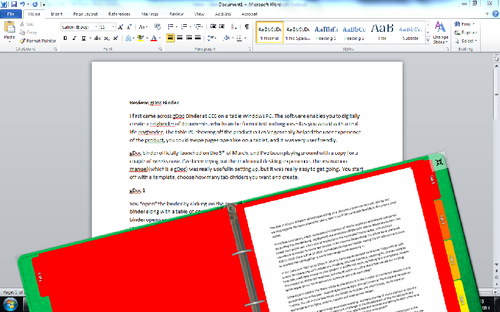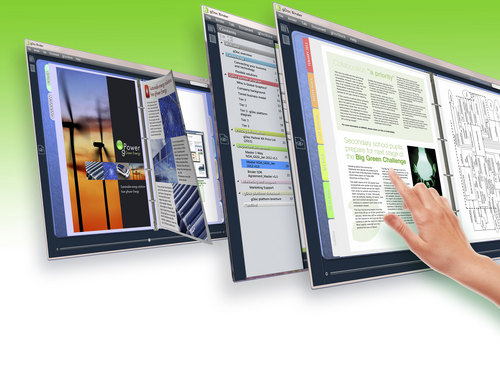 You can also create documents within your ring binder using the gDoc software – but for myself this wasn't particularly useful as I could just as easily import my word documents. You can share the binder in an email in a XPS document
The company recently won a KnowList Award for the professional service industry in the Technology Innovation category. The award was granted to the developer version of the software which allows IT departments and consultants to customize the software for clients, such as adding connectors into existing document management systems.
During the awards it was noted that the judging panel felt that gDoc provided a "tangible benefit" to the legal profession in managing their documents. By using a familiar and natural concept, users found that it saved time when producing closing bibles and court bundles.
"gDoc Binder makes it easy to review and track an entire matter in a completely natural way because it is based on the familiar paper binder concept that has worked in the legal sector for centuries. I've been looking for an electronic file that you can flick through and mark up for years but there's been nothing available until now," said Robert Cohen, IT Director at City firm Speechly Bircham.
When you consider companies who have to import hundreds of documents this would save time and space. And just think at the end of the day, how much physical shelving space you are saving.
It would just be nice to soon see the enterprise benefitting from the same graphics quality as consumers are now used to, because at the end of the day, there is a continuous cross over in expectation.
The company is offering the software for $10 which gives you the ability to create 10 binders. Available to buy from the gDoc Store and Amazon.