Review: The Nokia E6. Why Ruin A Potentially Good Handset?
6 reasons why the E6 is Extremely bad & 6 reasons why it is Excellent Errrrrrm, okay, I suppose.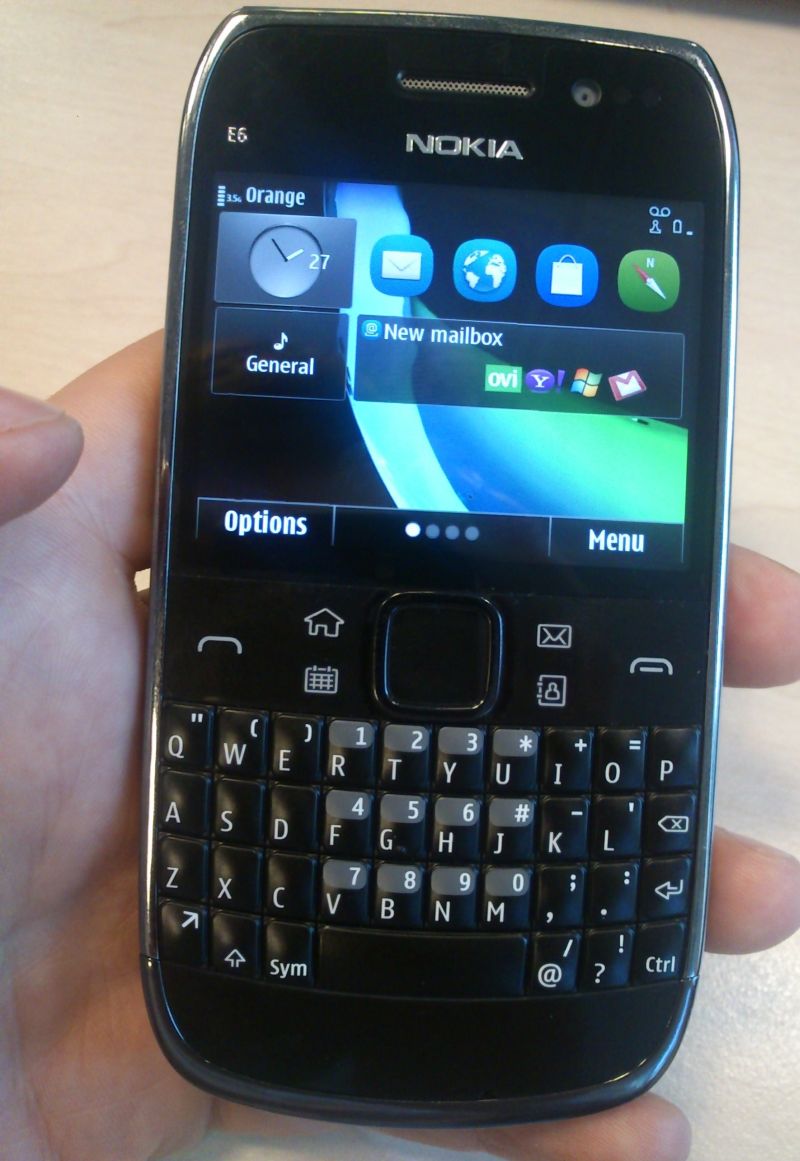 Bad
Symbian – Everyone knows Symbian is naff, even Nokia, so why is it still flogging a dead horse? Not literally though, I don't want to be accused of defamation for use of a popular idiom. In summary Symbian is over crowded, over complicated and far from user friendly.
Looks – The E6 isn't actually an ugly phone, its just wasteful. Despite feeling sturdy and well-built, the narrow screen could, quite easily, have been made larger, but oh no, Nokia decided to stick a bit of black plastic below the keyboard instead.
Keyboard – As for the actual Keyboard, its too small, cluttered and feels cheap. The touchscreen should remove the need for additional buttons, but Nokia don't see it what way, its decided to stick answer, end, home, calendar, contacts, mail and a navigation button all above the keyboard.
Processor – The 680 MHz ARM 11 processor means the E6 is often either slow or just completely unresponsive when asked to do some more advanced tasks, like using the pre-installed QuickOffice app.
Screen – At 2.46inches it is stupidly thin and hasn't been optimised for touchscreen use. The infuriating thing is that, the 2.46inches on offer are actually 2.46inches of good quality screen.
Price – Possibly the biggest factor in both a corporation's and individual's decision when deciding between handsets is price. At around £260 the E6 is twice the price of it's most obvious competitor, the BlackBerry Curve. Not really looking good for the E6.
Good
Camera – The E6's 8MP fixed focus rear-facing camera with dual LED flash is excellent. Not just in terms of picture quality, but also in usability, the simple interface is one of the few things on the Nokia that actually benefits from the touchscreen. There is also a front facing VGA camera, which I'm happy to report is one of the better quality VGAs I've seen. Here are two full res images I took: 1 & 2.
Video – Again, Nokia are on the money here. A solid performance, capable of 720p at 25fps with no major focusing issues. Here is a video I shot with the E6:
Screen – I know I've mentioned the screen in the bad points section but it also has some good points, namely the Gorilla glass. It is a 640 x 480 pixel TFT capacitive touchscreen, capable of displaying 16M colours. This again goes back to the build quality, which whilst it may not be aesthetically pleasing, it is certainly hardwearing, the stainless steel panels are testament to that.
Memory – A built in Memory of 8GB is not a bad start but it is just a shame that the processor isn't as impressive. The memory can also be expanded with the inclusion of a Micro DS card.
Call Quality – The call quality is excellent and this is partly owed to the placing of the earpiece and microphone. This Nokia is comfortable in the hand and just as comfortable held against the ear. So if you are going to be using the phone solely for phone calls and not more heavy duty tasks then I would recommend it.
Battery Life – Nokia quote standby times of up to 681 h (2G) and up to 744 h (3G), with talktime at up to 14 h 48 min (2G) and up to 7 h 30 min (3G). This is, in part, down to the simplistic approach Nokia have taken with the E6, opting for a lower spec processor and placing more emphasis on call quality and battery life.
It seems Nokia is still stuck in the past, refusing to innovate, because none of this is new. It isn't even that cool kind of retro that the kids nowadays go on about.
Once you turn the device on and see it running Symbian, not only will you let out a huge sigh, you'll also start to feel sorry for the impressive camera and video capabilities, which will end up never being fully appreciated.
These kind of bad decision by Nokia are why I agree with Faisal, in that, unless something drastic is done (because just moving to Windows Phone 7 OS won't be enough to save them),
Nokia may not exist in 10 years time
.
In summary, it just feels like a business phone, which, against it's will, has had a touchscreen shoved inside, that offers excellent call quality for long periods of time without charge.