Review: The HTC Flyer. Will This Android Tablet Soar Above Its Rivals?
Whenever I'm asked my opinion on leading Android devices HTC tend to feature prominently in my responses. From the solid all-round Desire HD to the dual-core Sensation, the HTC factory has developed a knack of churning out popular smart phones.
However, they've now decided to test the reputation they've built for themselves by turning their innovative hands to creating a tablet.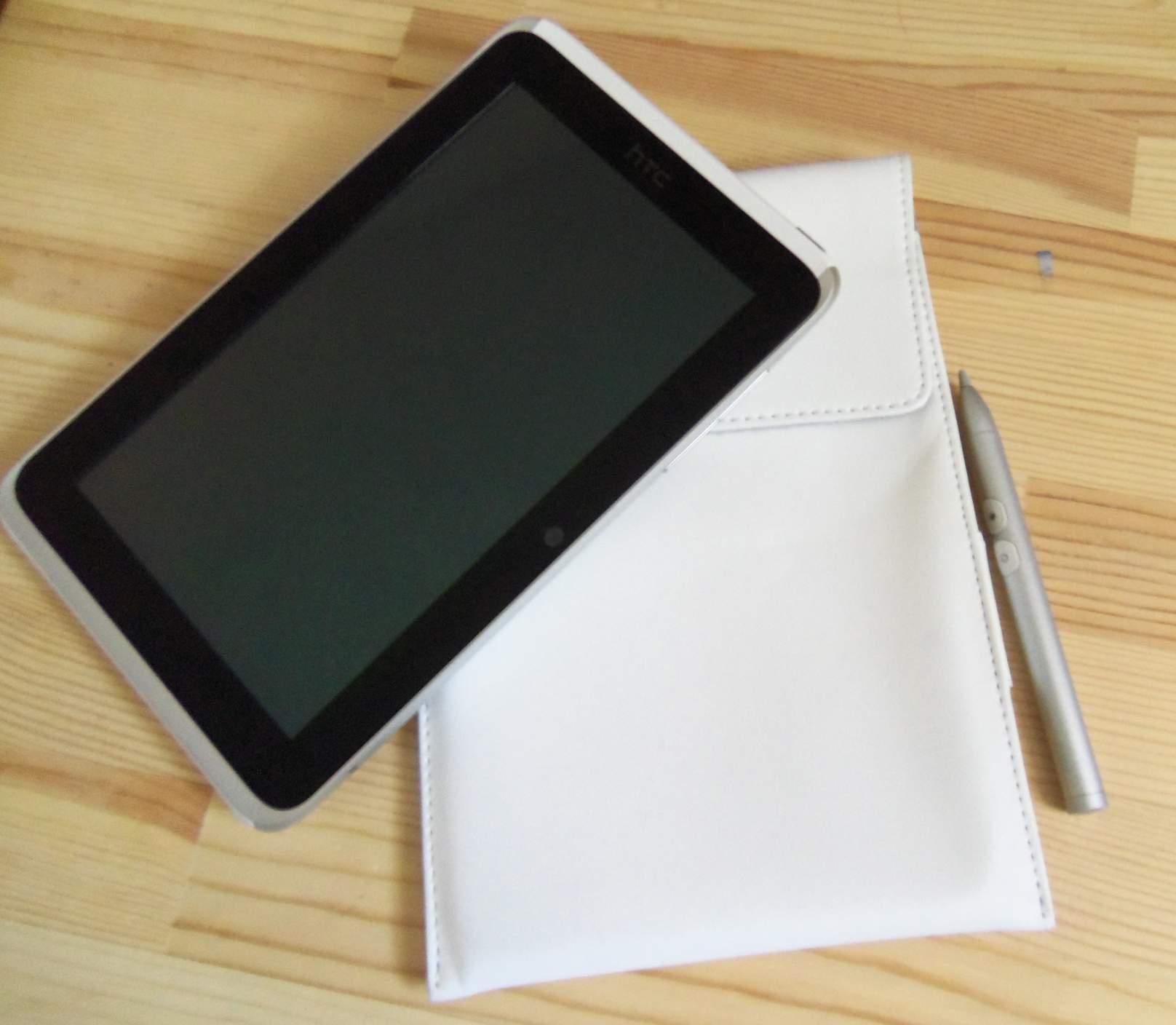 The 7-inch Flyer is what they've come up with. But, what's that? Wait a minute…. It comes with a Magic Pen. Well, if you don't find that intriguing, I don't know what else to say to grab your attention.
Looks: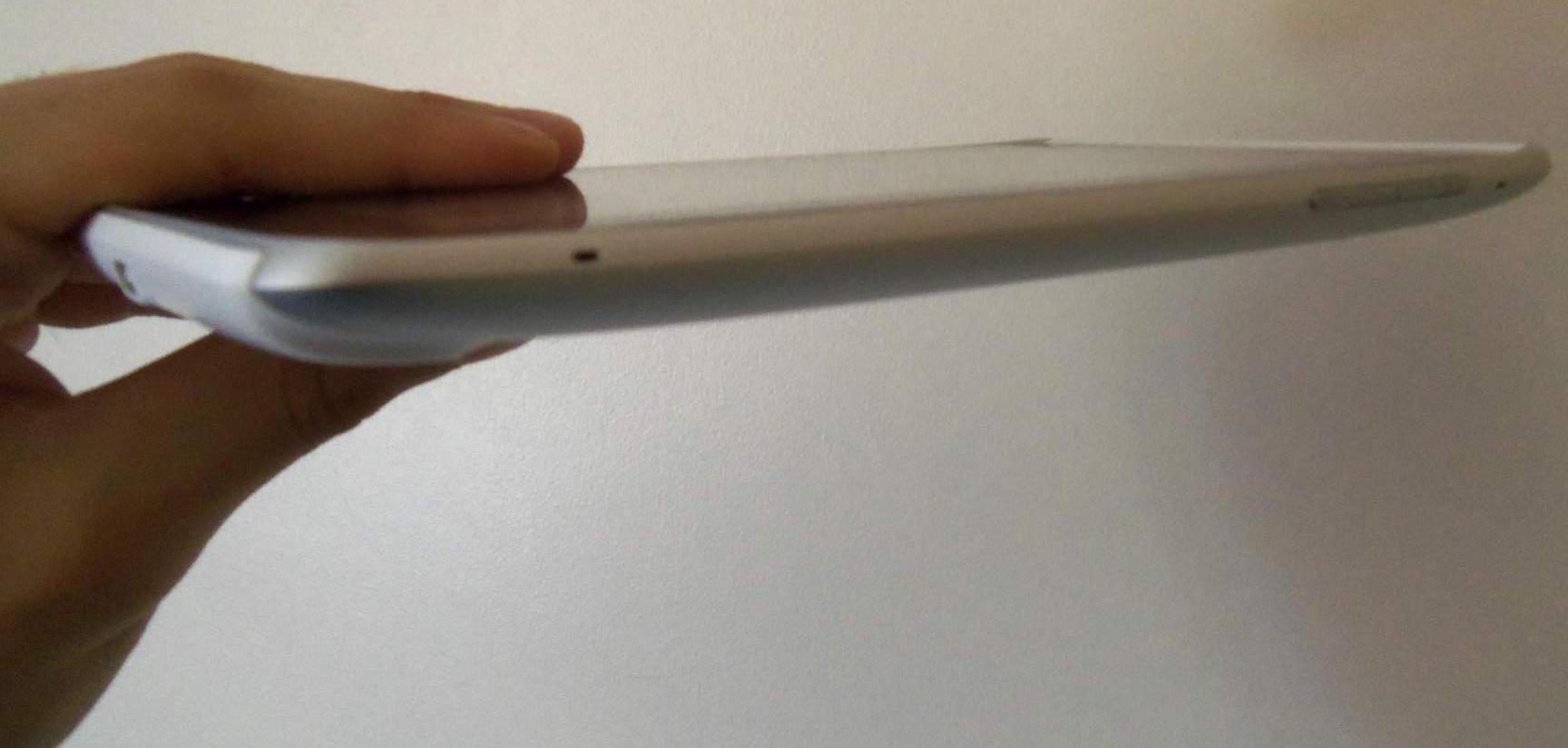 If you pick the Flyer up to have a proper look at it the first thing you notice is the weight. All 420g of it. Thankfully it only measures 195.4 x 122 x 13.2 mm because of the 7″ screen and the curved sides do a good job of stopping it from feeling overly cumbersome.
The majority of the weight can be attributed to the silver aluminium shell that covers most of the back as well as the sides. Whilst I would steer away from describing this dinky tablet as rugged, the aluminium certainly brings a sense of solidness to the device.
The aluminium rear also features two white inserts. The top insert, which is removable as it hides the SIM and SD card slots, houses the rear camera and the bottom insert is significantly chunkier, meaning the Flyer looks a bit like J-Lo side on.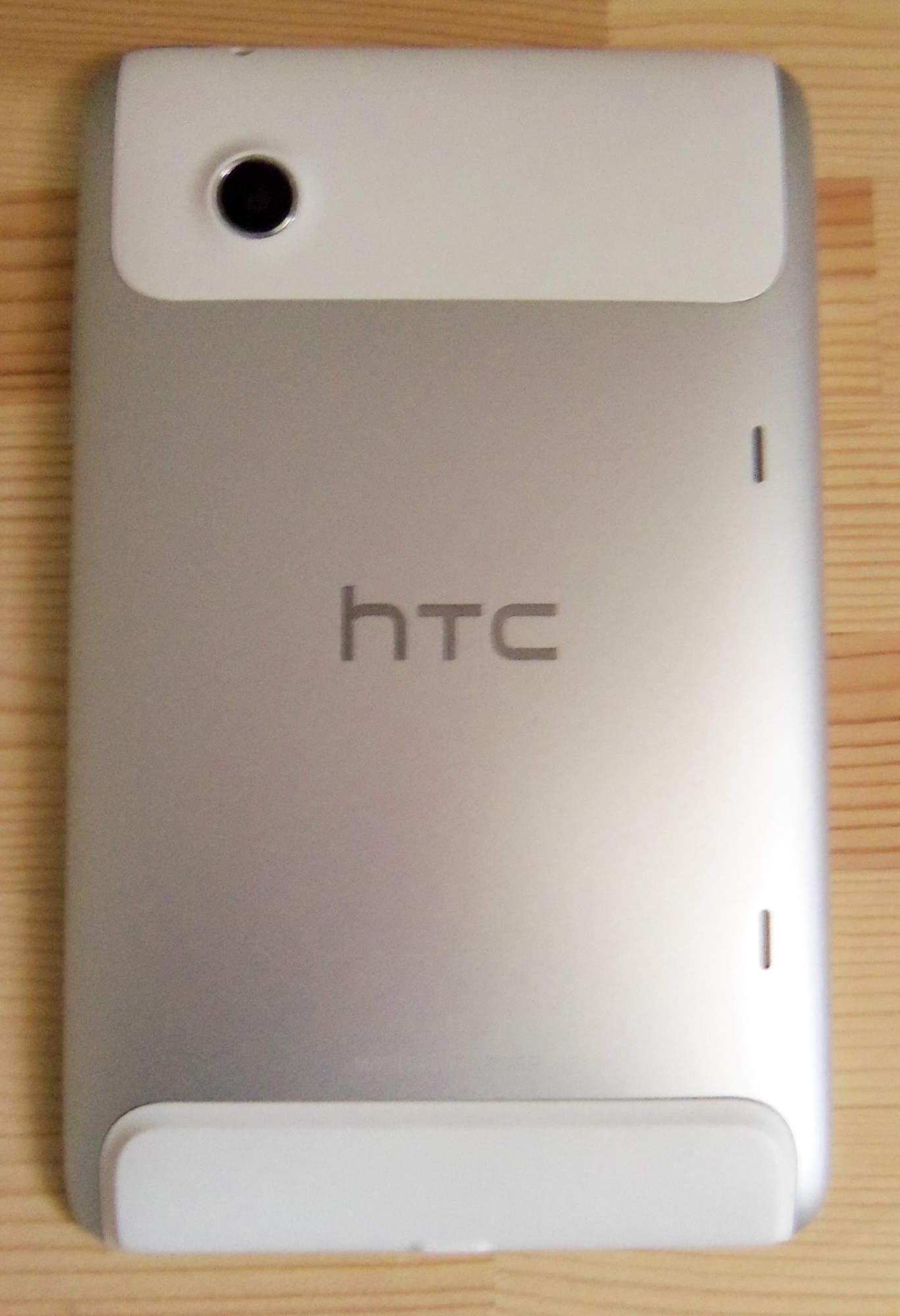 The front of the Flyer is fitted with the usual black bezel that we have seen on many a tablet, though this is not just a plain bezel. Not only does it cover the front facing camera and light sensor but it also contains a set of landscape and portrait touch-sensitive buttons, which light up according to the way the device is sat.
There aren't too many ports dotted around the HTC, which is often the case with many tablets. There is only the headphone jack along the top and the USB/charging port along the bottom. The sides are as equally bare, with just a volume rocker placed on the right.
In terms of looks, the Flyer may not be everyone's cup of tea but I think the futuristic and modest approach to styling that HTC have taken is one that is not easily forgotten.
The Flyer also comes with a carry case that is whiter than Simon Cowell's teeth. The case, which is lined with a soft fabric, is of substantial quality and it offers a nice place to store the Magic Pen (which I'll come on to later).
The case stays shut using magnets and provides a welcome layer of protection if you're going to take the tablet out and about.
Screen:
This LCD touchscreen is nothing short of superb. It is vibrant but not overwhelming, responsive to the touch from either the finger or the Magic Pen and the auto-brightness strikes the balance between power consumption and usability perfectly.
It can display up to 16 million colours and although 600 x 1024 pixels doesn't sound like much, for it's size, the Flyer's screen can't really be faulted. Furthermore, the viewing angles were immense and even outdoor sunshine was not an issue for the screen on this HTC tablet.
The Flyer's response to the accelerometer is the fastest I've seen on any device, not just tablets. In fact, sometimes I thought the accelerometer knew when I was going to switch to landscape before I did.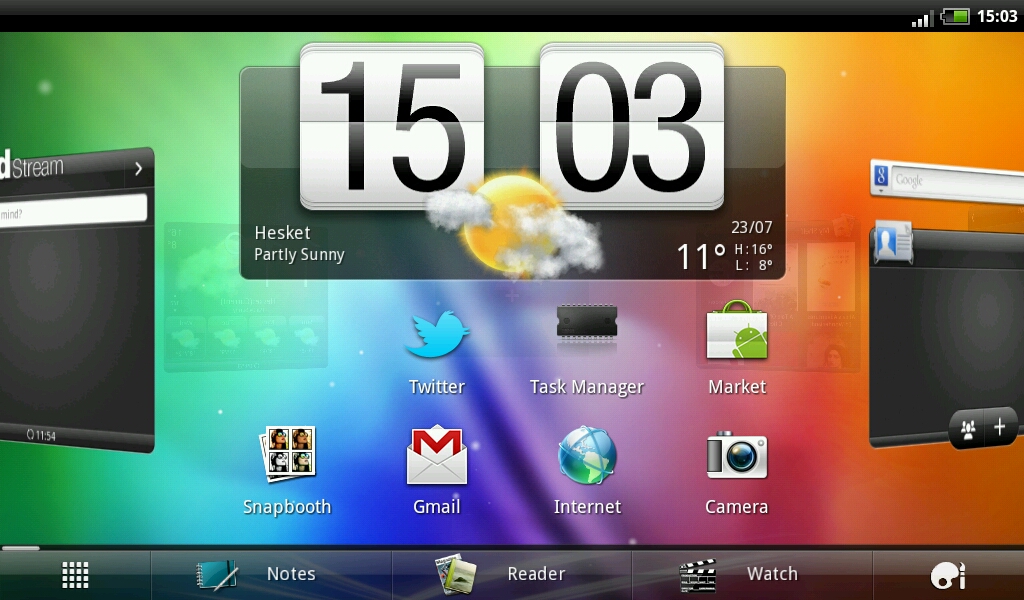 That is possibly the only thing I could say against the HTC in terms of it's screen, that the accelerometer is a bit too eager, sometimes switching at the slightest tilt. That said, I'd rather it be raring to go than casually taking it's time and requiring a few vigorous shakes.
Camera:
Disappointing Is the word I would like to use her to set off with. The rear facing 5MP camera is not awful but I expected far better from HTC, especially given the quality of some cameras fitted to other tablets already in the market.
You can see in some of the sample images I've taken that the image quality isn't that bad but nor is it impressive.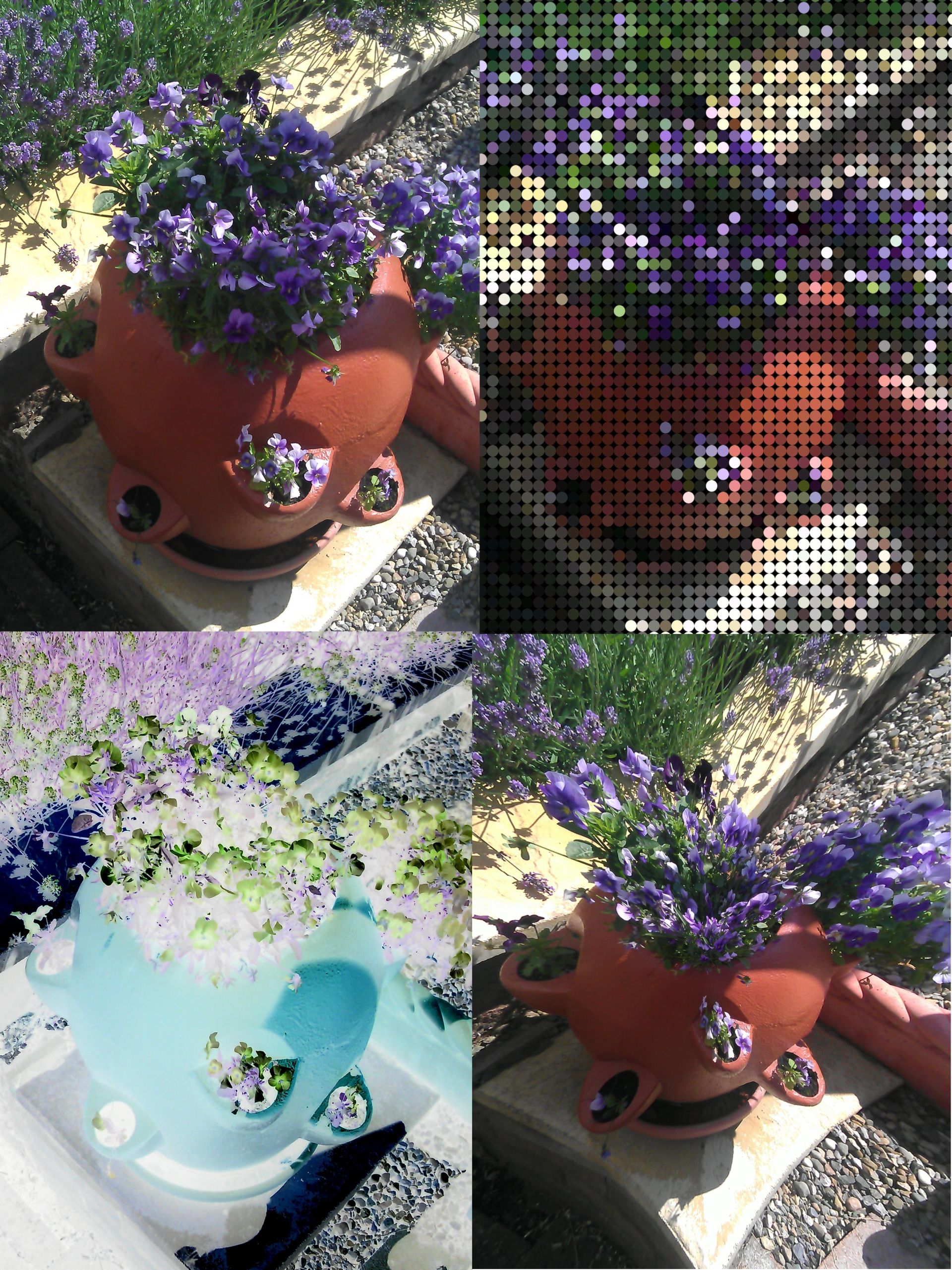 The 1.3MP front facing camera was more fun to use, purely because of the Snapbooth app. Snapbooth allows you to apply a number of filters, some of which work best when applied to a face, and this moves the emphasis away from image quality and more toward entertainment.
I have a couple problems with the video recording, the first being HTC's claim that it can record 720p HD footage and the second being the sound quality.
As you can see from my sample video the footage looks far from the 720p quality we are used to and in a second video I recorded, it sounded like there was a tap constantly running in the background.
HTC's usual camera interface has just been rescaled on the Flyer and it works fine. You can see in the video I as able to use the zoom fine, even if the video quality was compromised, but with a few minor tweaks the camera's functionality and quality could be improved no-end.
Features:
The 1.5GHz processor, 32GB internal memory and 1GB of RAM mean this tablet packs a punch. There wasn't one instance where I was left impatiently twiddling my thumbs, waiting for the HTC to catch-up. It took everything in its stride.
However, I've once again been left scratching my head as to why another Andorid device has come with a number of pre-installed apps that basically perform the same function.
The Flyer comes equipped with not one, not two, not three but six pre-installed map apps. Surely Android, Google, and HTC could have exchanged a few emails and whittled it down to a couple.
Now we come to the pista de resistance, the Magic Pen! Also wrapped in aluminium, the stylus is what's meant to make the Flyer that little bit more interesting and special. Has it worked? I'm not sure. I may have made a big deal of it but I'm not sure HTC have.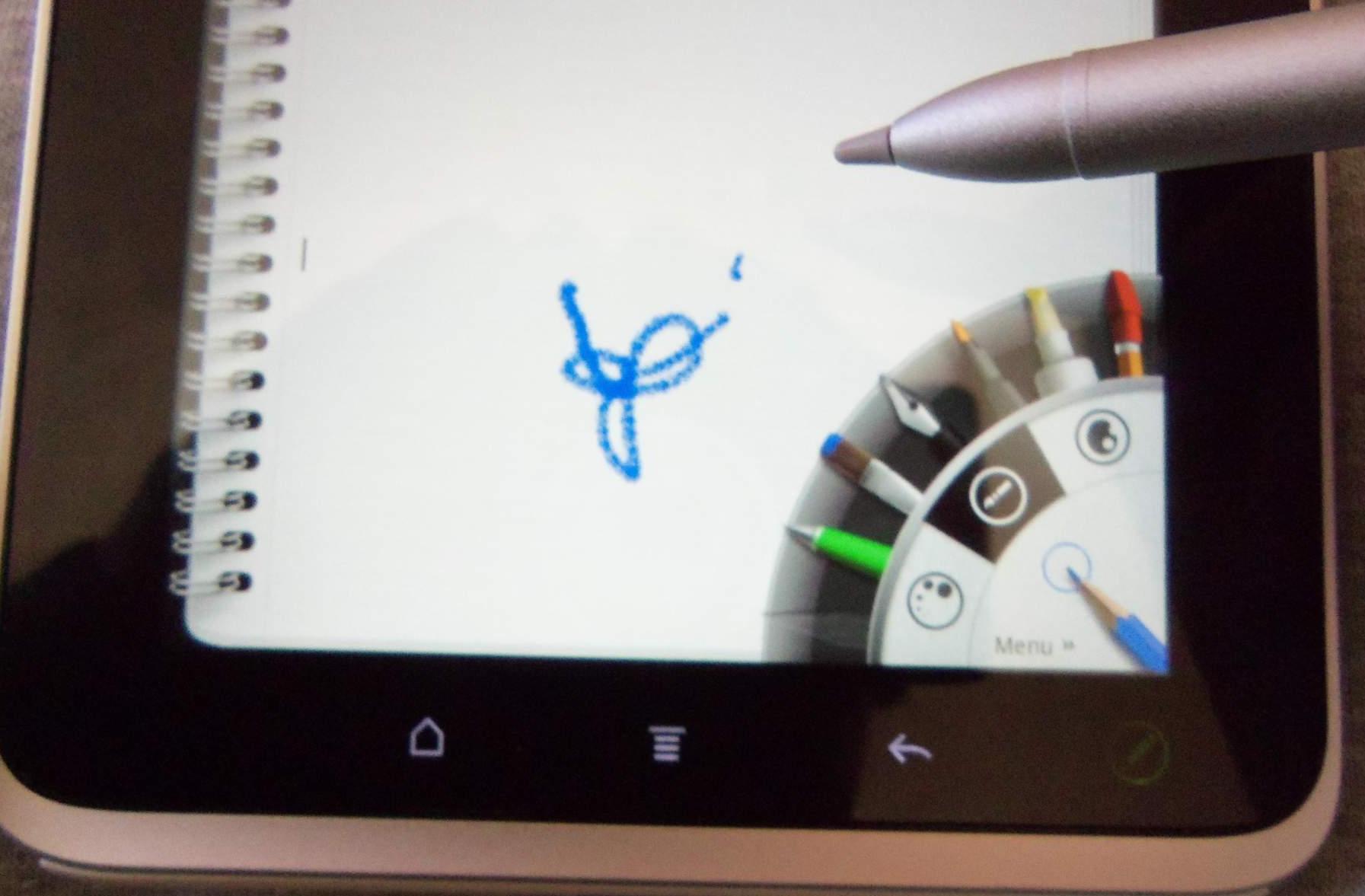 The Magic Pen is pretty much only fully functional in the Notes app, you can annotate ebooks and scribble over anything on the HTC's screen, although in the second instance you do need to take a screenshot first.
Once inside Notes you can use a variety of pens and paint brushes, you can bring in and take images and there is also an audio recording function that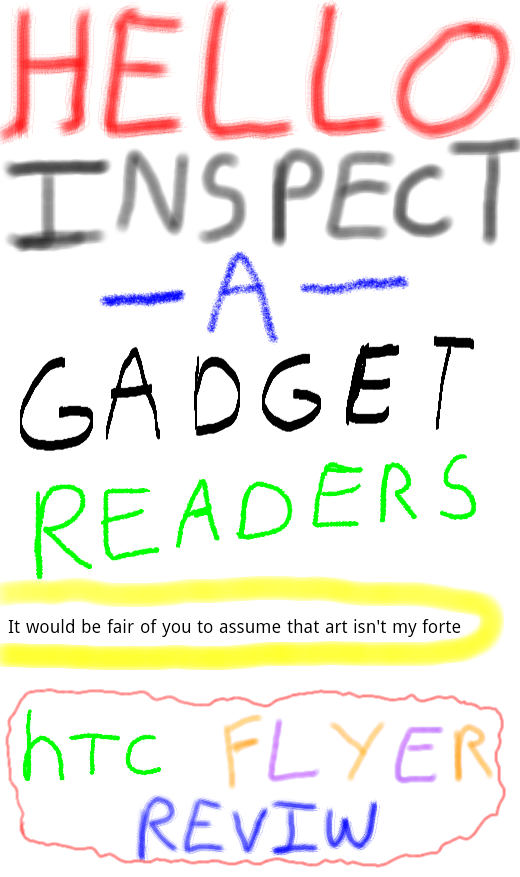 allows you to associate a certain part of a note with a certain point in time. This could come in handy if you were taking notes in lectures and wanted to pick out a significant section.
My doodling below is marginally neater than my doodling on the
Fujitsu Stylistic Q550
but I still wouldn't call it legible.
Another little thing that bugged me was that the Magic Pen isn't so magic when it comes to pushing certain buttons. You have to repeatedly switch back between your finger and the pen, eventually learning and getting used to what works where, but on the odd occasion it can irritate you.
The Magic Pen can switch from being a revelation to exasperating at the drop of a hat. For the Magic Pen to become more of a success additional software needs to be included and the usability throughout the whole tablet needs to be worked on.
The web browsing also deserves a quick mention. All I need to say is, slick, smooth, simple and flash supported.
Media:
Music is not the HTC's strong point, I've already talked about the audio problem when recording videos and, although there is a notable improvement when it comes to playing your own music, I again expected more from HTC.
The two miniscule grill covered speakers on the back may be unexpectedly loud (thanks to the SRS sound enchantment) but the sound they deliver is bordering on tinny. Earphones are advisable if you'd like to use the Flyer to listen to music.
HTC have included their own video app, imaginatively titled 'Watch'. It offers films and TV Shows to rent (for between £2.50 & £3.50) or to buy (for between £8 & 10).
I watched several trailers and astonishingly they looked clearer than on my laptop. Credit where it's due to HTC, they've made the most of the 7″ display.
Android:
HTC opted for Android 2.3.3 (Gingerbread) over the more tablet friendly 3.0 (Honeycomb) because it worked better alongside their Sense UI. There were a few kinks with 3.0 that they didn't have time to iron out but they have since announced that an update to 3.0 is in the pipeline
The Flyer is straight out of the blocks with an enhanced lockscreen, featuring a ring that needs to be pulled to unlock the screen, or, alternatively, you can select one of four shortcut options to go straight to those apps. Whichever way you choose to go the HTC responds immediately.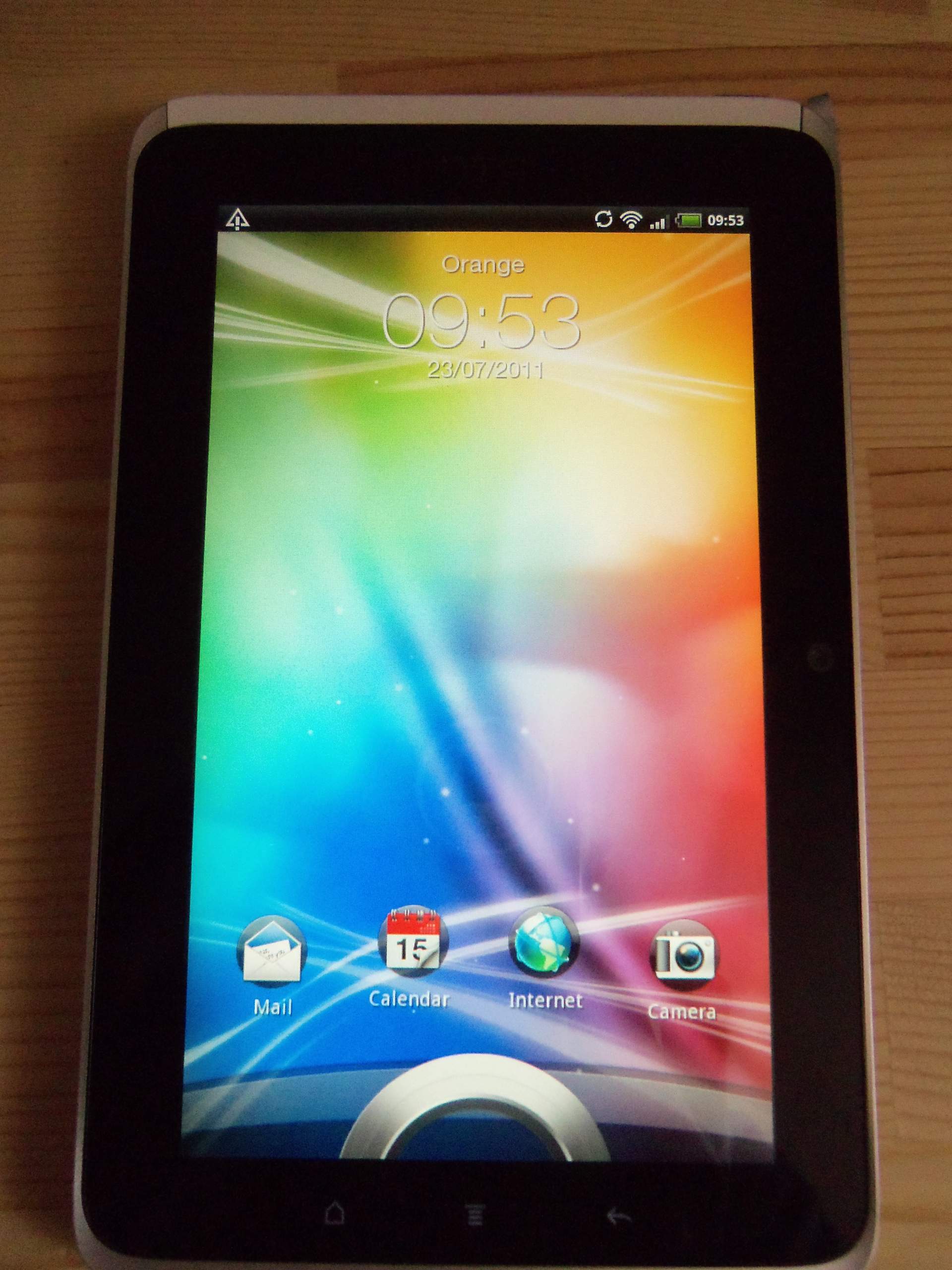 Once you make your way to the home screen eight screens will greet you. They all look great in portrait and landscape and a simple flick is all you need to switch between them. You can also push the home button to bring up all eight and take your pick.
There is space on each page for 16 app shortcuts, however some are already occupied by standard HTC Gingerbread widgets found on their range of smartphones. This isn't necessarily a bad thing because with the bigger screen more information becomes available.
The 7″ screen and the Android keyboard are a match made in heaven, in portrait mode, thumb typing an email couldn't really work any better.
It's a bit more fiddly in landscape mode but the space between the keys mean you very rarely hit the wrong letter and, more importantly, you often forget your only using a 7″ screen.
If it aint broke don't fix it seems to have been part of HTC's approach. The mainstay clock and weather widget form the focal point of the homescreen and they haven't really taken any risks with either their own software or Android.
Then again, I think that's the right call. Obviously thinks have been updated and adapted but HTC have seen no need to ring major changes with the Flyer, in terms of the OS.
Battery Life:
For such a small tablet you'd have though it would have a tiny battery and as a result run low on juice quite quickly, well I'm happy to say it surprised me.
HTC give a standby time of up to 1470 hours and while you may not be shocked to hear that I didn't leave it on standby for that length of time to find out if it was true, I did test other areas.
A 14-hour day of push updates, emailing, tweeting, camera and video testing, music playing, YouTube watching, web browsing, gaming, Ebaying and just general larking about followed by a 8 hour sleep for me, standby for the Flyer, still left me with over 15% battery from a full charge.
I'm sure even a Duracell Bunny would be shocked to read that.
Summary:
HTC have done well not to get to carried away with the Flyer, they could have made it bigger, packed it with more features and software but I'm glad they haven't.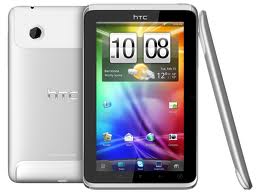 Even without a load of bells and whistles, it is far from your standard Android tablet. The Magic Pen, the 7″ screen, the reliable and responsive interface all wrapped up in a modern yet reassuring aluminium case shows that HTC mean business.
It's not all sunshine and lollipops though, the below-par camera and video recorder take the shine off but the Flyer's character is enough to distract you from focusing on these too much.
The 32GB 3G model I had is priced at around £600 (yes it's more than the iPad 2) and as much as I've grown to like the HTC, for that price, the iPad would still be my choice.
It would be a perfect world if I could take the Magic Pen, utter the words abracadabra, and knock £150 off HTC's asking price because then it wouldn't be such an easy decision.
The 16GB Wi-Fi model's pricing isn't really much better either, HTC are asking around £480 and for only £120 more I'd go all out and stick with the 32GB version.
The HTC will certainly appeal to many people (and rightly so) and I can see it being a popular choice but until prices fall, which may not happen until an upgraded model is released, It may be a while before the Flyer's sale figures are sky high.