Review: The Fujitsu Stylistic Q550. Just A Bad Choice Of Name?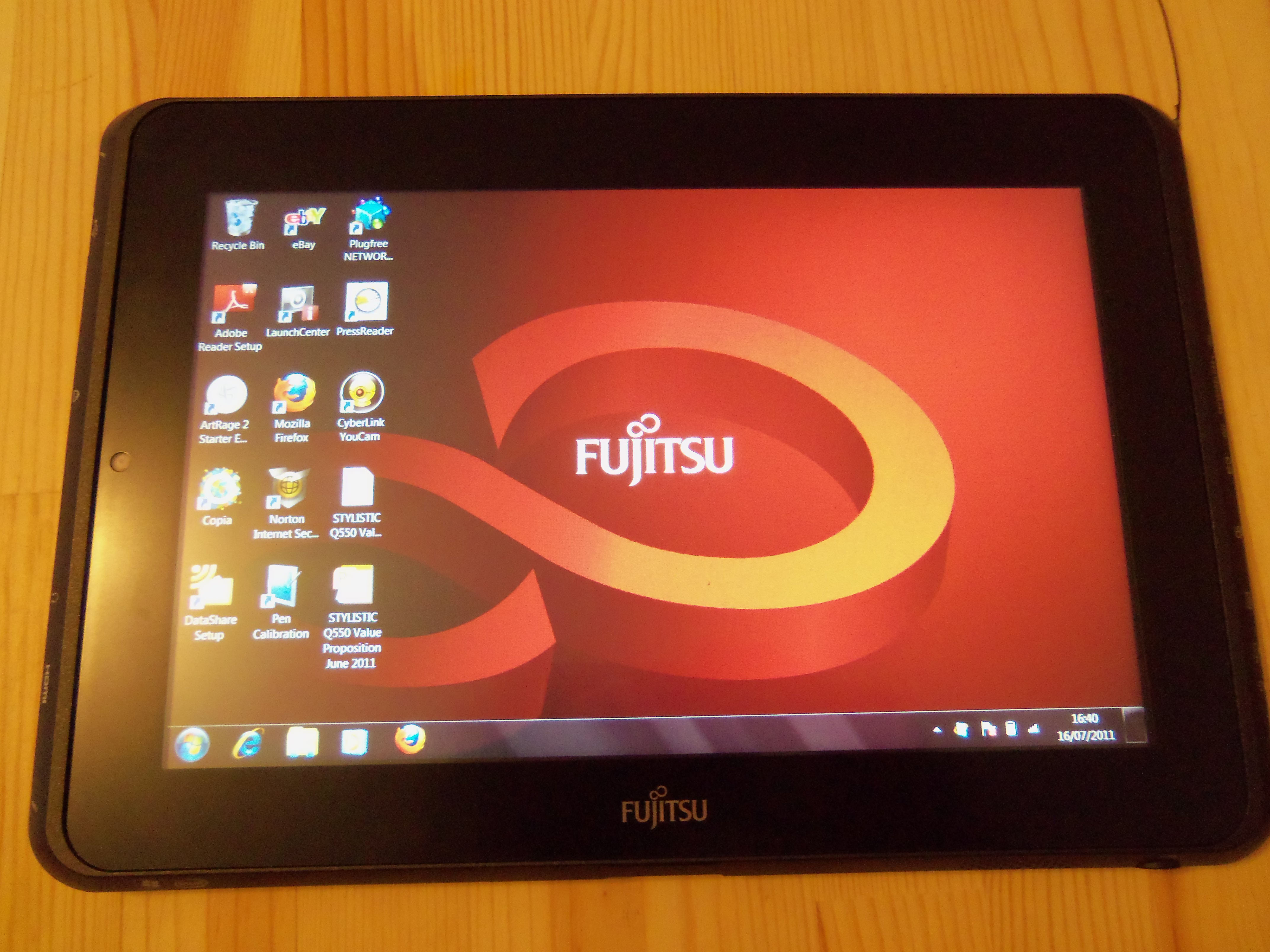 Fujitsu are going in a new direction with this tablet, or, as they prefer to call it, slate. It's all to easy to get swept up in the whirlwind of Android tablets out there, trying to compete against the iPad, and business tablets/slates often go unnoticed.
This may have been because some of them are about as useful as a chocolate teapot.
In order for business slates to be seen as a viable alternative they need almost the same level of functionality as a stand-alone or laptop. Cramming all of that into a tablet sized device means some compromises have to be made, which, more often than not; means performance levels are affected for the worse.
Fujitsu have had another crack of the whip with the Stylistic Q550, stuffing it with Windows 7 professional (32-bit). What they seem to have created is an improved business tablet that has advanced through the use of older methods, if that makes sense. If you continue to read on it should, hopefully.
Looks:
Given that it's called the Stylistic you'd have thought it would have been stylish, well it's not, in fact it's about as stylish as a pair of Pat Butcher's earrings.
Despite three different components, the screen bezel, front casing and rear casing, all being different colours it just merges into one big bland square.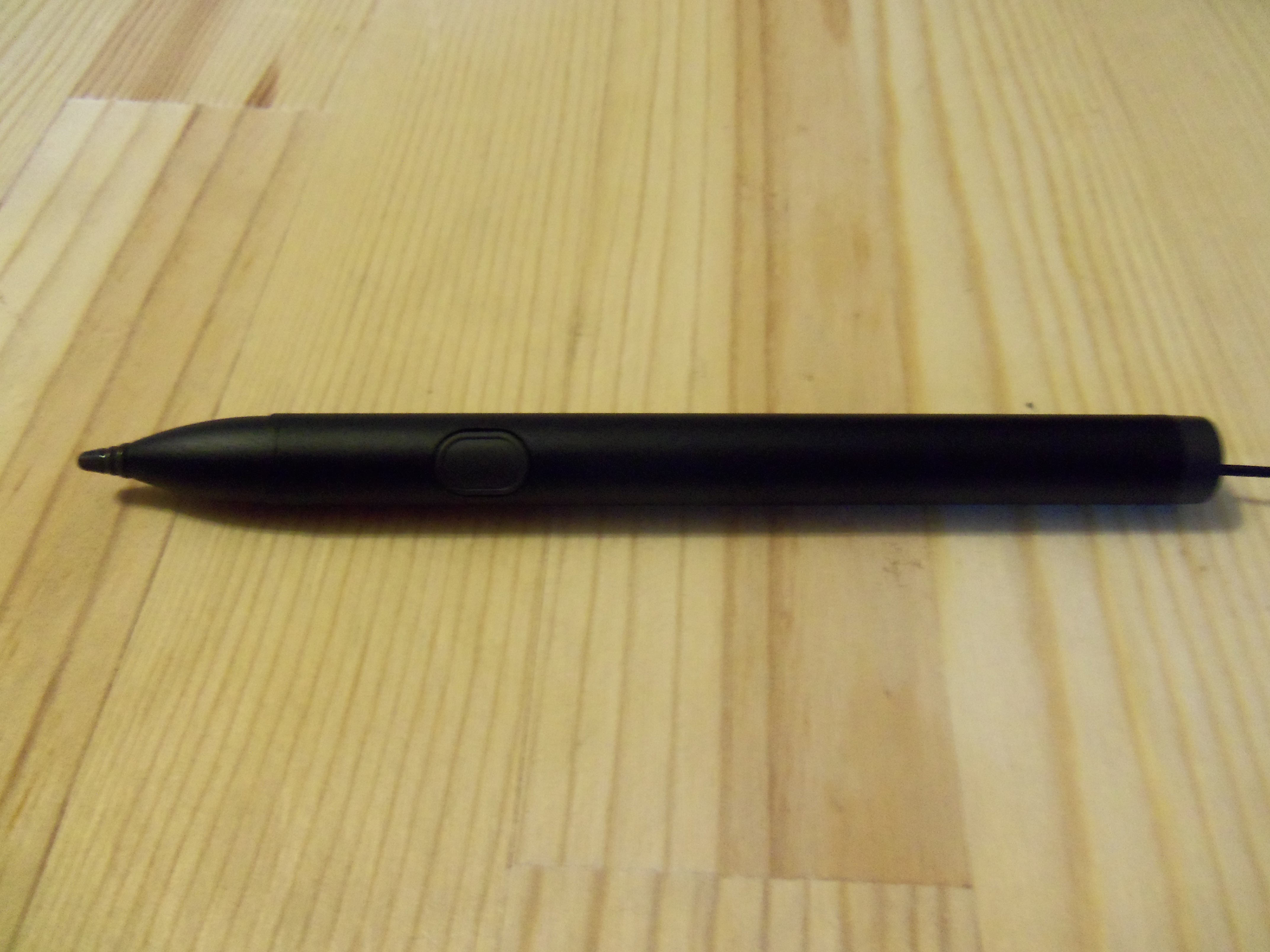 Even the stylus pen, which really annoyingly has no place to be
stored and even more annoyingly gets constantly tangled in the string, couldn't look plainer.
On the other hand, the simplistic design screams out durability and seriousness, which I suppose, for a business tab, is what you want.
Measuring 275 x 192 x 16.2 mm it is by no means small but I would still call it portable. The large dimensions, which leave plenty of room for the 10.1 inch screen, also mean there is tad more weight than many tablet users have become accustomed too.
The review unit I had came with a 4-cell battery, weighing 0.860kg, whereas a 2-cell would only weight 0.750kg. Putting it into perspective it feels as heavy as a dinner tray with a plate on it.
As the Stylistic works mainly in landscape you find all the switches and connections on the sides. The on/off/sleep switch, wireless switch, keyboard, application and screen-orientation buttons are all situated on the right hand side.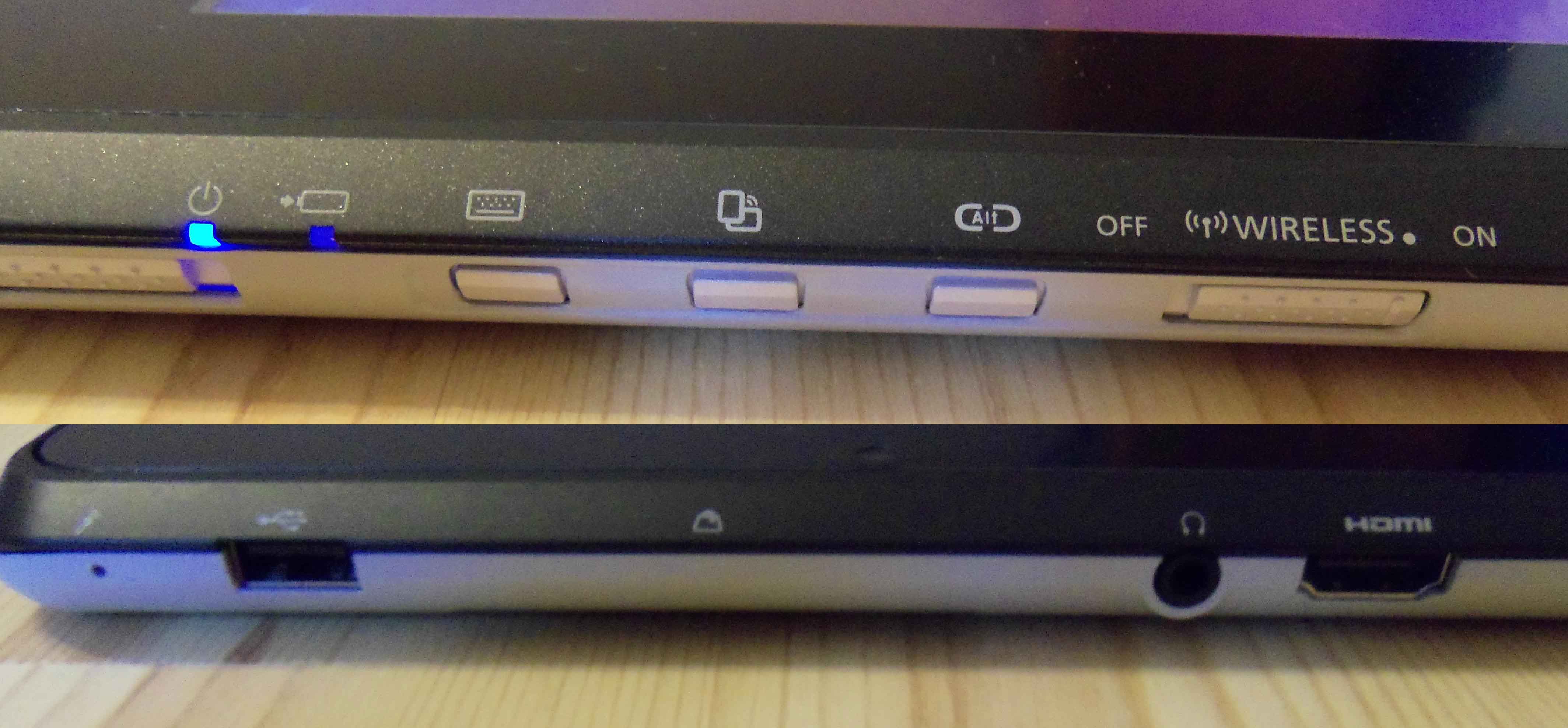 The left hand side is home to the USB and HDMI ports, a smart card reader, along with an earphone jack and two microphones.
Screen:
The bright LED display does the job, it isn't shockingly worse than that of an iPad 2 but neither does it come close to matching it.
Though, the anti-glare touch screen that packs 1280 x 800 pixels offers excellent viewing angles and, unlike many tablets, works well outside in the sun.
The gap in quality becomes wider when you begin using the screen, the digitiser can only deal with 4 points of contact compared to the iPad 2's 10.
It gets worse still as sometimes even the one touch is too much for the capacitive screen to deal with. It is as temperamental as a 13-year-old teenager, picking and choosing when it wants to do as it's told.
For best results I always resorted to the pesky little stylus.
Camera:
This Fujitsu slate comes equipped with two cameras, a front-facing VGA webcam and an under whelming rear 1.3MP camera.
Both are very grainy and do not perform well in low lighting but they would cope fine with the demands of a business meeting via Skype. The rear facing camera can also record video but you have to be motionless otherwise it turns into one massive blur.
However it did pick up and record sound well.
Features:
The Q550 comes with either a 32GB or 60GB solid state drive and 2GB of RAM. It is powered by an Intel Atom 1.5GHz processor, which is optimised to do more while consuming less power.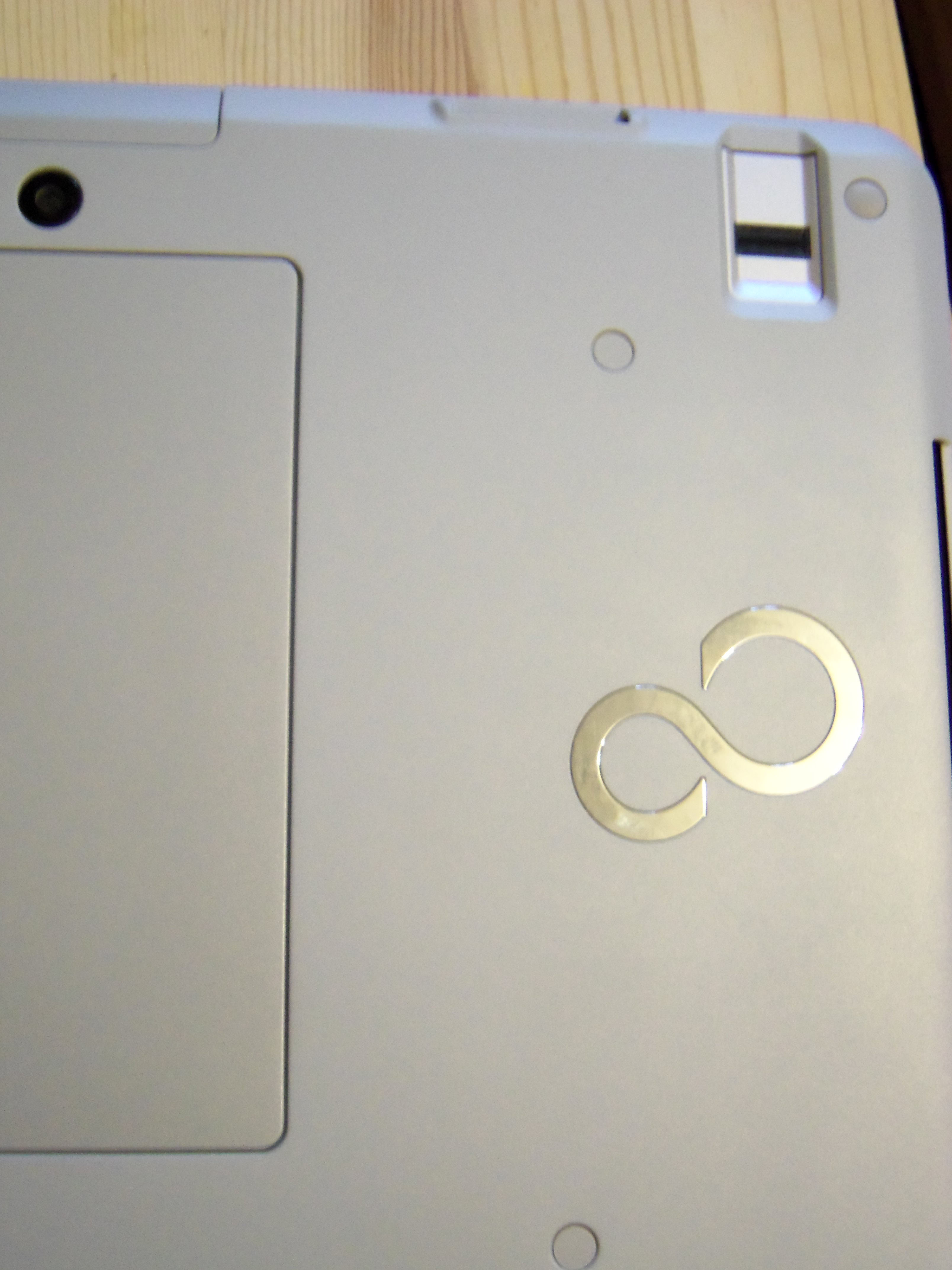 The back of the device plays host to a full size SD card reader and a fingerprint scanner, for added security. Although it is not as straightforward to set up the finger scanning Omnipass software as it could be, it is well worth doing if you have confidential business documents to protect.
If only those bungling government officials who lost large amounts of data had been introduced to the Q550, if only.
Despite the spacing and styling of the keyboard making it look user friendly, it wasn't. It was fiddly. I made a lot of mistakes. It made me sad.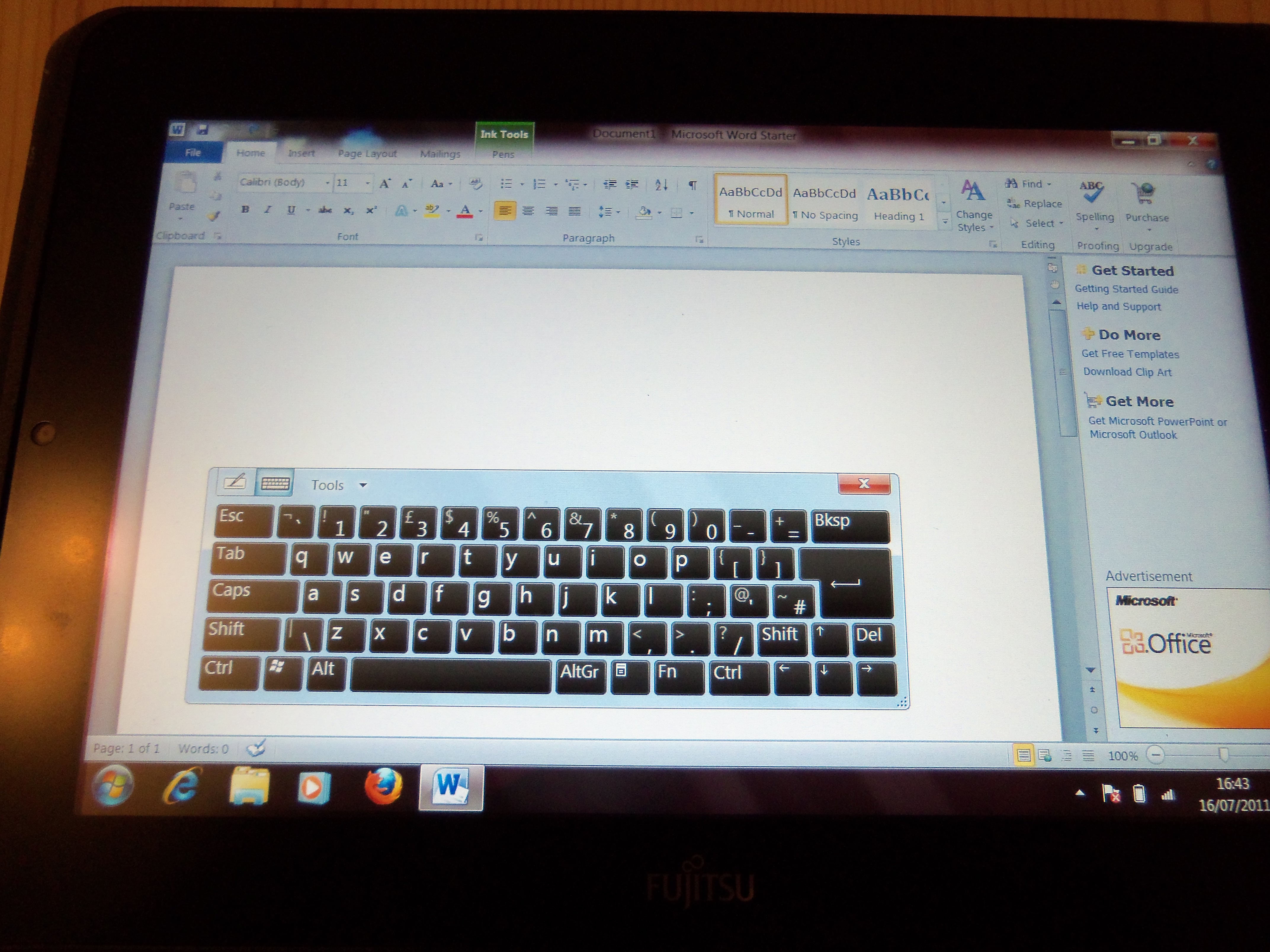 I turned to the stylus, hoping it would cheer me up, and, for a few minutes, it did. Then it also made me sad, mainly because it struggled to recognise my childlike scrawly handwriting, but also because, again, it was fiddly to rectify any mistakes.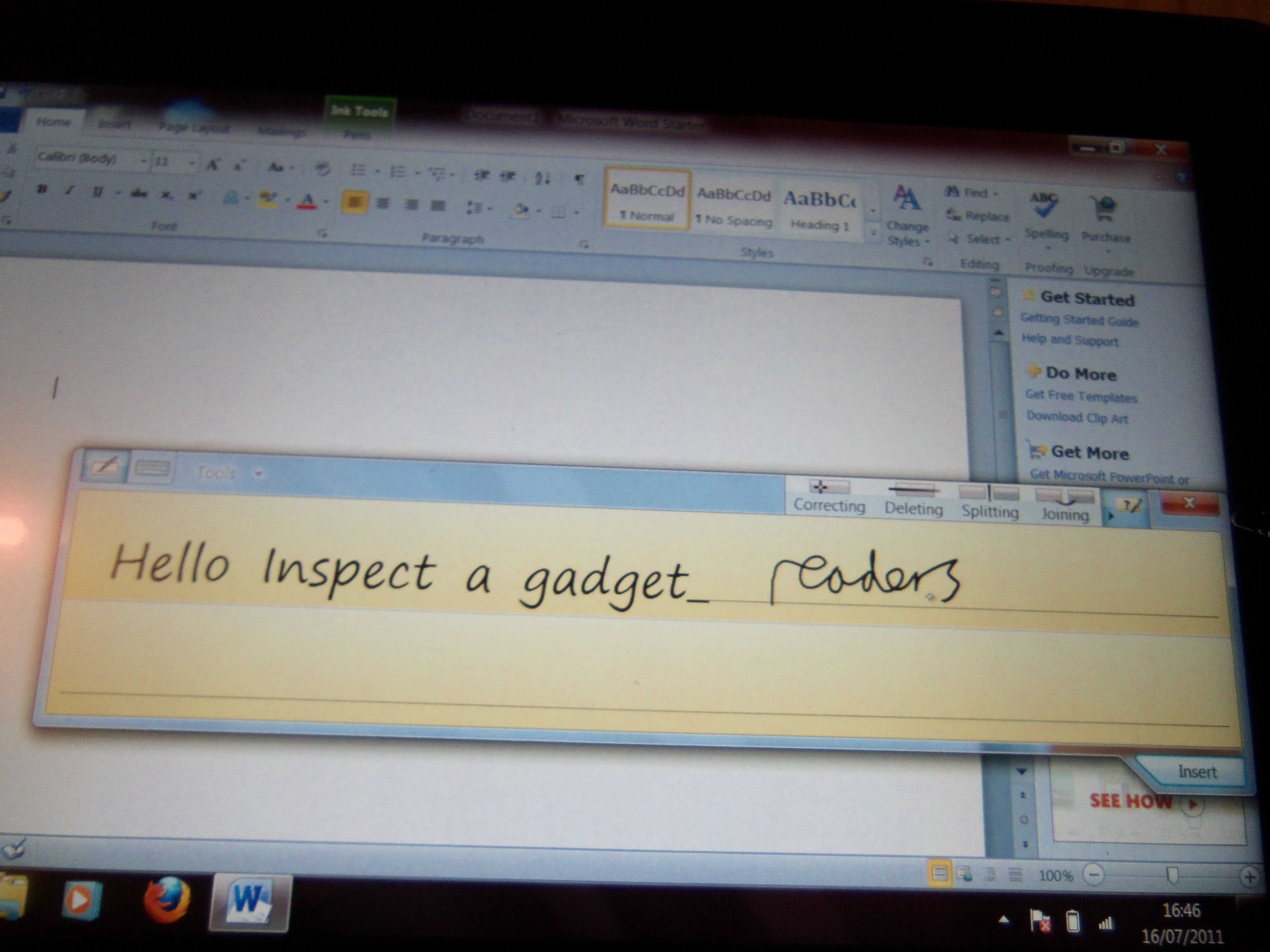 I did, however, like the sticky pads, which appear to be stuck directly onto the desktop. They liked my horrible handwriting, they accepted it.
So far I've given the stylus a bit of a hard time, and that's not fair, as it allows you to right-click and the Fujitsu recognises the pens presence even if it's a centimetre or so away from the screen. These two features caused me no problems; in truth they offered me solutions and an improved level of performance.
Windows:
Fujitsu have unnecessarily thrown their own OS , including the Fujitsu Infinity Lounge, on top of the Windows 7. In short all it does is offer shortcuts and unassuming widgets.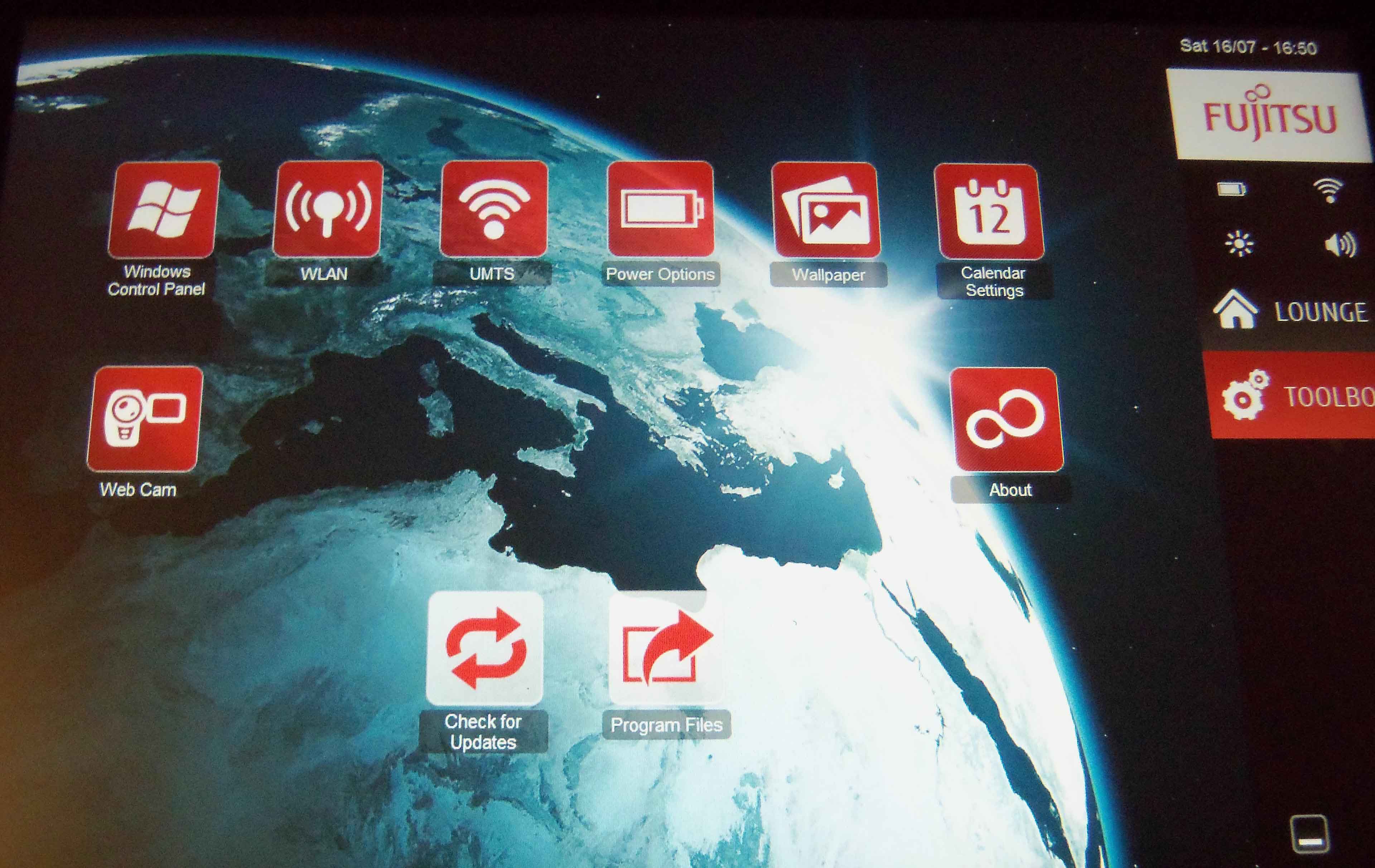 In my eyes, this only hampers the speed and processes that Windows 7 has to offer, with some programmes taking what seemed like hours to open.
At one point, I had Word, Firefox and the Webcam running and trying to execute any commands in these programmes was as painful as pulling teeth.
While the full package of Windows 7 is, without doubt, of great benefit to any potential owners the memory it takes to run it, along with it not being optimised for touchscreen tablets, make for a stuttering and disappointing experience.
Battery Life:
Back to the point I made at the beginning, instead of trying to pioneer new technologies Fujitsu have resorted to tried and tested methods. This is evident in the replaceable battery.
A modest solution to the poor battery life problems that tablets and slates often fall foul of.
However, Fujitsu haven't just left it at that. The Stylistic can be put into a hibernation mode allowing you to swap the batteries over without losing any work you may have been in the middle of.
The battery life was impressive on the Stylistic, coping well with a full days worth of heavy usage. Once the battery had run down it didn't take to long for to charge back up either.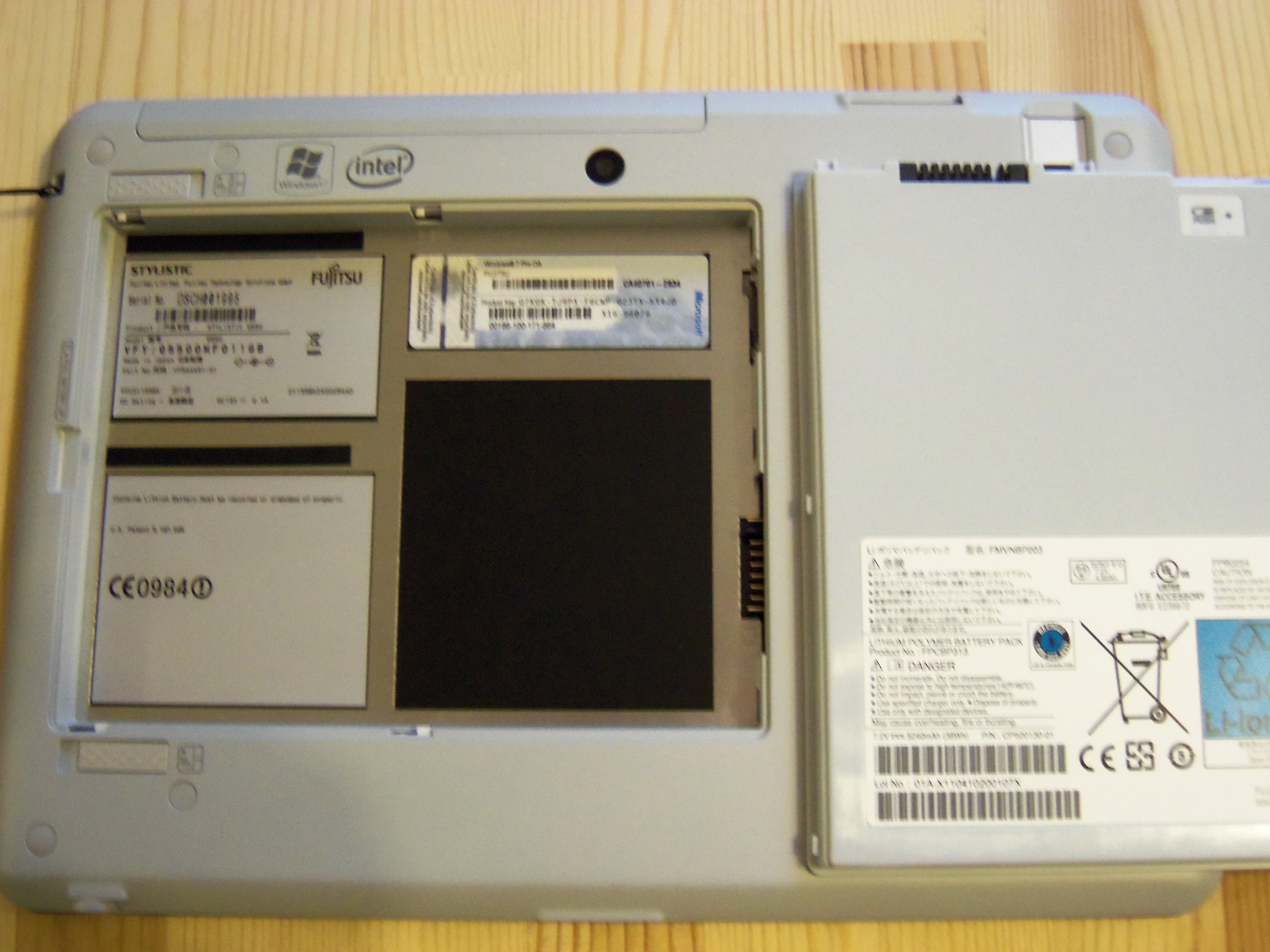 The added option of swapping batteries means that, potentially you can run it for twice as long. Not many tablets or slates can boast that.
Summary:
As a business slate, the Fujitsu is not as polished as is it should or could be. It is a jack-of-all-trades and a master of none.
Considering it is designed for businesses it doesn't share many traits with the stereotypical businessman. It isn't stylish and slick, it isn't always fast to respond and it doesn't cope well with extensive multi-tasking.
The full Windows 7 would have been a masterstroke if it was bundled with a bigger processor and touch screen optimisation, but it isn't.
The fingerprint scanner and removable battery are the main two selling points for the Stylistic Q550, offering extra security and making the slate ideal for people constantly on the move.
The replaceable battery and stylus all scream retro, well when your talking tablets anyway. That may already appeal to some people, but if it doesn't the noticeable benefits they bring should change your mind.
If I worked in an office and my boss handed me one of these I would certainly welcome it with open arms and embrace it. I'd go even further and say I'm sure it would improve my hypothetical level of performance as well as offering a level of security currently not available on other tablets or smartphones. Still, that said, if I were a businessman I probably wouldn't go out and buy one of my own accord, especially for around £750.