Review: Sony Ericsson Vivaz - These stilettos are killing me!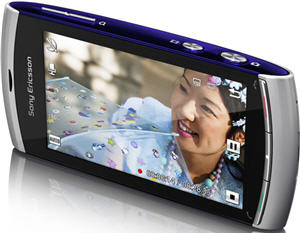 These stilettos are killing me! (Reflections on a recent 'phone upgrade) by Sami Lee.
Declaration: My first 'phone in 1993 was an analogue Motorola flip with a credit card sized SIM; I upgraded to digital, what we now know as a normal sized SIM and a decent amount of storage capability for contacts (1996 – Motorola flip 8400).
In 2001 the Motorola 'clamshell' (V50 – still works perfectly well with duck tape holding it together), introduced me to WAP and my first cameraphone was in 2005 with the Motorola RAZR V3.
My last Motorola was the RAZR V9 in 2008. Notice the pattern? Always Motorola and always flip. I declare my bias that I'm (a bit of a?) Motorola fan but I've never had to hand over much in the way of cash to upgrade, mostly just signing-up for a termed contract (I probably wouldn't have moved service providers anyway but please don't tell them that!).
Imagine my quandary: last July I had been out-of-contract for a while so was (over)due an upgrade, my service provider (Vodafone) wasn't stocking Motorola and I still wasn't in the mood to change providers.
My research gene kicked into overdrive with all the options available but my requirements were simple: a decent quad band smartphone with a good camera, internet access, mp3/mp4 storage capability but first and foremost didn't want to pay too much (if anything) for an upgrade – no 32GB iPhone 4 for me then!
I was also concerned about viruses; sceptic that I am, I didn't believe smartphones were virus proof and computing media were beginning to report on various problems. I finally narrowed it down to 2: the Nokia X6 and the Sony Ericsson Vivaz.
Bear in mind that I had always had Motorola so was used to swimming against the flow of Nokia domination and peer pressure and I also remembered looking at the Sony 'Mars Bar' (all those years ago) before opting to stick with Motorola (smart move that was!).
Armed with my Top 2 list I visited a Vodafone store in August (internet research is great but no substitute for touching and feeling and ultimately playing with products).
The Nokia X6 felt solid, I liked its menus and on initial inspection it looked to be the type of 'phone built with the user in mind (logical menu arrangement, easy to find functions) and, according to the salesman, its operating system had more apps available.
It had a 5MP camera with a Carl Zeiss lens and 16GB memory but no memory card slot. The SE Vivaz was smaller and lighter and felt much more flimsy (I've been known to drop a few 'phones so this was a concern) and fewer apps but looking through the specs, the SE Vivaz came loaded with more apps and apps that I thought I would need.
Which one to have? I chose SE Vivaz because of its 8.1Mp camera and HD video recording capability and because I believed (from a comparison chart in a brochure) that it had 8GB memory and a memory card slot.
And because I just couldn't stomach following the herd to Nokialand – having a more obscure O/S might prove better long-term with fewer viruses being written for it too. Oh, how I planned to buy a 16GB micro SD card to expand the memory to store my music, and pushing my concern about it being flimsy to one side with the justification that if I did drop it, its lightness might prove useful…?
A few days later the courier delivered my new 'phone! First disappointment was the 8GB memory – that WAS the supplied micro SD (internal memory is actually 75MB) BUT it did come with a very useful micro SD > USB adaptor.
The advertised 'In the Box' Handsfree Headset wasn't the Bluetooth earpiece I was hoping for but standard 3.5mm jack earbuds!
I wasn't able to use the PC software (PC Companion & PC Suite) as I had an elderly laptop that didn't have a required Windows XP patch so there was lots of grumbling as I transferred my SIM card contacts to the new 'phone, having to edit each because of field inconsistencies.
More grumbling occurred with messaging: I found that although you could access/import messages previously stored on the SIM, you couldn't store messages TO the SIM, the options being store to the 'phone or memory card.
This led to increased BP when I discovered that messages stored on either the 'phone or memory card couldn't be transferred between, and a call to SE support confirmed that they didn't know storing to memory card was even an option!
But the camera was as good as I'd been led to believe (even better as it has a panorama function) and I was able to squeeze 42 albums (now have 1.3GB free) onto the memory card. And I had the internet access I wanted…
6 months on and the Honeymoon is so over and so are apps that came with the phone: I can no longer use Adobe PDF Reader or Quickoffice because they were only for a trial period – but perhaps this is easier as I now download PDFs, transfer to PC and read in comfort.
TrackID™ has yet to report back on any tunes I've sent it and I've not still found the Stopwatch/Timer function. All games are Demo versions and my all-time favourite game Jamdat Sudoku, which came with the Motorola RAZR V9, isn't available for the SE Vivaz so I keep my V9 on a PAYG SIM and charged just to play Sudoku (and as a fallback for those months when, just before month end, I'm dangerously close to my 500MB allowance).
Perhaps I was spoilt with Motorola's iTAP which actually attempted to PREDICT the word I wanted from as few as 2 key depressions (8-4 up pops 'The', add 4 'This' appears, then 7 and 'Thistle' is offered), so the air is generally blue when I use SE Vivaz's so-called 'Predictive text' that only guesses which of the 3 characters you might mean for the key you've pressed (the same input on the SE Vivaz results in 'Th', 'Ugh' and 'This)!
When I visit website with video content I'm constantly told that my Flashplayer is out of date. And oh, trying to read website text!
Yes, I know you can zoom to increase text size but if the site doesn't readjust for wordwrap then you have to keep sliding from side to side to read so eyestrain on a 2.25×0.75″ screen is becoming an issue (advertised 3.2″ is in 'fullscreen' mode and is measured corner to corner a la TVs).
That's just one of the quirks with internet use, another is watching a 2MB webpage load only for it to crash the application (that's 2MB from my 500MB monthly allowance you've just wasted!), once the page has reloaded and you've perhaps moved into another page or 2 before needing to going back to the initial page, there's a supremely easy method to select which page to go back to, but frustratingly you then again watch the 2MB page load (there goes more of my allowance!).
For recurring Calendar entries you can't do anything fancier than Daily, Weekly, Every two weeks, Monthly or Yearly – I'm not asking for anything too hard, just Yearly on the first/last Monday of the specified month (so I can schedule May and August Bank holidays?) and every # OF days (useful if you're monitoring something). And for appointments that repeat but are not recurring (we all have appointments like this) it's frustrating that a whole entry can't be copied to a date.
In an attempt to balance this review with some positives for the SE Vivaz: the Converter (Currency, Area, Energy, Length, Mass, Power, Pressure, Temperature, Time, Velocity and Volume) app is very useful; the Radio (which for some reason will only start once you connect the handsfree headset but then allows you to 'Activate loudspeaker' – why? you don't have to do that whe n playing mp3 files) offers reasonable sound and stores (Automatic or Manual tuning) up to 30 stations.
Another feature I've found useful is the option for the SE Vivaz to go into 'Flight mode' at a specified time – handy if you take your 'phone into the bedroom at night but don't want to be disturbed by SPAM texts offering something you've never wanted. It's also possible (and easy) to drag and drop files between the SE Vivaz and your PC without having to use additional software and also to reorganise the menus and moving apps and functions to the place you want them to be (perhaps most useful at the top and expired at the bottom…?).
The ability to have multiple apps open and flip between them is useful and the screen resolution is pretty good too. PC Suite allows you to backup and restore 'phone files; quickly edit your Contacts; create some 'non-standard' recurring entries for your calendar.
It also allows you to print and archive text messages but unfortunately doesn't resolve the message storage issue. It's possible to charge the SE Vivaz either via your PC using the supplied USB cable or by connecting said USB cable to an adaptor that then connects to a standard 3-pin electrical socket. And the dangly stylus for the touchscreen is still attached.
I have considered going back to the Motorola RAZR V9 but the screen is just too small for intensive internet usage, so I'm stuck with the SE Vivaz for another 18 months unless I can find a reasonably priced Defy on PAYG – yes it's that bad that I'm actually considering spending MONEY to change my 'phone!
Vodafone now stocks Motorola's Defy (SOB!) – I wish I'd known that was coming, I would've held on and gone that route; I imagine it would be like kicking off those 4-inch stilettos that felt fine and looked oh so fab in the store…but you've just spent the day (and night) wearing them…ahhh!