Review: Logitech BCC950 ConferenceCam (RRP: £199.99)
The idea of working remotely from home instead of commuting into the office is slowly beginning to become a reality. Claims that flexible working saves money, energy and increases productivity has encouraged some firms to set in place remote working strategies.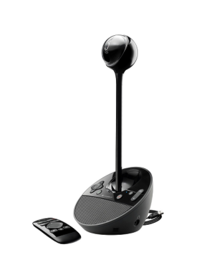 With an array of software and services such as VPNs (virtual private network), Dropbox, Skype, along with gadgets like webcams, smartphones and Mi-Fis (mobile Wi-Fi hotspots), spending a day away from your desk can easily be as productive as a day in work.
And if our near-empty London streets during the Olympics were anything to go by, perhaps many people out there have been trying out flexible working for the first time this past fortnight?
For the flexible worker or in-office conferences, computer accessory giant, Logitech, have produced a ConferenceCam suited for small group video conferencing with the added bonus of a full HD camera.
Set up
Setting up the device was generally straight forward, attach the camera, plug into a power socket and your USB port and away you go – no device software needed.
There is no 'ON' button, so I was waiting a little while for a confirmation light, and it wasn't until I noticed Skype notifications coming out of the device speakers that I realised it was all connected with no software downloads – very simple.
Ease of use
Hit video call on Skype and the ConferenceCam connects like any other web cam.
Tested on Windows 7 using Skype, my first impressions of the video quality were great. The image was very sharp, thanks to the full HD camera. And the all-in-one audio and video worked really well, picking up voice clearly on both ends of the call.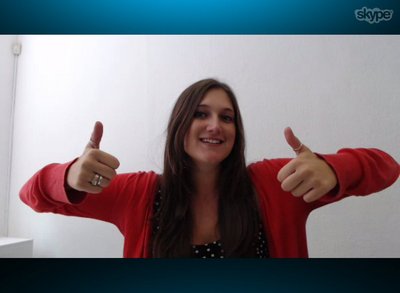 The device is £199.99 and also comes with a little remote control which allows you to sit back and adjust the angle of the camera using its 78 degree field of view (this can also be done on the base of the device). The camera also has a zoom function, however this could be a little smoother.
Logitech claims that its ConferenceCam bridges the "small meeting gap" in the market. It accommodates groups of 3-4 people without them having to sit each other's laps. This removes the need for a large scale meeting room video system which can be very costly. It is also surprisingly light; weighing 568g it can easily be picked up and taken into a meeting room.
So how many people can you actually fit in the cameras field of vision? We thought we would experiment in the CW office….
Well, we very comfortably fitted seven in the frame and as you can see the picture is great.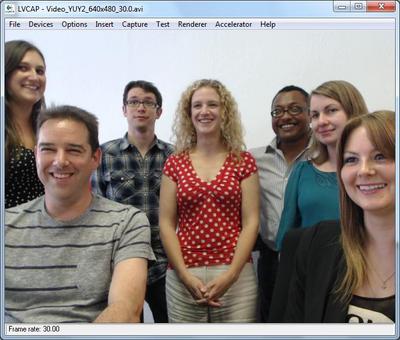 I made Skype calls over fixed broadband and over a Mi-Fi mobile connection and both times the clarity of the video came across very well, with an expected reduction in quality over mobile.
Any negatives?
You can connect the device via a power socket or an additional USB cable, meaning that there are two sets of cables running from the ConferenceCam.
It's the type of gadget which I'd want plugged in all the time so it's ready to go, but with the increasing amount of gadgets on the everyday work desk, finding that extra power socket or USB port can be a nightmare. It would be useful if the device was powered by a single USB cable – but it is by no means a major fault of the product.
Jabbar incompatibility
We spoke to a fellow user of the ConferenceCam, Jonathan Villasan, who manages a telepresence system in New York. He tested out the ConferenceCam on Skype, Google Video Chat and Jabber Video for Telepresence. It's worth noting that while he found the same great results on Skype and Google, the Jabber video conferencing system was unable to use the ConferenceCam's full zoom and panning functions. Villasan informs us that Logitech are looking into this.
He said: "Despite the issues, overall we still find the BCC950 to be useful for our environment because it still solves a lot of issues for our PC users. Namely the convenience of having the built-in speakerphone and microphone to mitigate feedback (big issue for us), flexibility in placement relative to a fixed webcam, and having a wide-angle lens helps so users don't have to 'squish' to get in the picture.
"Currently we are using it in one of our affiliate hospitals where our medical students do their clerkships. Each clerkship has a lecture every eight weeks and having this deployed lets our students participate at their assigned hospital so they don't have to travel (50 miles) back to campus."
Living room conferencing system
Keeping in mind the topic of flexible working, a device like this could potentially be used in the home, thanks to its lightweight nature. David Maldow, Human Productivity Lab analyst and an associate editor at
Telepresence Options,
also tested out the ConferenceCam recently. He managed to create a living room videoconferencing system, using his television screen, a laptop and a VGA-DVI cable.
"This is the first time I have been able to use the biggest piece of glass in the house for videoconferencing, it was very easy to set up, and affordable," said Maldow. "You may not purchase the ConferenceCam with this purpose in mind, but if you own one you might want to try this out because it is pretty cool."
Thanks to the ConferenceCam's compact size and elongated "neck", he found that the eye contact using the device was close to natural, while the placement of the camera didn't distract from the conversation.