Review: Hands On with the Motorola DEXT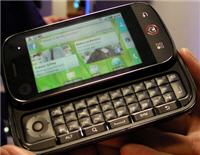 Hello Motorola, I said, unwrapping the PR package – because I am that indoctrinated,
that brain-mushed
, I frequently talk to myself using catch-phrases from adverts. Simples.
The Motorola DEXT (called the Cliq in the United States of the Americas) is the company's other hot phone of the late noughties. You know, the one that isn't the
Motorola Milestone
? That by the way, was called the Droid everywhere else but Blighty.
It's as though whoever's in charge of Motorola's branding outside the US is one of those guys. You know who I mean. He's some big cheese in regional, who waits until the end of the discussion and then laconically sticks his hand up. "Actually, I disagree," he says, just when you thought you'd sorted out the office coffee rota.
Here's Orange's official demo of the Motorola DEXT:
So – the DEXT. I played with it a bit before Christmas came along and snowed me in, stomach distended with brassicas and brandy. Here's what I liked:
The brilliant, beautiful keyboard. Seriously. Some folks have said that it wasn't to their taste – but stacked next to the Blackberry's cramped collection of keys or any virtual keyboard, it wins big. It slides out from behind the handset, which looks very iPhoney in form and and size when closed. When opened, it's more like a mini netbook. A teeny, tiny web wonder. The keys are ergonomically moulded so your fingers easily find the right characters – instead of the one next to it. Or the three next to it. So far, so ace.
This is a phone you can imagine doing business with. It was Motorola's first Android handset, so you have the benefit of Google's growing App store and easy installation. And the phone itself comes with a dedicated headphone socket as well as mini-USB for folks who like to use their handsets as MP3 players. Or, to stream
Spotify
.
On the whole, then, I was favourably disposed towards the DEXT, which was easy to set-up and use. I mean, what's not to like about such a powerful little gadget. With 1GB onboard storage, 256MB RAM and a CPU running at 528 Mhz, the DEXT is significantly faster and stronger than the first Motorola powered home computer I bought; an
Atari ST
. That was back in 1985 though… And it was the size and weight of four house bricks.
The DEXT fits nicely in the palm, when not in extended keyboardy mode. It feels like a phone, not a PDA with a voice bolt-on. So, welcome to the 21st Century, astronauts.
Still – and perhaps this is personal – I'm not overly keen on Motorola's UI, "Motoblur". It's part of a growing trend among 3G phone manufacturers and service providers, showcased too in the recently released
Vodafone H1 360
( a Samsung handset), to candy coat the underlying features of VERY POWERFUL PHONES with a cartoon layer of social media connectivity.
The idea is that your handset is a gateway to social media services – Twitter, Facebook, MySpace and some that your service provider bolts on – so that you can be umbilically connected to everyone in your address book, 24/7.
"I just ate cheese!" bleeps Chris's status update. You know it's him because you can see his avatar battling for screen estate with a bunch of others and you know he said it because there's a little speech bubble coming out of his beardy hipster gob. It's all so… tiresome.
There are markets that suck this kind of stuff up (I'm looking at you Japan). Not me. I want a phone that makes calls, runs apps, does a bit of video and music. And, fortunately, the DEXT does all those things brilliantly well. Better than many of it's smartphone rivals. If I didn't have to send it back, I would have just set my home page to show the weather and forgotten all about the tedious social networking features.
But I did have to send it back, sadly, reluctantly. Goodbye Motorola DEXT.
---
Here's the science bit, grabbed from Motorola's DEXT fact sheets:
Motorola DEXT™ with MOTOBLUR™

Talk and Standby Time for GSM4

360 minutes/6 hours of continuous talk time, and standby of 325 hours/13.5 days

Form Factor

QWERTY side Slider, Full Touch

Band/Modes1

WCDMA 900/1700/2100, GSM 850/900/1800/1900, HSDPA 7.2 Mbps (Category 7/8), EDGE Class 12, GPRS Class 12, GPS

OS

Android 1.5

Weight

163.00 g; 5.7 oz

Dimensions

58 x 114 x 15.6 mm; 2.28 x 4.49 x 0.61 in

Browser1

Android HTML Webkit

Email Types

POP3/IMAP embedded (including Macmail, Gmail, Yahoo!, MSN and AOL1), Push Email

Battery

1420 mAh

Connectivity1

Bluetooth3 1.5, 3.5mm, USB 2.0 HS, Over the Air Sync (OTA); Wi Fi

Display

320 x 480 pixels (w x h), 187 DPI

Messaging1

MMS, SMS, Email (POP3/IMAP embedded, Push Email) IM (Embedded) Open Source

Audio

AAC, AAC+, AAC+ Enhanced, AMR NB, MIDI, MP3, WAV

Video

Playback – H.264, H.263, MPEG at 24fps at HVGA resolution; Capture – H.263, MPEG at 24fps at HVGA resolution

Camera

5 megapixel, auto-focus

Memory

Removable 2GB MicroSD card (included); Supports 32GB MicroSD (optional)

Location Services1

Integrated 5-way navigation, GPS, Turn by Turn directions, Google Maps with Street View , E-Compass

Size

~103.15 cc; 6.32 inches

Antenna

Internal / Antenna diversity (2 antennas to enhance reception)

WLAN

802.11b, 802.11g

Address Book/Calendar1

MOTOBLUR aggregates Facebook, MySpace, Twitter and Gmail, and syncs your work contacts, email and calendar