Review: HTC Sensation. Sensational, superb or just standard?
Hopefully you'll have seen the review of the HTC Flyer I did a while back, well now I've got my hands on the HTC Sensation. I am well aware that the Flyer is a tablet and not a smartphone but it was the Flyer that gave me my first taste of HTC's new Sense UI.

I wouldn't say that Sense 3.0 is one of the stand out features of this phone because it does have a lot more to offer. It's the trusty sort of smartphone we're used to from HTC but with a few extra twists.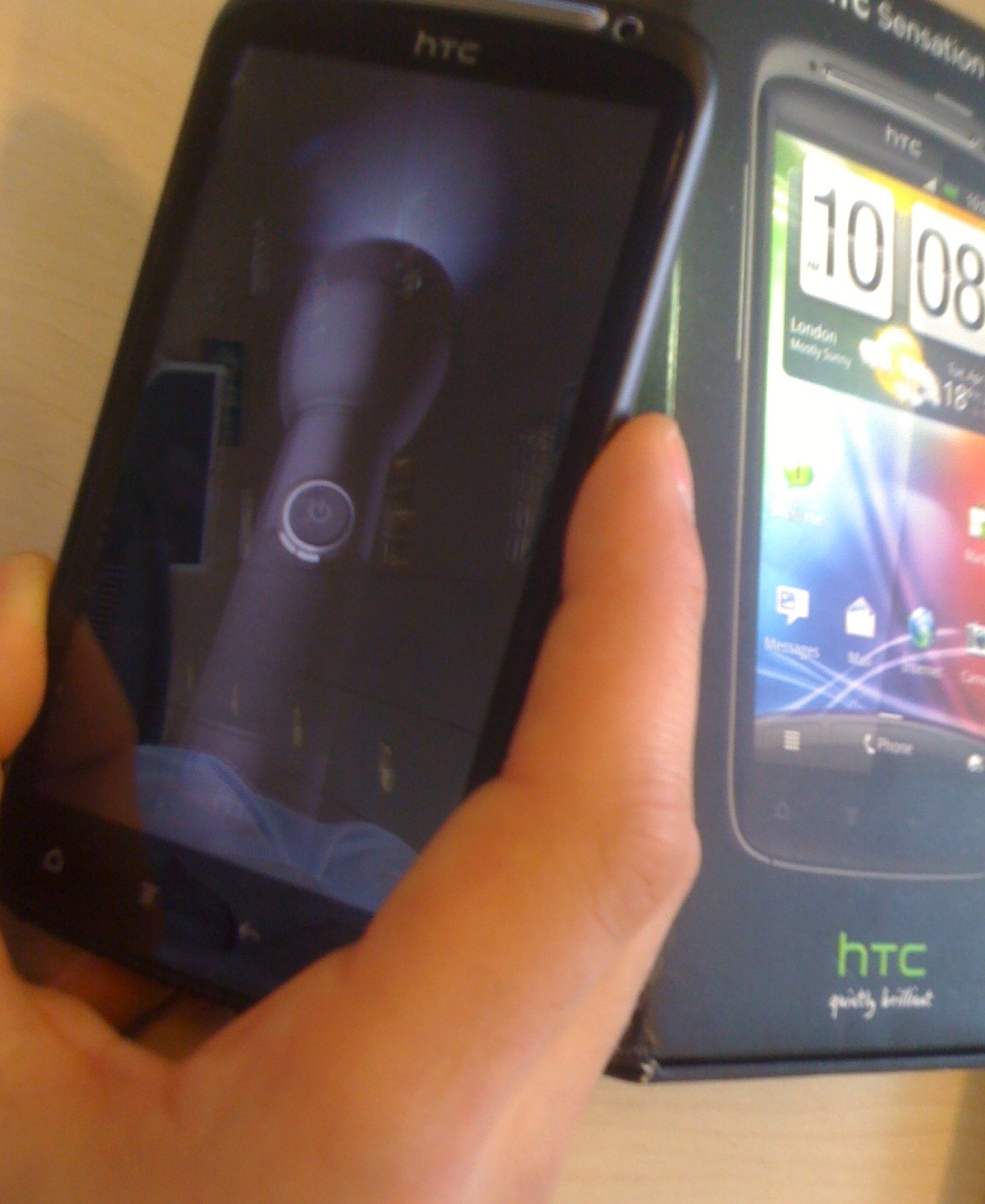 Looks

It would be too predictable to say that the Sensation looks sensational and it would also be untrue, personally, I would say that it doesn't particularly offend my eyes. It's steers away from being mundane, whilst remaining practical.

The front of the phone, made up mainly of screen and bezel, is nearly as flat as a pancake, with the speaker grille and front facing VGA camera sloping downward. Weirdly though, the screen curves upward as it gets towards the edges, meaning that you can place it face down on a surface without worrying about little scratches.

The rear and sides of this HTC are formed from an aluminium frame, with two soft plastic inserts (a light one at the top and a darker one at the bottom), and you'd have thought this would lead to a sense of rigidity, but it doesn't! Instead the sides and rear merely feel like a shell, as when you push down on the screen there is quite a lot of give in the casing.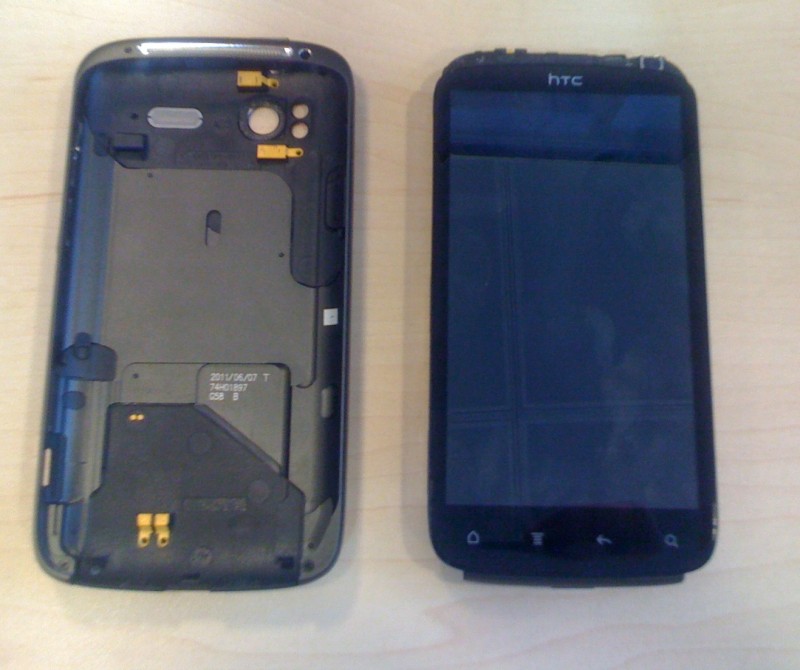 This was quite a big disappointment, especially given that the measurements of 126.1 x 65.4 x 11.3 mm and a total weight of 148 g make it a pleasure to hold in your hand.

The back of the Sensation houses a loudspeaker grille and an 8MP camera with duel-LED flash, which recedes into the casing for extra protection, however, it also means that this little gap is very susceptible to dust and pocket fluff.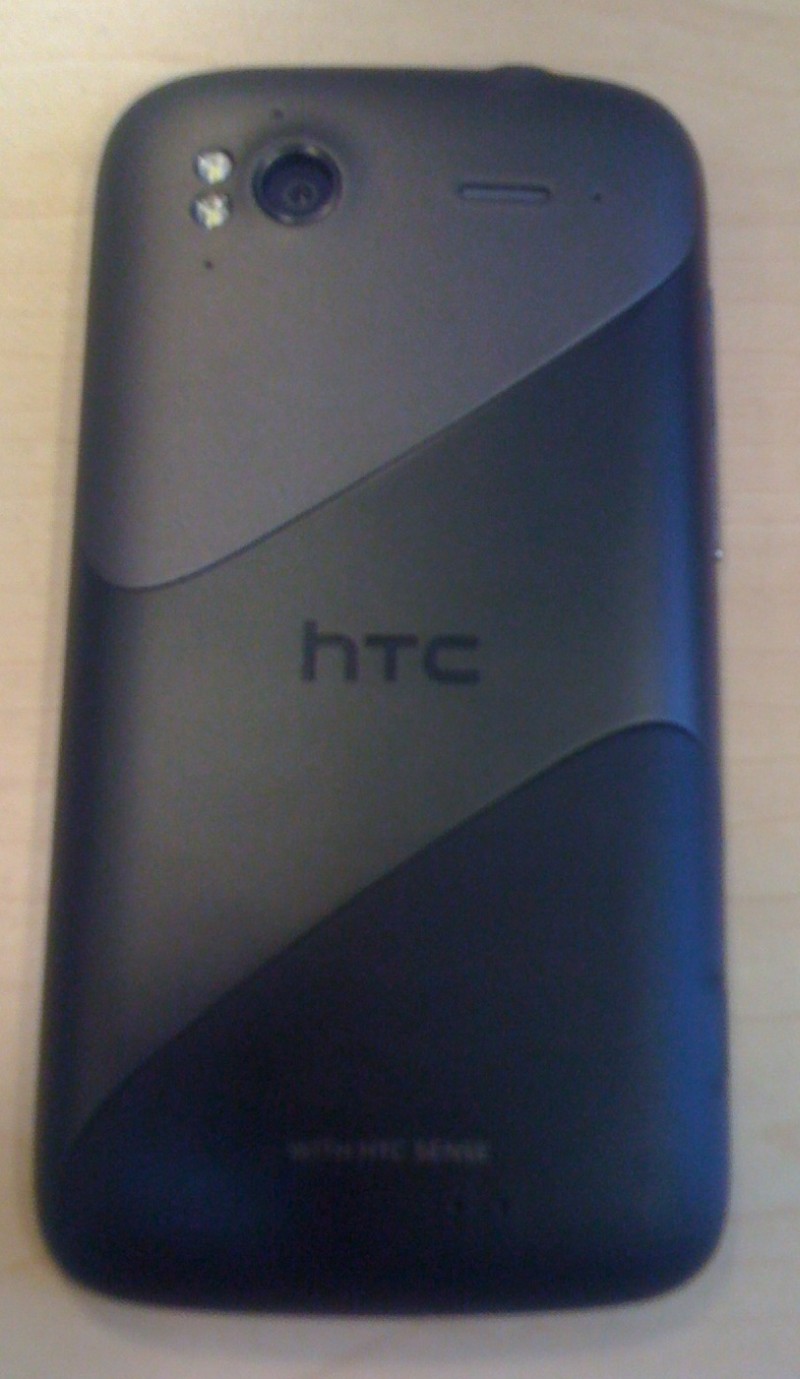 While the right hand side of this Android handset remains button and slot free, the left hand side is where you will fine a nicely sized volume rocker and micro-usb slot.

The bottom simply has a button that allows the case to be removed, with the top having only the silver on/off/screen lock button and headphone jack. The lack of ridges and gaps in this phone gives it a nice flowing feel and adds to the overall comfort.

Screen
The Sensation is equipped with a 4.3 inch Super LCD capacitive touchscreen, capable of displaying up to 16m colours. It is well worth noting that the HTC's 960 x 540 resolution offers 35 percent more pixels the Samsung Galaxy's SII 800 x 480 screen, yet, the viewing angles and general quality of the display is not as good as it's rivals.
Although, qHD does offer some advantages, firstly, more can be displayed on the screen and, as a result, the web browsing experience is a pleasant one. Secondly, watching videos you've either downloaded or filmed yourself appear in fullscreen, meaning nothing is cut off and you can also use the 16:9 ration in the camera as well.
Features
The real selling point of the Sensation is the 1.2GHz dual-core processor, which is coupled with an Adreno 220 graphics-processing unit.
The HTC, rather than the ARM Cortex-A8, contains a Qualcomm MSM 8260 Snapdragon which helps improve the HD video performance levels. It comes with 1GB of storage and 768MB of RAM, which again help this phone perform at a top level.
Almost every action, such as loading a webpage, opening the camera, or playing a game is executed almost instantly on the Sensation. Noticeably faster than on it's Sense 3.0 compatriot the Flyer.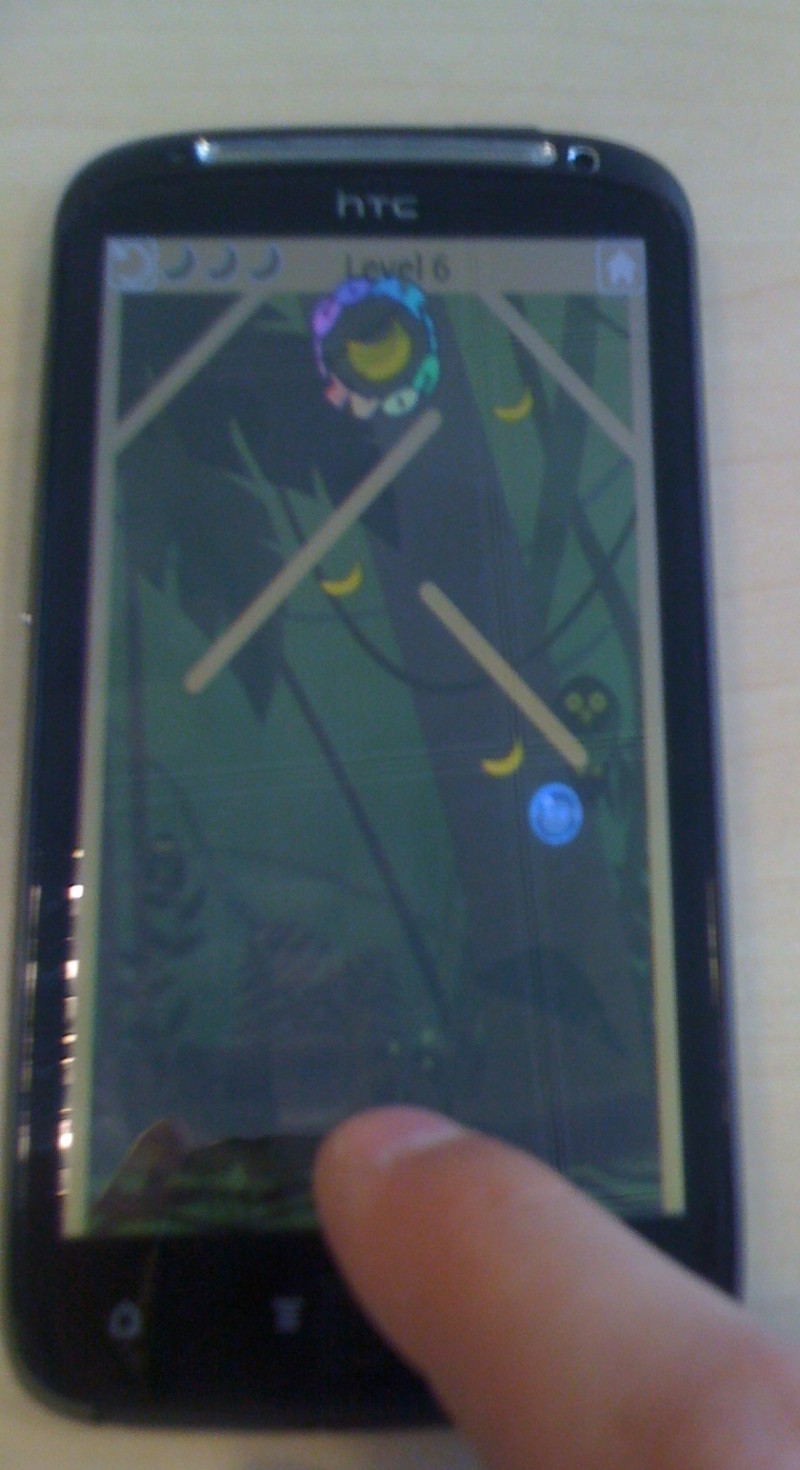 Camera
The 8MP auto-focusing rear camera is rapid, a proper point and shoot job. Similarly to the iPhone, a preview of the last image you've taken is displayed in the bottom corner.
At times the camera can get too clever for its own good, it's tendency to apply noise-reducing blur can result in high contrast colours merging into one blur.
Thankfully you are able to adjust a lot of things, including the exposure, saturation, sharpness and a set of white balance presets.
As far as smartphone cameras go the Sensation's is impressive. To get the best of it you may need to spend a little time messing around with it but for most users needs out there it will cope just fine.
Sample Shot: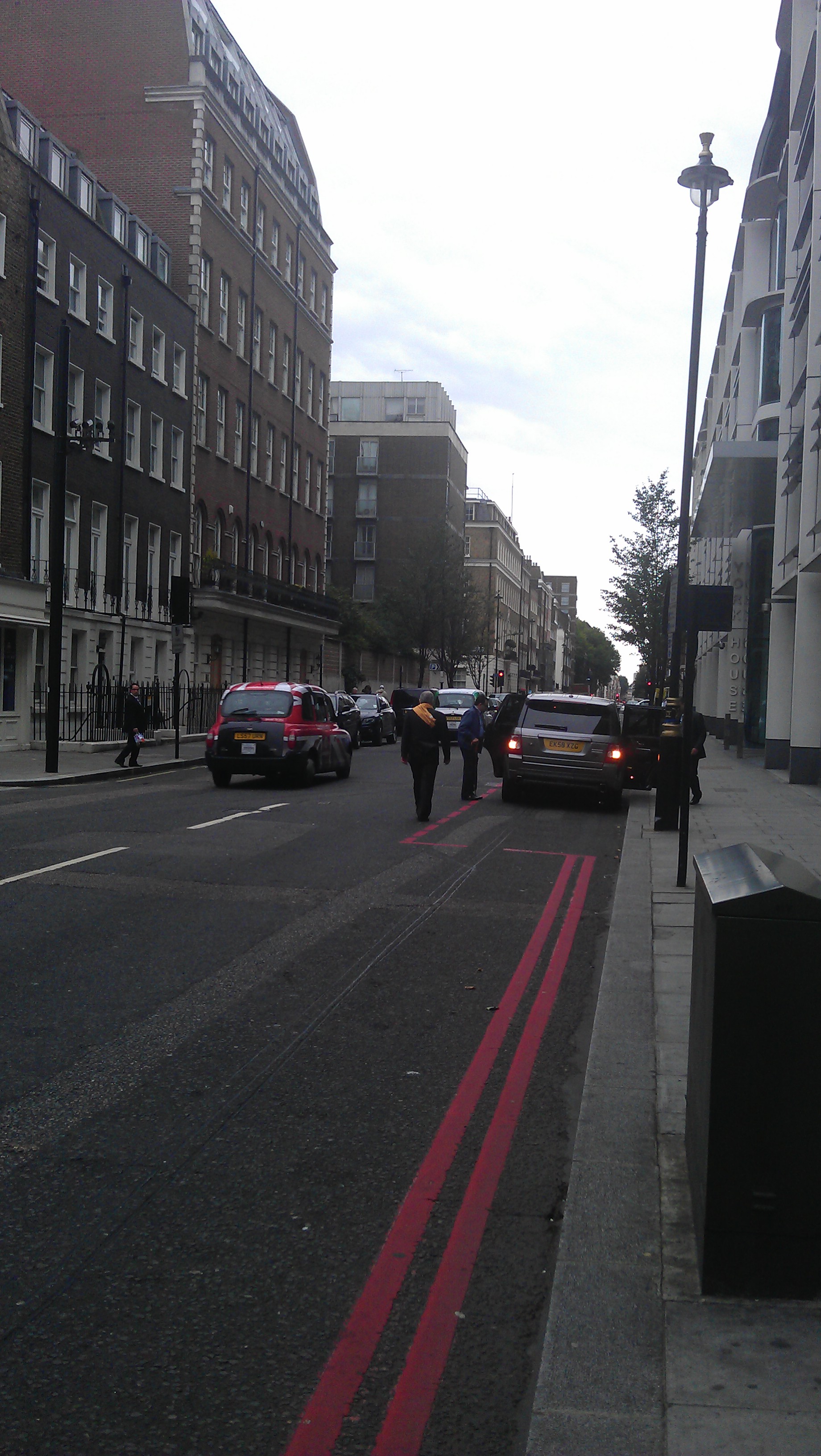 The front facing VGA again is only suitable to be used in the Mirror app or for video calls.
Moving onto the video recording, which is magnificent. The HTC is capable of 30fps at 1080p and it is the best smartphone I have ever used in terms of video recording. It's ability to cope with movement is impeccable. The sound quality, which is captured in stereo, is also a step up from that of the Flyers woeful attempts.

Android
Just the usual Android 2.3.3. on show here, a piece of cake for the dual core processor, meaning everything runs like clockwork.
There is the usual problem of duplicate apps but the 1GB of storage and option to add a 32Gb microSD mean that it isn't really too much of a problem. In fact, HTC kindly ship the Sensation with a 8GB card included.
Sense 3.0 hasn't brought with it a complete overhaul. The first thing you notice is the new lockscreen and 4 app options immediately presented to you. Either drag and drop an app into the ring to go direct to that app, or simply pull the ring to unlock the phone.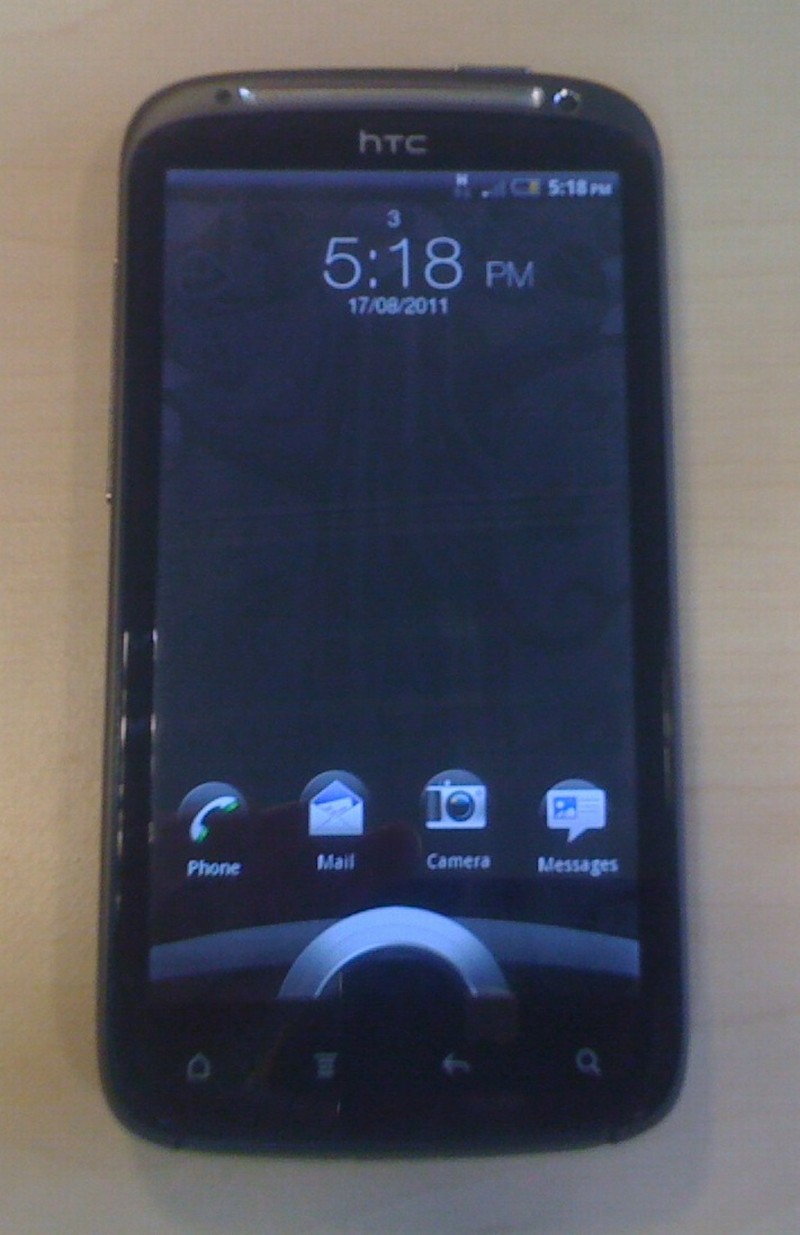 It is interesting to see that when you do select an app shortcut an outline of that app appears inside the ring, just in case you got confused I guess. It reminds me of those kids toys where you had to figure out what shape goes in what hole.
Another change is the homescreens, which now spin round with a 3D effect, leaving you feeling like your on a merry-go-round. It does mean it is now quicker to switch from screen to screen, with neat little tricks to go from the far right to the far left and zoom out to see them all laid out.
Another neat little trick is that by holding down the home button a selection of recently used apps spring up in front of you, saving you a few extra finger swipes and seconds.
Given that this screen is reasonably sized I was expecting the keyboard to be easier to use, however it seems squished and whilst typing I often found myself making mistakes. It was especially tricky when putting in my password around other people, purely because I couldn't use the 'show password' option, it often took me two or three attempts.
Sense 3.0 and Android 2.3.3. have brought some changes, even if they are mainly cosmetic or minor tweaks. I don't know if HTC were too scared to venture further afield or didn't want to fiddle too much with an already stellar OS and UI combo but it seems they would prefer to plod along than push the boundaries.

Call Quality
Not the best but not the worst is what I would say here. The speaker, which you would normally expect to be placed on your ear, finds itself hovering above your ear because of the thin bezel and casing along the top.
What it lacks in receiving sound during calls, it more than makes up for in delivering sound. Walking around bustling London streets with all the noise from gaggles of tourists 'woooooow'-ing, business men pretending to be taking important calls and the Evening Standard man shoving a paper in your face proved no problem for the person on the other end of the phone.
The loudspeaker is no more than standard really, delivers a good level of sound for it's size but if anything covers it remotely then muffling becomes a problem. Sticking it in an empty glass always helps.
Battery Life
All in all, the Li-Ion 1520 mAh battery performs well considering the kit that it has to power.
Of course, heavy usage can sap the battery (video recording is the worst culprit) , as it did when I was constantly messing around with it throughout the day.
HTC quote battery life times for standby at around 350hours 2G, or 400hours 3G. As for talk time, it's up to 8h 20mins 2G, or 6h 40mins 3G.
I did leave the Sensation on for two days straight without touching it and when I got it back it out still had just over 30% battery left. So, with considerate usage this device should easily last two days without needing a charge.

Summary
You can pick a Sensation up for around £405 simfree and I know many people who already have. The 1.5GHz dual-core processor and improved graphical performance of this HTC isn't really put to the test, which is a big disappointment.
The styling and internal hardware on offer here is a marked improvement on some HTC devices from the past, however Sense 3.0 is best described as uninspired.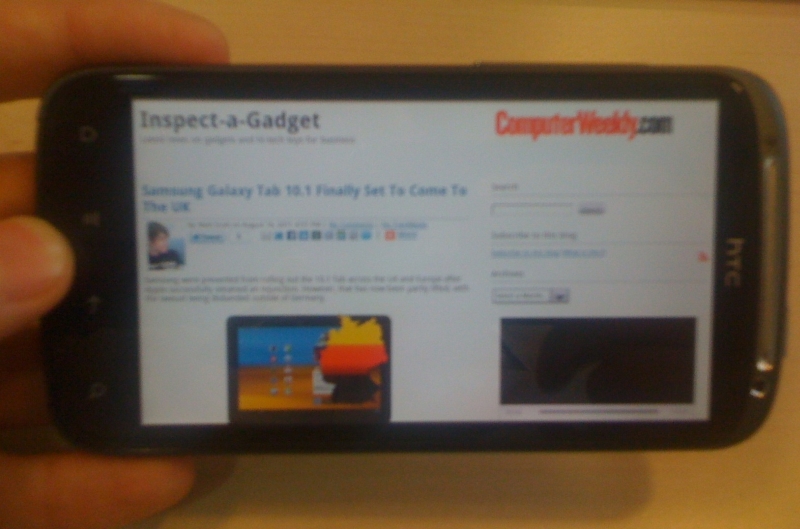 Many would say the Samsung Galaxy SII is this HTC's main rival and the Taiwanese firm have decided that the best approach they can take is to offer little alternatives, such as improved screen resolution and qHD but they've fallen at the last hurdle by not seeing things all the way through.
The Sensation is a very sensible and practical phone, designed to last you and keep you content for the foreseeable future. After my time with it I think I can safely say that this phone is more than capable of doing that, however, it could have also been so much more.