Review: Google Nexus 7 tablet - is it ready to do business?
This is a guest post by Kane Fulton, editor and founder of online magazine SKRBBLR.
Review: Google Nexus 7 (8GB, £159) / (16GB, £199)
Google's own-brand Nexus 7 tablet, which is manufactured by Asus, retails with a competitive price point, houses impressive hardware and ships with the latest version of Android – 4.1.1 Jelly Bean – making it an affordable yet capable budget tablet. To compete in the enterprise, however, it will need to address several key issues that reduce its suitability for the workplace.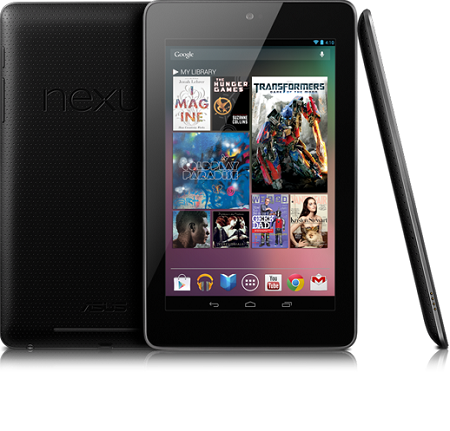 Display and build quality
The Nexus 7 features a seven-inch LCD display constructed of scratch-resistant Corning's Fit Glass, making it a robust companion for business users on the go, who could slip it into a pocket or bag without worrying about its welfare. It delivers a resolution of 1,280 x 800 with a pixel density of 216ppi, resulting in sharp detail and legible text, and the screen is bright enough to be used outdoors while offering decent viewing angles due to its backlit in-plane switching (IPS) panel. At 12oz, it's light enough to hold in one hand for long periods of time and a sturdy rubberised back panel makes it a suitable device for giving presentations.
Specification and connectivity
The Nexus 7 both excels and falls short in the specification department. It's powered by the nVidia Tegra 3 quad-core processor found in other high-end Asus tablets like the Eee Pad Transformer Prime and is backed up by a respectable 1GB of RAM. As a result, pinching, swiping and navigating the interface is fluid and smooth, made all the more seamless through the implementation of Butter, Google's intuitive user interface project, which has noticeably reduced lag and improved menu transitions, bringing the user experience in line with Apple's iOS.
For connectivity, the Nexus 7 features built-in Bluetooth, enabling users to pair existing keyboards and headsets. In a move most likely to keep the price down, 3G is absent from both models currently available, and business users wanting to surf the net in absence of a Wi-Fi connection will be required to dip into their smartphone data allocation through Wi-Fi tethering. This provides an issue for IT departments requiring their employees to use mobile apps such as PushBI for on-the-go business intelligence (BI) analysis, which require a permanent connection. It also presents something of a Catch-22 situation for users intending to make mobile payments using the built-in NFC (near-field communication), which requires an internet connection. One solution is offered by Carphone Warehouse, which is selling the device for free on a tethered contract for £20.50 a month over 24 months.
Software and apps
The open customisation of Android is an attractive proposition for IT departments looking to build their own integrated mobile BI apps free of restrictions. While the Nexus 7 doesn't ship with any third-party productivity apps, it's fully Google integrated, allowing users to tap into services like Gmail, Maps, Google+, Calendar, and Chrome, which is the default browser. Those pre-ordering a Nexus will also receive £15 for the Play store, which they could put towards office apps like Documents To Go (around £19) or ThinkFree Office mobile (£5.50), which are compatible with Microsoft's Office suite.
Forward planning of what sorts of apps will be installed may be required, however, as the 8GB version only leaves around 6GB free after the operating system has been installed, and the omission of expandable memory makes taking advantage of cloud-based services like Google Drive or Dropbox a necessity. On the plus side, the Nexus 7 is built for videoconferencing with a front-facing camera, built-in microphone and straightforward Google+ integration – none of which impact the stout 16Wh battery, which provides a reliable 10 hours of heavy use. Other improvements brought by Jelly Bean include an improved keyboard with predictive capabilities, the ability to move widgets to different home screens, and Google Now – a personal assistant that focuses on speech in order to browse your history, locate GPS positions, bring up-to-date travel information and keep track of appointments.
Android vs iOS vs Windows RT / 8
While Jelly Bean is capable of running a larger set of apps than other Android competitors, the most recent Mobile Developer Survey indicated that iOS has opened a 16% lead over Android in the enterprise race. Reasons cited for this include the proliferation of the iPad, regular reporting of Android malware, and enterprise challenges in dealing with Android fragmentation. While possessing some clear business potential, the Nexus 7 is primarily an out-of-the-box consumer device centred around Google Play and entertainment, and the possibility of Apple releasing an "iPad mini" later this year, with a cheaper price point and similar features, could make it increasingly difficult for Google to close the gap.
Microsoft's Surface tablet, which will run Windows RT or Windows 8, is also an intriguing proposition for developers due to the strength of its Office suite and legacy app support on the non-RT version. It's also expected that the Surface will deliver an integrated experience with PCs, as well as gaming consoles and Windows phones, resulting in a linked ecosystem fit to mount an attack on the one so successfully built by Apple in recent years. Unlike the Nexus 7 though, the Surface isn't expected to debut at anywhere near £200, which means businesses will have to consider whether additional features justify the cost of equipping employees with significantly more expensive devices.
Summary
With the Nexus 7, Google has set an example to follow, proving that attractive and fully-functional Android tablets can be sold at highly competitive price points and at an (albeit modest) profit. While its price, battery life, excellent build quality and open operating system make it a serious consideration for IT departments intent on developing their own apps, the lack of key features like 3G and expandable memory make it a great value device for IT professionals – just not necessarily the best one that money can buy.