Review: BlackBerry Torch 9860. Just how illuminating is this smartphone?
BlackBerrys are still the corporate phone of choice for many businesses, purely because they offer a high level of functionality and versatility at a relatively low cost. However, the success and popularity of Apple, along with more organisations embracing 'bring your own device' (BYOD) schemes, has led to the iPhone becoming the smartphone of choice for many business users.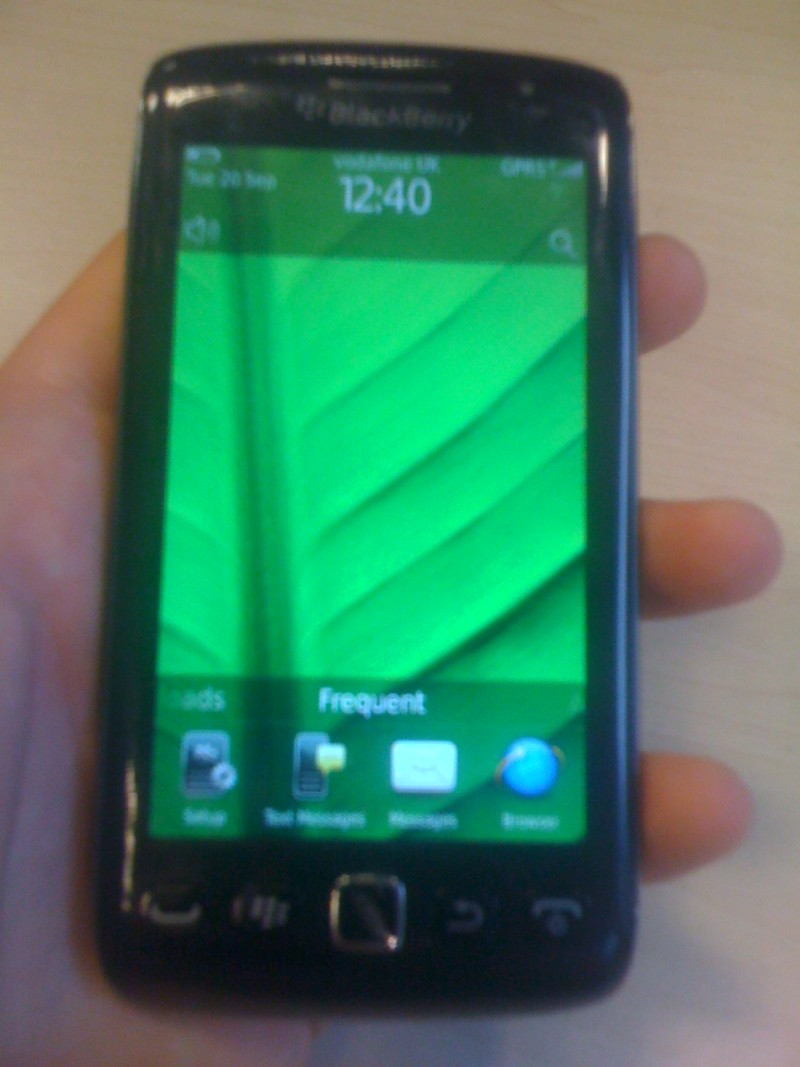 It may have taken a while but, following on from the original BlackBerry Torch, which is part touchscreen and part slide out keyboard, RIM have finally taken the plunge and released an all touchscreen handset. The Torch 9860 will inevitably end up drawing comparisons against the iPhone and leading Android devices, such as the
HTC Sensation
and Samsung Galaxy SII, so let's see how it measures up.
Looks:
Stylish is not usually a word I would attribute to BlackBerry but I think they've broken the mould with the Torch. Usually shiny plastic looks cheap but here I would call it glossy, even the chrome coloured reflective border around the back of the handset looks sleek.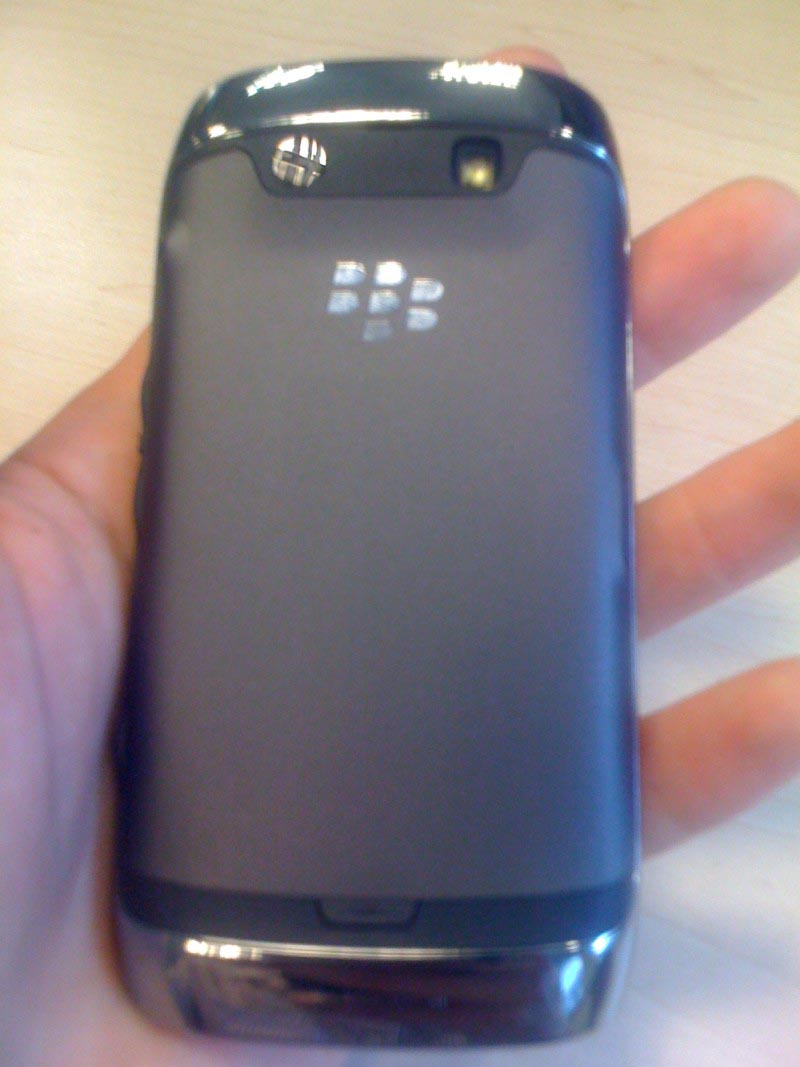 The back of the 9860 features a solid metal back plate and a soft touch rubber lining, from which the 'convenience' and volume keys protrude on the right hand side. Although these buttons are insanely thin and often need to be pushed with a nail rather than a finger, the device as a whole feels solid and top class.
The right hand side is also where the headphone jack can be found and the left hand side plays host to only the usb and charging port.
Unlike the HTC Sensation and iPhone, the Torch's lock button is separate to its on/off button, cleverly integrated into the rounded top.
This BlackBerry measures 120mmx62x11.5, which in case you are wondering, is marginally bigger than an iPhone 4 all round, although it is 2 grams lighter than the idevice at 135g.
Unlike the iPhone 4, the BlackBerry features five buttons running along the bottom of the handset. There is a call, menu, select (which is also a trackpad, as is the norm more recent RIM models), back and end call button.
I think, by far, the most impressive thing about the Torch 9860 is that, despite all the evolution and changes, it still manages to be instantly recognisable as a BlackBerry.
Screen:
The 3.7 inch TFT LCD 800×480 screen fitted in the Torch is the biggest that RIM have made and from the looks of it, you'd think they'd have been doing it for years.
The screen looks brilliant, it's sharp, bright and provides a pleasant experience when using the BlackBerry browser or viewing media.
Hardware:
The Torch comes with a 1.2GHz CPU, unfortunately only a single core, meaning it can't match the processing power of the Galaxy S2 and HTC Sensation.
That said, BlackBerry OS doesn't have to deal with Android and then Sense 3.0 on top of that, RIM have kept it simple.
It comes with 768MB RAM, which is respectable, and 4GB of built-in memory. This is obviously also expandable with the help of a Micro SD card.
Camera & Video:
The 5MP camera with flash is the same one that can be found on its predecessor, but the software has had some tweaking, with a new face detection mode being added.
Once you push the convenience key (its set to operate the camera as a default), if you are actually able to push it properly as it is insanely thing, the camera shutter works instantly. As the shutter is quite fast it is almost a challenge to get a picture to blur without shaking the phone around all over the place.
Here is a sample shot: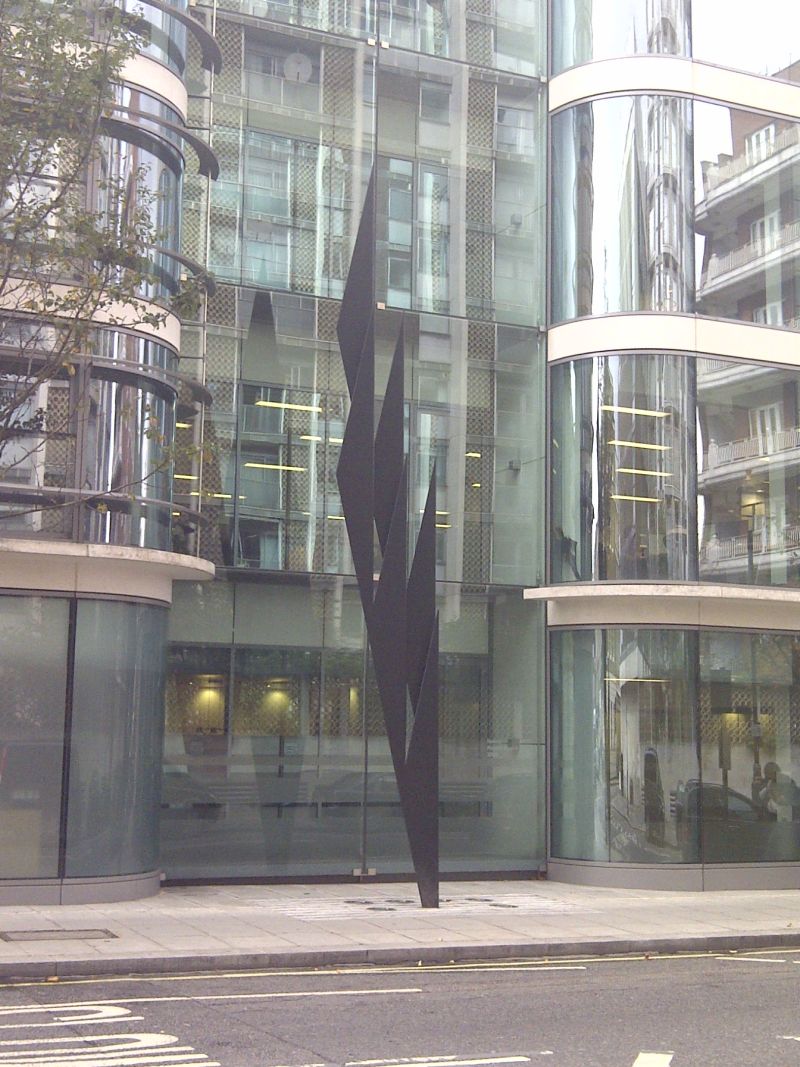 For the full resolution image click
here
. To view two different full res images click
here
and
here
.
The Torch is also capable of recording videos up to 720p (1280 x 720). It also offers 640 x 480 or 176 x 144 and a frame rate of 30fps. As you can see the auto-focus has a mind of its own during video recording but, bless it, its trying to do the best it can.
Here is a sample video I recorded:
Media:
The introduction of Liquid Graphics in OS 7 has greatly improved the performance of the music and video player; it's made the 1.2GHz processor's job even easier and greatly reduced the chances of lag.
Adding media is as easy as peas, simply plug it in, navigate to the media then either video or music folder and drag and drop. I added a 3-track EP and 150MB video clip to test out playback.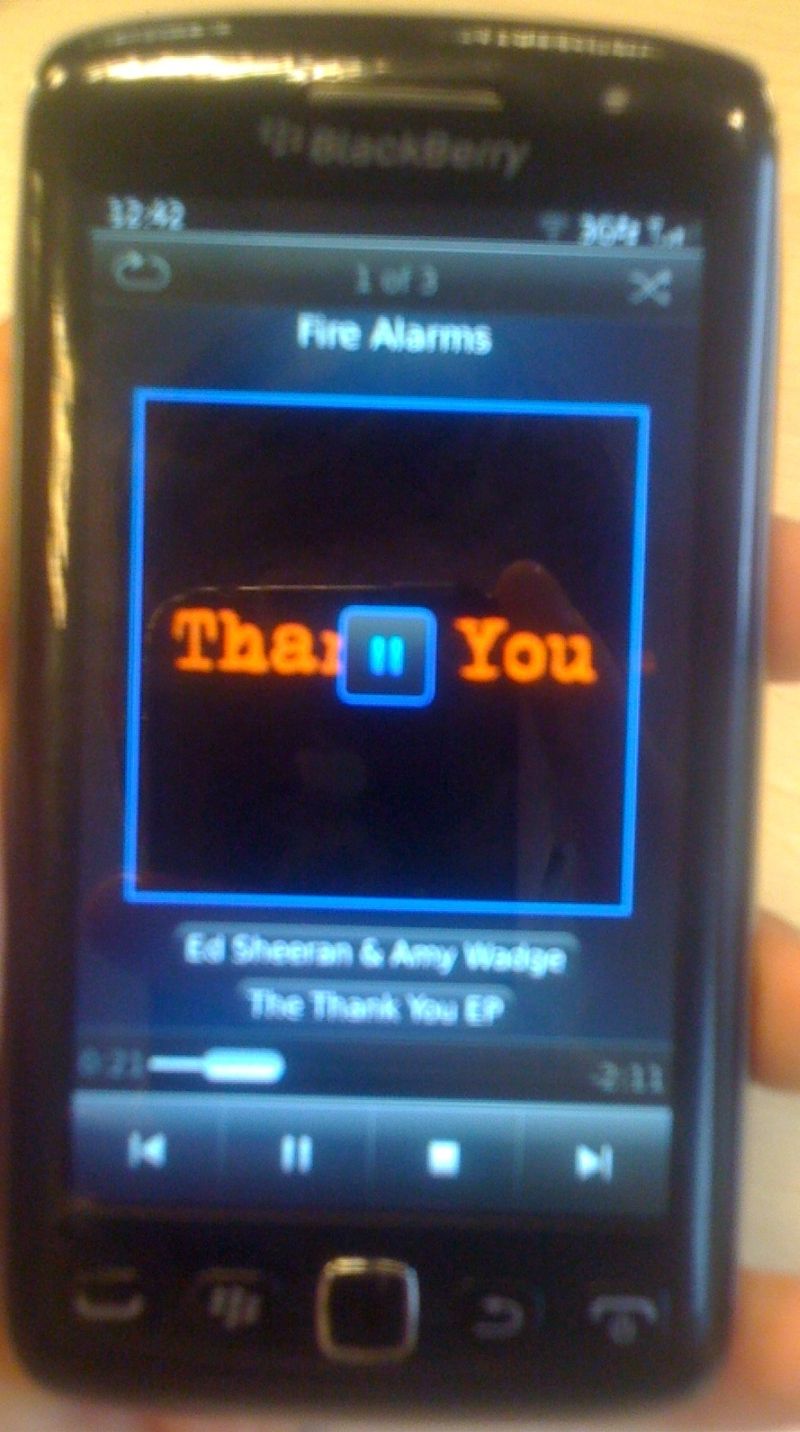 The music player offers you the usual options of browsing through your audio library, however things can get a bit too close together and I did find myself selecting the wrong song by accident at times.
Anyhow, once you are listening to a song, all the other songs on that playlist or album line up nicely and you are able to flick gracefully between them. A single tap on the cover is enough to play or pause a selected song.
The sound quality is good, altho ugh the speaker could do with being a bit louder, and the 9860 easily measures up to its rivals in this department.
Videos look great, be it ones you've recorded yourself or ones you've loaded on. As I mentioned previously, the 30-minute long 150MB clip I uploaded played back without even the slightest sign of a problem.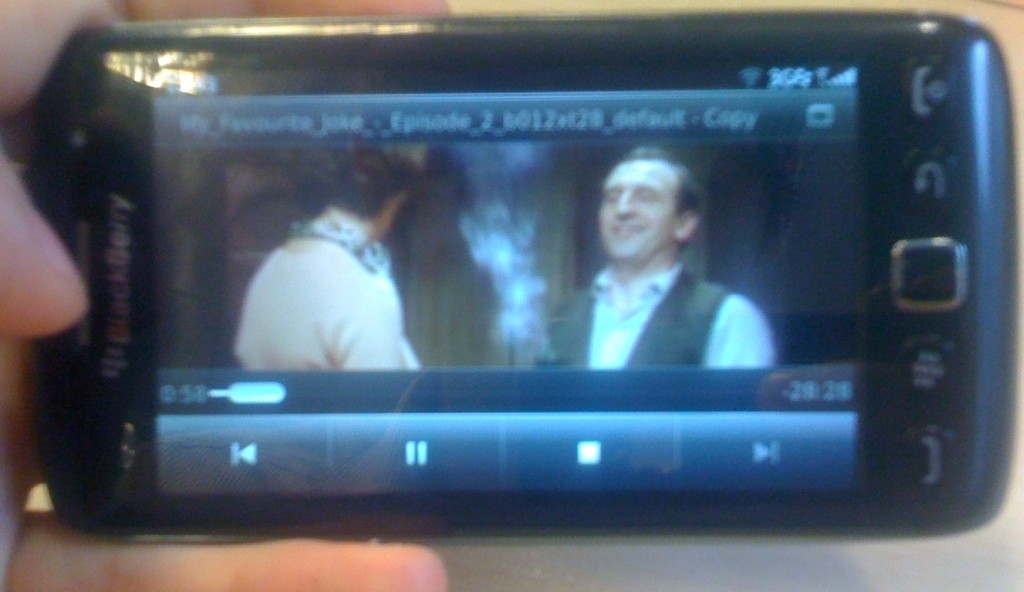 Movies on the go are an option with this BlackBerry.
Call Quality:
Despite being in central London the signal frequently dipped up and down and whilst it wasn't noticeable during a call, it was noticeable (in the shape of an inane buzzing for a few seconds) if it occurred while the line was ringing.
Other than the loudspeaker suffering from the occasional crackle, everything else was crystal clear.
BlackBerry OS:
Having struggled when using older BlackBerrys, due to being used to iOS, I wasn't expecting an easy time with BlackBerry OS 7 but it surprised me. I picked everything up quickly and was able to navigate my way around the phone quite speedily.
There is the usual status bar showing time, date, battery and signal. This can also be tapped to access another menu to turn things like Bluetooth on and off.
Then there is a notifications bar, which allows you to search the phone, change the profile and notifies you when and where any messages you receive are. Don't worry thought, the little red flashy light is still there too.
The menus, which include very vibrant and welcoming new app icons, are housed in trays along the bottom. There are five trays, all, favourites (which you determine), media, downloads and quite handily, frequent.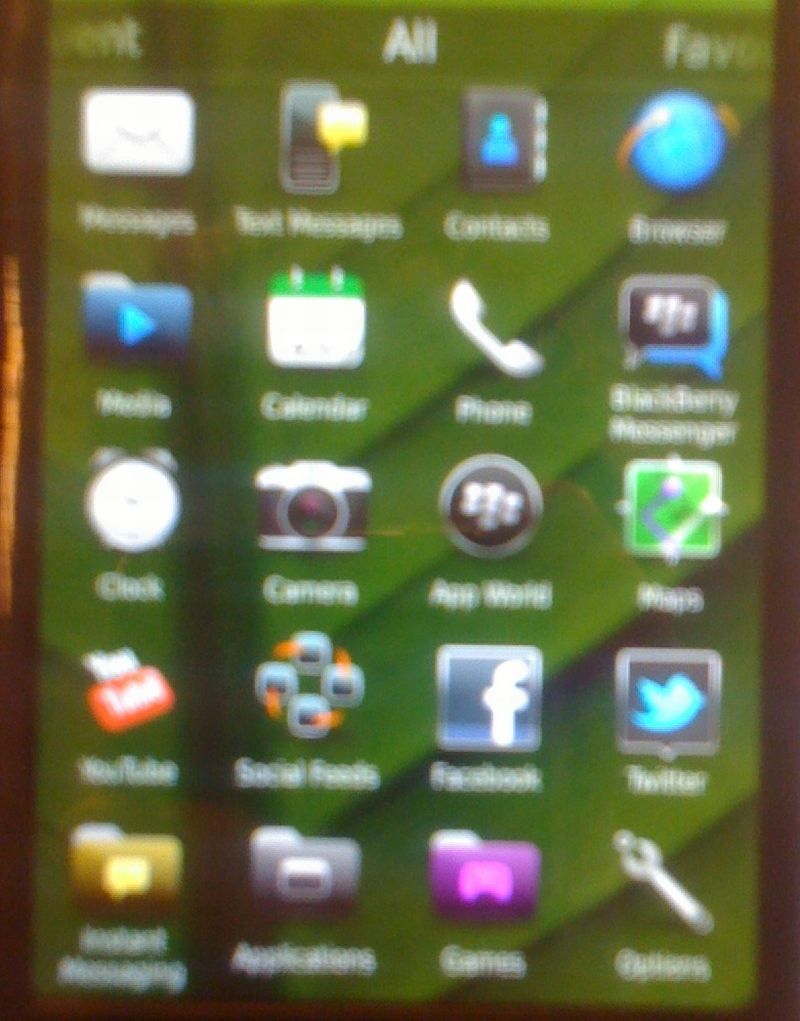 The fact that you can decide how many rows you want the trays to show is a nice touch and a simply upward swipe reveals the full menu.
One thing that is noticeable absent, especially if you are used to Android devices, is the use of widgets. This may bother some people more than others as it means there is a gaping space in the middle of the screen.
The keypad is a little on the small side but unless you have extremely plump extremities you shouldn't have too many problems getting to grips with it.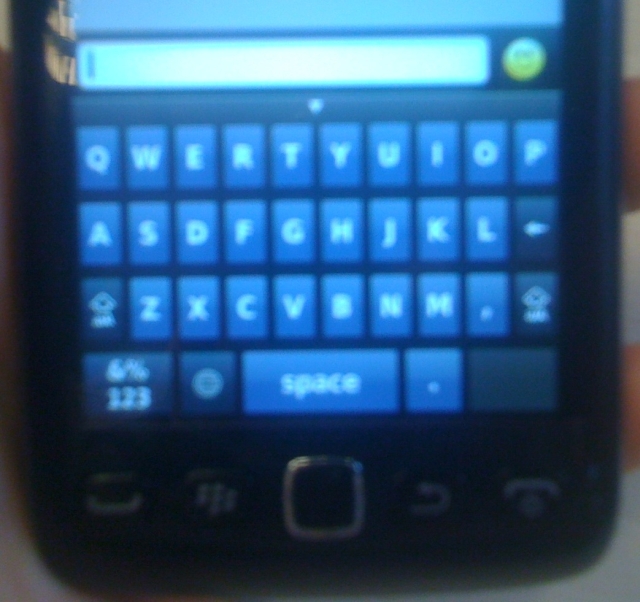 It's also worth adding that App world, which, in a number of ways, in nowhere near as good as the Android and iOS alternatives, does not offer too many apps that are optimised for the touchscreen, but hopefully that will change in time.
Battery Life:
If I'm honest, the 1230mAh battery is a bit of a disappointment. Half a day of twittering, emailing, calling, listening to music and watching a video swiftly ran down the battery to 50%. Granted I did have the 3G enabled.
BlackBerry list a talk time of 4.7 hours which seems achievable but the six hours of video playback they quote seems a tad optimistic.
With normal and sensible usage, enabling only things you need at the times you need them, enable you to manage a full two days of usage from the Torch without a charge.
Summary:
Considering that this is RIM's first whole-hearted foray into the touchscreen wilderness I would call it a success. It feels and looks as if a lot of effort has gone into its production.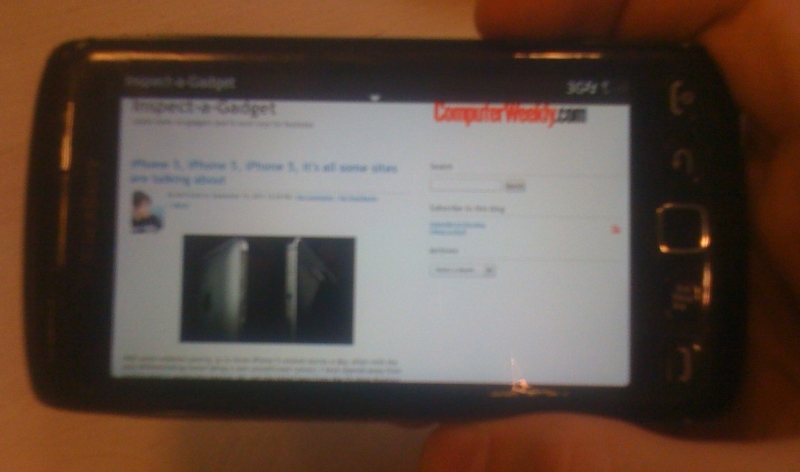 The 1.2GHz processor may not have the means to challenge the Galaxy SII or the HTC Sensation but the Liquid Graphics technology, which greatly improves the media playback experience, along with integrated IM and social media services are the 9860's saving grace.
On the other hand, as it is the first all touchscreen BlackBerry there are a few issues that need ironing out. Apps need optimised, the autocorrect is sometimes more eager to have it's say than Jedward and some list menus are too crowded.
At £349.99 sim-free or free on contract for around £31-a-month, the Torch 9860 is not cheap. Whilst this phone looks great and is very user-friendly, I would hold out and wait to see if RIM continues to develop the Torch range and improve it further.
I have no doubts that devout BlackBerry users will love this new fruity little number but, for the money, I would still go for a HTC Sensation or
Motorola Atrix
.