Review: BlackBerry 10 and the BlackBerry Z10 smartphone
Last week, it finally happened. After all the delays, the BlackBerry 10 mobile operating system was revealed to the world and showcased on the company's new flagship handset, the BlackBerry Z10.
It's not so much that there were high expectations for both the hardware and software, but more a hell of a lot riding on them to bring the company out of the significant spiral it has been on, losing profits, market share and reputation over the past few years.
So can BlackBerry 10 and the Z10 do the job and bring the firm back to the forefront of the mobile industry?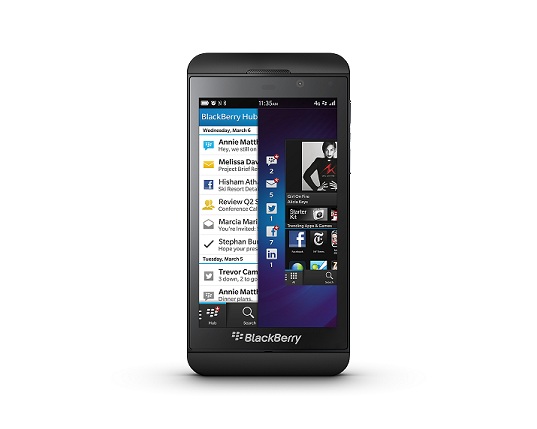 Let's start with the handset itself. At first glance, the Z10 is an alluring piece of kit. The 4.2″ screen stretches from edge to edge horizontally with two black strips framing the top and bottom. The logo and the word BlackBerry are emblazoned at the base, acting as a guide for some of the software gestures needed, but also to differentiate it from a number of sleek, plain black devices on the market.
The back of the Z10 is less glossy with a textured matt plastic and a sizeable silver BlackBerry logo slammed into the centre. However, this is more about substance over style, as the material makes the phone easy to grip, comfortable to hold and gets rid of the cheap, plastically feel some of the most popular phones on the market insist on having.
The power button rests on top of the device, with the volume and voice control button laying down the right-hand side. On the left is the micro USB port for charging and transferring files, but the added bonus with the Z10 is the inclusion of a micro HDMI port, enabling you to play high quality content from your phone onto a larger screen or high definition television.
Back to the screen and the clarity is superb. The 1280 x 768 resolution at 356 PPI (pixels per inch) is sharp and a pleasure to behold, whether working on a document or watching the latest blockbuster. Whatever the coating is, however, doesn't do it any favours as the screen seems to get dirty very quickly and is nigh on impossible to clean with conventional tools to get it back to its best.
The battery isn't top notch either. Maybe it is just we have come to expect such excellent battery life from BlackBerry handsets that this feels like a disappointment, but after charging at night, a full battery would be on the brink of dying by the time I got home late evening as I clutched to it praying for it to keep going until I got to the front door.
The fact is the phone is 4G ready and I have been using it on EE's network to test its capabilities. This means watching a lot more videos, listening to a lot more music and generally hammering rich content that I wouldn't do on my usual phone for fear of monetary reprisals. Here, the trade-off is it will obviously munch up battery life much quicker. It is something most smartphone manufacturers need to address though, as more users absorbing more of this content means we are all desperate for a battery to match.
There are two well performing cameras on the Z10, the forward facing two megapixel and the eight megapixel rear facing shooter. I found both took quality photos and videos, but the extra features available to use with the cameras thanks to BlackBerry 10 brings us onto the software.
BlackBerry intended with the camera to allow a more exciting experience with your own shots natively without having to port them into Photoshop or download some specific app. Features start simply, such as a built in editing tools for adding effects or borders – such as sepia, black and white etc. with film strips along the sides – rotating pictures, cropping or even changing the contrast.
The best feature, however, is Time Shift. It allows you to take multiple shots over a few seconds and move through the individual frames to get the best picture with an easy to use slide bar. Using it in the office had led to a lot of laughing at the movements our faces go through to crack a smile or frown, but in all honesty it has led to some great shots coming out that could have been missed without the software gizmo.
If we head back to the home screen, this is where BlackBerry has made the biggest changes. The BlackBerry Hub now includes all of your accounts, from social networks and emails through to calls and texts, and is accessed by a gentle swipe to the right. What is awesome about what they call 'Peek' though is that you don't have to exit the application you are working on.
With a swipe up you can pin the application at its exact location to the desktop or with a swipe up and then to the right – imagine drawing an upside 'L' – you can just get a glance of what has come into your hub and either swipe all the way to read it or let go and come back later when you have finished the job at hand.
It may sound complex but after a day or two of forcing myself to do the gesture, it really became second nature and a vast improvement on the other operating systems where you have to press a home screen button, enter another application and do the same to go back again, just to see who a tweet was from.
There still is the standard way of getting onto applications. After swiping up to return to your home screen – the lack of physical buttons is quite a joy from my standpoint – and seeing anything you have pinned, a quick swipe to the left will take you through a standard grid view of the apps you have on the phone, making them all simple to find.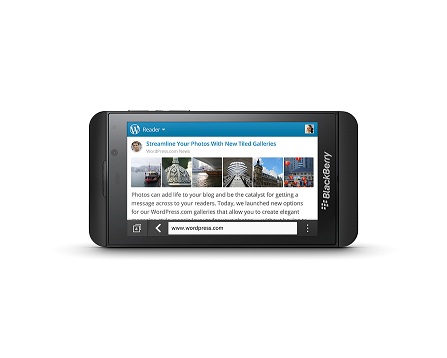 From the lock screen, you are able to swipe down to turn all notifications off whilst also setting an alarm, enabling a very peaceful night's sleep.
BlackBerry has been criticised for focusing too much on the consumer in recent years but one feature of the new operating system really does put the enterprise at the centre. Called BlackBerry Balance, it enables a handset to have two separate profiles, accessed by a brief swipe down from the top of the device.
On the personal screen is all your games, social networks, anything the user desires. However, on the work profile, it is defined by administrators what can be used, even going as far as having a separate applications store only stocking apps approved by the IT department. Users can then switch between the two at their leisure, and very quickly may I add, but never put the corporate network at risk.
This is all controlled through the latest BlackBerry Enterprise Server 10, but we have been reassured previous versions will be able to add support for BlackBerry 10 devices.
It wouldn't be a BlackBerry handset if we didn't mention BlackBerry Messenger (BBM). As someone relatively new to using BlackBerrys, I can't say it ever attracted me, perhaps because of the associations of rioting teenagers in the next borough as me. However, it eventually started winning me round.
As well as the standard free messaging between other users, ripped off by the likes of iMessage on Apple's iOS for example, BlackBerry have now added in the ability to make voice or video calls straight from BBM. If the network is strong enough – e.g. Wi-Fi or 4G – both voice and video were very clear, easy to use and essentially enabled free calls to anyone on a BlackBerry.
I am not taken with video calling myself, but the additional feature of Screen Share, where at the touch of a button your video call can turn into a document sharer, showing exactly what you have been looking at on the home screen rather than your beaming face, finally showed me how on a mobile it could be worthwhile.
Adding friends became a bit of a farce. You can add either by email address, BlackBerry PINs, through NFC by touching phones together or through a personal QR code other users can scan. Sounds simple enough but adding people failed time and time again and left some other Z10 owners I knew almost ready to end it all due to their misleading lack of popularity.
Even if all the elements work though, the only way the great features of BBM can become relevant is if everyone has a Z10 or some iteration of BlackBerry 10 on their device. I have had the handset for a week and have seven contacts, one of which I met on Monday and three of which I barely speak to. If all of my friends and colleagues were on it, my communications would be made ludicrously easier, but until the adoption picks up, it feels like a cherry with no ice cream to put it on top of.
I was dreading playing with the Z10 and the BlackBerry 10 operating system. I have never got on with BlackBerry before but want them to survive as a company, so really didn't want to hate it and slam them into the ground for their efforts.
Luckily what I got was a good looking, if not spectacular, handset with strong, if not mind-blowing, specifications. Running atop of that was software that felt new but not alien. Something that came up with different ways to work on your mobile but that came quite naturally. Something that looked beautiful and, when it worked, was something I didn't want to put down.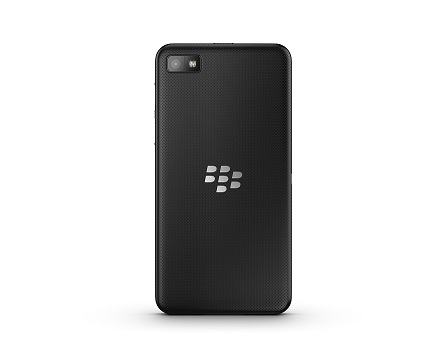 Overall, I found the phone a little temperamental, locking on its own or returning to the home screen without a request, but from experience, I feel these little bugs can be easily ironed out by a small update from BlackBerry – and we heard on the floor at the BlackBerry Jam developer conference this week that one wasn't far off.
But, nearly everyone I have spoken to that has played with this device at some length is now trying to make the same gestures on their Android or iOS handsets, proving how well the developers have thought this through.
Where my concern is for the Z10 is pricing. The cheapest you can get the phone without an upfront cost is £36 per month, making it a very premium handset. With such a raft of features, it is clearly aimed at those who want the best out of their smartphone, but when you can get the market leading Samsung Galaxy S III from just £26 per month, who will take the risk on the new handset and new software?
If as an individual I was looking for a new phone and had the cash in the bank, there is no question in my mind I would go out and buy a BlackBerry Z10 as the nearing £500 price tag is similar to many of the high-end smartphones on the market. But if I was looking at a long term contract commitment, I am afraid those figures don't add up to me and there are much better deals available.
If your business is already using BlackBerry deployments, however, and has BES in place, the added security and the balance between corporate device and BYOD is hard to match on any other handset available and I would give it serious consideration.