Review: Archos 70 internet tablet. A real competitor?
As Apple continue their attempt at world domination one iDevice at a time a cheeky little green automaton has decided enough is enough. Android devices have become not only an alternative to Apple's products but also a serious challenger.
Everyone wanted an iPad when they first came out, mainly because there was no real alternative that offered anything close to the iPad's capabilities. However, despite the iPad 2's improvements the market has now been opened up and Android are keen to make their mark. Sure, people will still want iPads because they have a picture of one of your five-a-day on and that's fine but for those who are open minded enough to explore other options Android tablets could be the answer.
Creative, Samsung and Binatone are just some of the bigger names to jump onto the tablet band wagon with the support of an Android operating system. However, Archos offer a large range of different Android tablets and the one I have looked at is the mid-range Archos 70.
The Archos 70 is the baby brother of the Archos 101. They are pretty much identical other than the fact that the 101 has a 10″ screen.

Looks:
The Archos does not get off to the best of starts here, especially when you compare it too the iPad or even the Galaxy, it just does not measure up. The dark grey, gun metal selection of plastic that covers the 70 are quite bland, despite the almost blinding glittering effect it creates when moved around under light. The covering over the screen is not very finger friendly, every time you touch it leaves a mark. On the plus side, if someone did steal your Archos the police would definitely be able to get a finger print from it, providing they weren't wearing gloves of course.
Nonetheless, it claws back some respect for its weight and size. Weighing only 300g and measuring 0.43 inches deep, almost half the thickness of the Galaxy, the 70 is in a league of it's own. Because of this it is extremely comfortable to hold in one hand when reading a book or watching a video, a big advantage in my eyes.
The power and volume buttons are the only things protruding from the Archos's delicate and sleek frame. This is due to the fact that the Android buttons have been built into the software, rather than having to increase the size of the tablet, very clever. It also has a little stand that clips in and out from the back of the device, perfect if you want to set it on a desk and show off some pictures or a video. It is a little flimsy, but I was unwilling to test just how much force it could withstand for fear of Archos sending me a repaidr bill, let's just say it has a bit of give and leave it at that.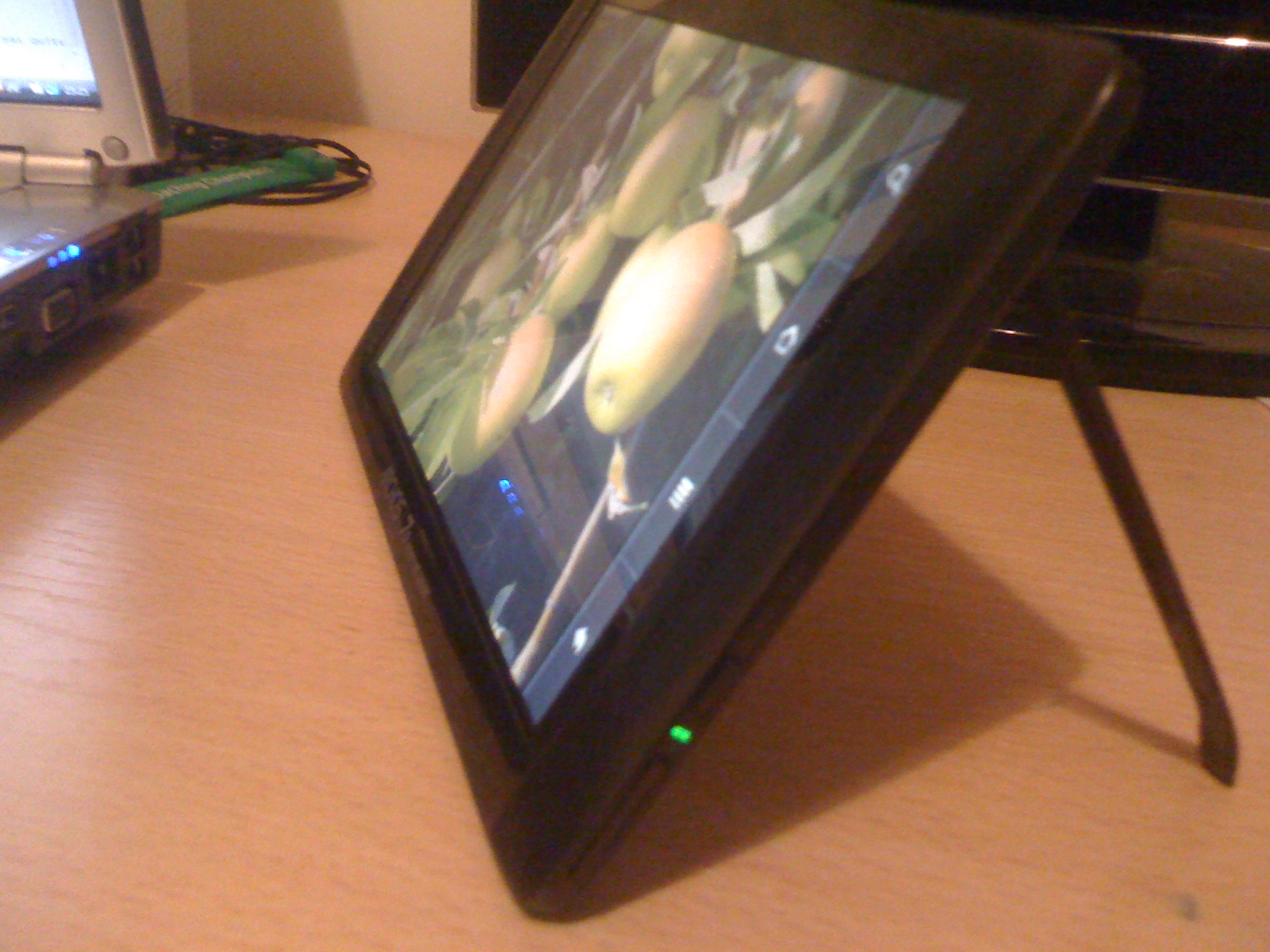 Screen:
The 70 has a 7″ WVGA screen 800 x 480 pixels, which is marginally lower-resolution than the Galaxy, but it still looks sharp and bright. I again encountered a problem with the screen, this time for not being strong enough. If you push hard enough the screen distorts and I'm sure that if you put the Archos in your bag and carried it around all day with something pushing against it, some of the pixels may end up ruptured.
The viewing angles on offer are quite poor, you really need to be straight on and if you stand over or below the screen it is almost impossible to see what is going on.
When it comes to perusing the internet, the 70 does not struggle with scrolling through pages and zooming in and out at a moments notice, which is always nice. The multi-touch screen brings even more joy to the experience.
The Archos, like most other tablets does include a accelerometer, allowing the screen to function in both landscape and portrait modes but we all know that the accelerometer was put their to play racing games. So of course that's what I used to test it and it did not disappoint me.
The ability to display media from the 70 on your TV or PC via HDMI is an added bonus, which the iPad 2 has also been given.
Finally, the backgrounds on offer are something that deserve a mention, the default swaying grass that responds to the accelerometer is further complimented by the fact that the sky colour changes to match the time of day is. How lovely.
Camera:
The VGA camera takes grainy images and it tends to blur if their is the slightest of movements and considering it boasts about the webcam capabilities on the box this was quite a let down. It's not the worst quality camera or video recorder I've come across but a reasonably priced webcam could easily trump it's efforts.
Features:
The ARM A8-powered 1GHz processor could be a bit punchier but the Archos only becomes sluggish if you run a lot of programmes at once, multi-tasking is not a strong point. It can seamlessly run Angry Birds whilst playing music but any more than that and you can expect to see some lagging.
There is a microSD card reader for increased memory; however, there is no 3G, GPS or SIM card capability for internet on the move. The inclusion of a SIM card reader would go a long way toward improving the appeal of the 70, as it is an ideal size and weight to be carried around in a briefcase or backpack.
Music and Video:
Starting with the music, the sound quality was of a higher standard than I initially expected, with the speakers either side of the screen able to deliver crisp and clear music. Unfortunately, put on some music with a high level of bass and turn it up and the speakers begin to struggle. It sounds similar to someone repeatedly smacking a tin of beans with a fork.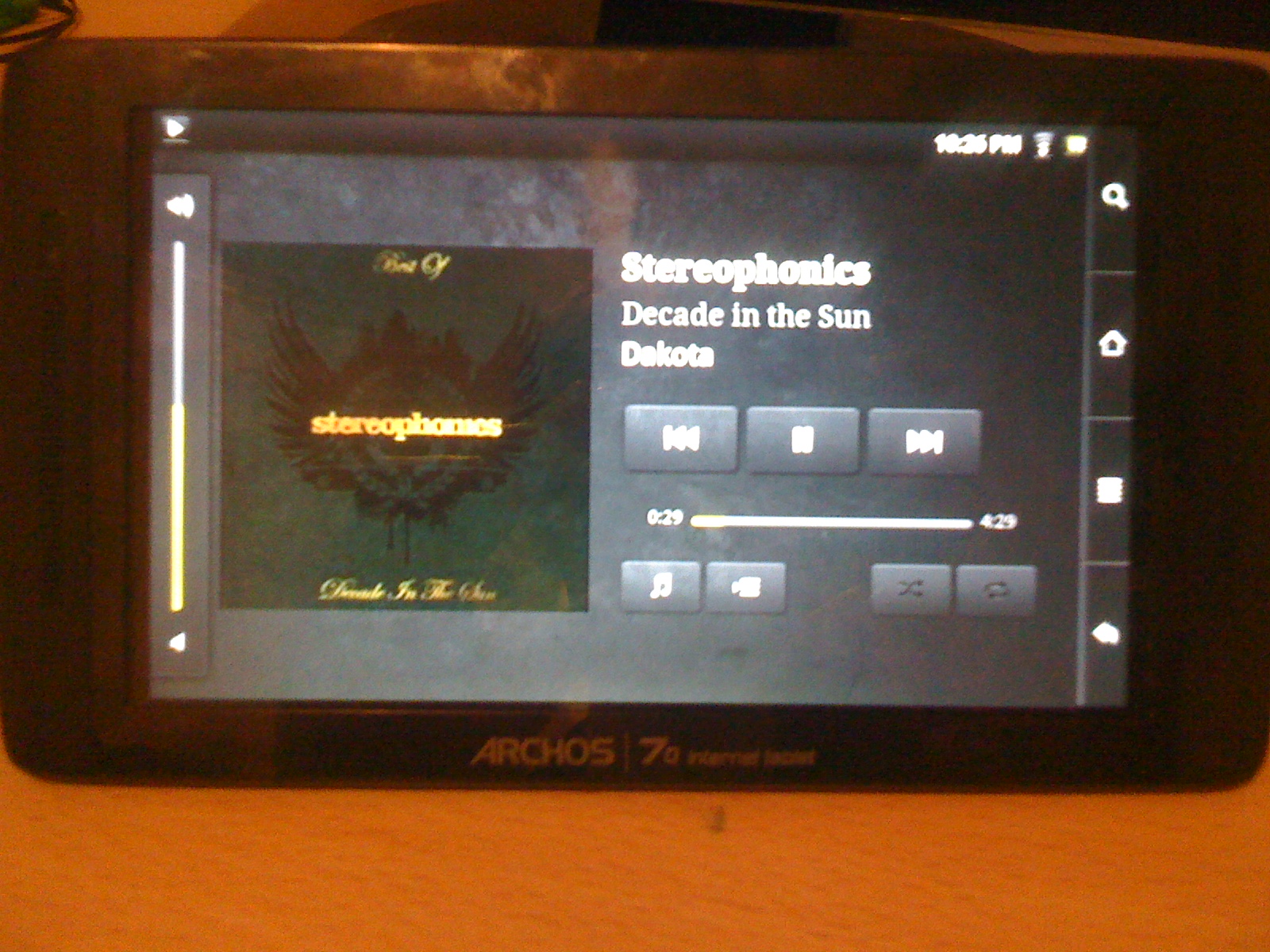 The interface for music and video playback is instantly recognisable and easy to navigate.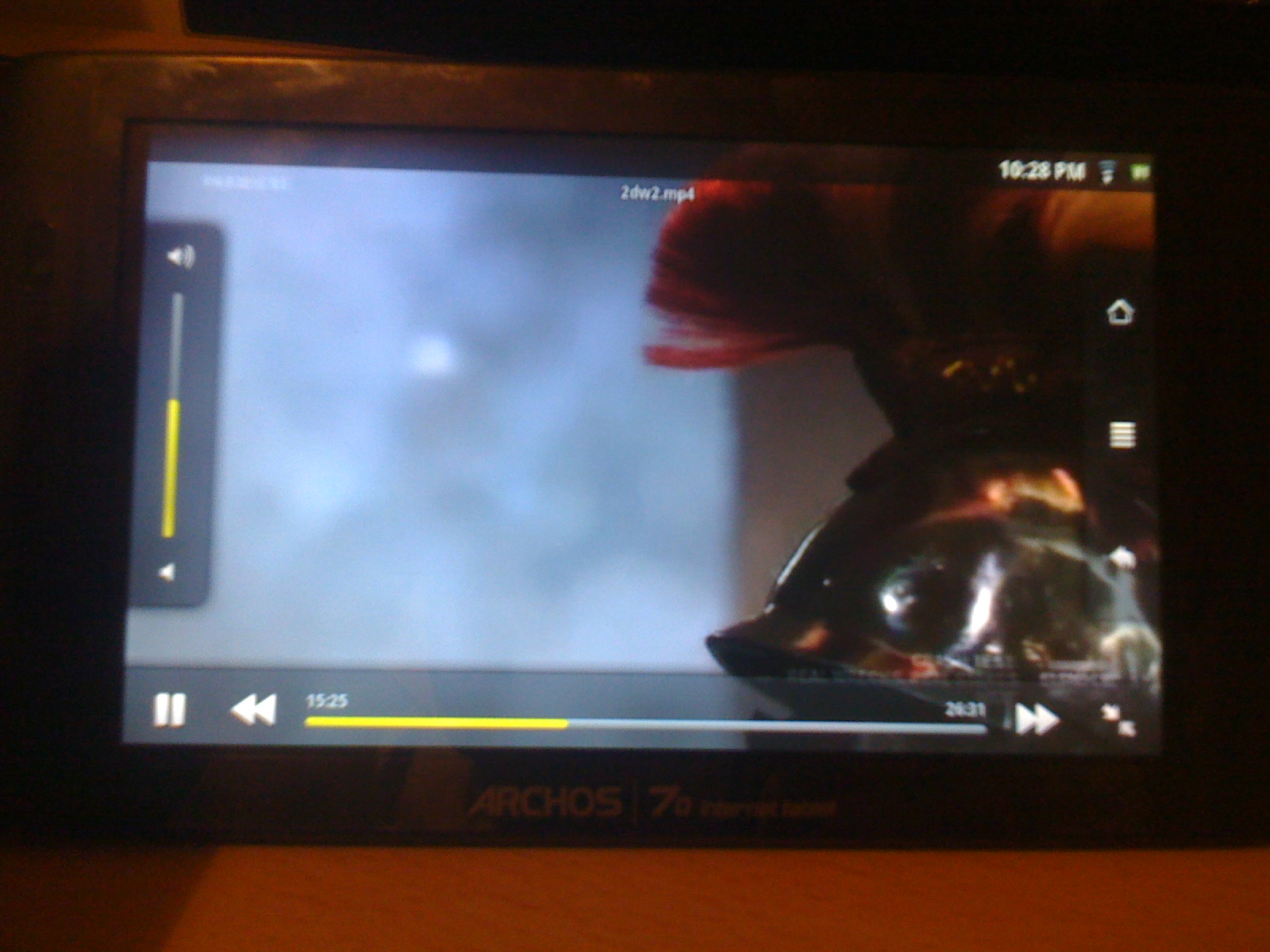 Archos also boast about the vast amount of video formats that the 70 can play, a list almost as a sugar-fuelled child's first Christmas wish-list (AVI, MP4, MKV, MOV, WMV, MPG, PS, TS, VOB, FLV, RM, RMVB, ASF, 3GP.)
Android:
This is essentially the Android OS that we have become accustomed to on mobile phones and it has merely been adapted and replicated on a larger scale, that could be a bad or a good thing, depending on which way you look at it. Unfortunately, the Archos can't access the full Android Market. Instead you have to make do with a rather limited selection of programs made available in the AppsLib store. At the same time, you could look at it positively. I have filled my iPhone with a load of apps I barely use, so the limited selection here means that you will keep more memory free for music and videos, hurray, sort of.
I am aware that this is a tad pernickety but it always bothers me that, regardless of the fact you can do what you want on the 'deskptop' or 'homescreen' of your Android tablet, you have to be content that the main menu is organised in alphabetical order and it can't be re-arranged. That could just be me though, looking to organise things that don't necessarily need it.
Summary:
Basically the Archos 70 is best used as a thin, light versatile video player and a nice hand held portable (but not useable on the go) web browser. The thoughtful addition of a stand is a bonus to the fact that it is the perfect size and weight to be held comfortably in one hand. This means if you did fall asleep holding the Archos in bed whilst reading and it fell on your face it wouldn't hurt too much, I'm guessing, I didn't find out first hand.
This is no threat to the iPad but in comparison to other Android tablets, this dainty little bit of kit is worth a look. Considering its size and price of around £199, it boasts a whole host of features, some executed better than others but for the price you can't expect everything to be perfect, that would just be silly.