Razer Kaira Pro headset designed for Xbox
The Inspect-a-Gadget lab elves had some slightly unusual moments testing out the Razer Kaira Pro headset designed for Xbox, in a good way.
Where's the dongle?
We were sure there must have been a dongle in the box when we 'unboxed' – so we spent 20 minutes frantically looking for it – but of course it's not needed as this is a dedicated unit built specifically for Xbox, so it relies on the same wireless connection type that you use with your wireless controller.
For the record, it's called Xbox Wireless, with a CAPS W.
For the record, there's Bluetooth as well, so you can use these to listen to music on your smartphone or iPad and take or make calls with the built-in mini microphone, or with the detachable microphone arm.
Let's also note that, with the Xbox Wireless and Bluetooth connections, you can use them simultaneously – with game sound coming in from the Xbox and then the voice/phone channel on Bluetooth. So you could have a phone call while still gaming, or run Discord or Skype on another device via Bluetooth for communication.
We actually started with an iPad connection to listen to some tunes and get a feel for the depth of bass and the high points – it's pretty clear from the outset that this is a high quality product… but the real litmus test comes when they're used with an Xbox and the unit works with Xbox Series X|S and is backwards compatible to the Xbox One as well.
Here's unusual experience number #2.
We started with Tetris Effect: Connected and fired up the game. When you have to stop yourself and say "oooh" just from the sounds on the menu screen, then you know it's going to be a good device.
We'll come back to other games (and mention Assassin's Creed Valhalla) shortly, but initial tests also included Forza Horizon 4 and the experience is much more immersive than expected. You can hear the rain on the road, the growl of the engines and the general howl of the road in a clearer way than anything we've heard before.
Connection affection & detection
Connection was simple, there's no messing around with the Xbox having to "look" for the headset, it's almost immediately connected upon power up. The power button on the headset itself fires up the unit and Razer's trademark triple-headed serpent logos light up on either side of your ears.
Be careful though, the power-on button also starts your Xbox, so this could be slightly annoying if you wanted to use the headset's multi-device functionality with another machine such as a gaming PC or Android phone, but of which the Razer Kaira Pro headset supports.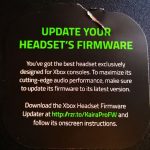 Also, once you've powered up the headset and synched it with your Xbox, simply plugging it in to charge causes your Xbox to turn on – the connection between the Razer Kaira Pro headset is strong, perhaps stronger than you might have expected.
Also worth mentioning here is the headset firmware update. Razer has wrapped an alert label (see right) on the headset itself, so you can't miss it. To get that update to happen you need to visit http://rzr.to/kairaProFW on a Windows PC and download the application (KairaProforXbox_Headset_FirmwareUpdater_v1.00.12_r1) at the time of writing and plug the headset into your PC with the USB cable to make the update happen.
But let's get down to form factor and functionality. The Razer Kaira Pro headset gets its sound quality from Razer's TriForce Titanium 50mm Drivers… and the microphone is similarly graded for quality, it's known as a HyperClear Supercardioid Mic.
"With the Kaira Pro, gamers now have a single headset for use at home on their Xbox Series X|S or PC, which is also ideal when they're out and playing on their Android phone or tablet. By pairing the Kaira Pro with a Razer Kishi and Xbox Game Pass Ultimate, gamers can take the full console experience with them wherever they go," said Alvin Cheung, senior vice president of Razer's peripherals business unit.
No dongle required!
Of course there is this note in the official product materials – the Kaira Pro is capable of connecting to a variety of platforms and devices using Xbox Wireless and Bluetooth 5.0, the Kaira Pro can be connected to the new Xbox Series X|S without the need for a dongle and to Windows 10 PC and Android phones or tablets via Bluetooth 5.0 – which, to be fair, we should have read before looking for a dongle like a maniac.
In terms of sound performance, this unit delivers individually tuned high, mid and low range frequencies for clear trebles, a rich midrange and pretty powerful bass.
A patented design divides the audio driver into 3 distinct parts for the individual tuning of highs, mids and lows — unlike traditional headset speaker 'drivers', which are restricted to a single frequency range that can result in a 'muddy' sound. Razer says that this is like having 3 drivers in 1, so these dedicated tuning ports allow for clearer audio, brighter trebles and more powerful bass. The driver also features titanium-coated diaphragms for added clarity with in-game voice chat.
Using the EQ preset button, Xbox gamers can toggle through four equaliser presets such as an FPS Mode to enhance in-game audio like enemy footsteps, or just select Bass Mode for a more powerful 'booming' game sound.
Located on the right earcup, users hold down the button to pair the headset initially, but if they press it twice, they can cycle through 4-EQ settings.
The ultra-soft breathable memory foam ear cushions are supposed to minimise heat build-up and perspiration, just in case you're a sweaty gamer type of person. They look like quite a solid unit and the impression is that they might be a bit over-heavy for long periods of gameplay, but they're not onerous to wear and they do work well for long sessions.
According to Razer, FlowKnit fabric is a breathable weave that minimizes sweat and reduces heat build-up generated by skin contact, while the ultra-soft memory foam's improved density greatly reduces the headset's clamping force.
The wireless range extends up to 10 metres (30 ft), just in case you like sitting across the street and trying to play Xbox from that far away. Also worth mentioning, battery life is up to 15 hours (with Chroma Lighting – the RGB coloured light-up effect on the outside of the headset) and 20 hours (without Chroma Lighting).
Finally, we said we'd mention Assassin's Creed Valhalla. Initially we thought this headset would only really shine in 'noisy' games like Gears 5 Operation 4 and others where it's daily full-on all the time. In fact, Creed Valhalla is also a great experience, but in a different kind of way – from an aural-audio point of view, the Razer Kaira Pro really picks up the sound of feet splashing through puddles, the clink of swords and weapons on your back and the deeper smashing sounds of fighting and bashing things around.
The brotherhood would be proud of you, it's time to plug in.
The Razer Kaira Pro headset designed for Xbox is priced at £149.99 GBP.