SSD hard disk series: OWC Mercury Elite Pro Dual with 3-port Hub 
The more complex and high-end a product, the more complex, convoluted and potentially cumbersome the install and usage experience. That would be the general summation of many of the devices we've seen come through the Inspect-a-Gadget lab over the months and years.
The OWC Mercury Elite Pro Dual with 3-port Hub could be the exception that proves the rule.
Other World Computing (OWC) has built a high-end pro-usage a plug-and-play storage device here.
Built to offer up to a whopping 32 terabytes (TB) or storage, we got to play with the 4TB version and applied it to more than one platform use case to put it through its paces.
The company promises a 'universally compatible' product… and it is. The OWC Mercury Elite Pro Dual works with any USB-equipped Mac, PC, Linux PC or mobile device such as iPad Pro, or gaming consoles including Xbox One.
We started off on a Windows PC and the unit is nicely plug-and-play. The data transfer speeds are super-fast (see below) and we pulled over gigabytes worth of data in a fraction of the time it takes to copy to any form of USB disk or 'thumb drive' as you might hope/expect from a dedicated product like this.
Xbox One happy time
As good as the PC performance was, the best user experience came from connecting the device to an Xbox One. We have been trying various disks with our home XBox One and found that some simply do nothing, while others appear to threaten system stability in some form or other.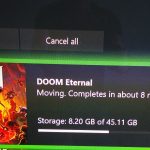 No such worries with the OWC unit, it literally plugged straight in (we use the USB-C smartphone-type connector to standard full-size USB cable provided, with the USB-C on the OWC disk to the full-size USB port on the Xbox, although you could use USB-to-USB if you had a male to male cable)… and once connected, the Xbox One storage format function was automatically thrown up on screen.
A big game (we used the new Doom Eternal at 45.11 gigabytes) transfers from the XBox One unit to the disk in just under 9-minutes. The game then still shows in your 'My Apps & Games' as normal and is fully playable. If the user disconnects the OWC Mercury Elite Pro Dual then the game no longer shows as the Xbox knows it can not display any data saved on external storage that is disconnected.
Pro-grade storage
This is pro-grade storage with real-world tested1 performance, you can also use the three USB ports for audio or video mixers, cameras, card readers, tablets, keyboards, mice… anything USB basically.
But once again, the best part (apart from the size of disk which is big for sure) is the plug-and-play ability to attach this thing to anything with no drivers needed.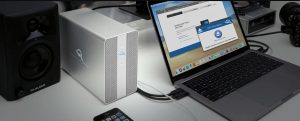 We said the data transfer speed was fast – the device actually sports over 1000MB/s (1GB/s) of real world1 data transfer speed. That means the user could transfer the equivalent of an entire DVD in less than 5-seconds or transfer 1,000 photos in 2-seconds.
The rear-side hub offers three USB ports to connect high-speed storage with performance of up to 1250MB/s as well as keyboards, mice, phones, etc.
All three USB Hub ports are backward compatible and fully powered. The device also supports the charging, powering and data syncing of mobile devices, tablets, cameras, headphones and gaming devices too. Do we need to mention that it's 'whisper-quiet' too?
It's almost silent and feels positively cold to the touch, given the size of it and its internal cooling system – it is built with heat-dissipating aluminum with high-efficiency cooling fan.
"Need to take it on the go/disconnect it, or done with the drives? Safely dismount the OWC Mercury Elite Pro Dual with 3-Port Hub and any additional external drives connected to it from your computer in a single click with OWC's free Dock Ejector app. You'll be sure that all data has been safely written before any drive is unmounted, protecting against accidental data loss or corruption," notes the company, in supporting press materials.
The device is 5.8" high x 3.3" wide. RAID levels supported are RAID 0, RAID 1, SPAN and JBOD.
The OWC Mercury Elite Pro Dual with 3-Port Hub is available now and extended specifications and details of the actual product tested are linked here.