REVIEW: The i-stay laptop organiser bag
I've had an issue with laptop bags for quite some time. Either they're too bulky, heavy, not in anyway attractive, or look so much like a corporate laptop bag they should have been embroidered with "STEAL ME NOW" on the front in glitzy letters.
However, my main niggle with laptop bags is the way they weigh down on one shoulder and inevitably end up falling off your blazer-clad shoulder and awkwardly landing in the crook of your elbow mid commute.
What I hate most about travelling to America for work is the huge, heavy laptop bag that weighs on my shoulder in the hour-long queue for customs State-side. Especially in this scenario, it's never just your laptop and its charger, you have a multiude of travel items, as well as business paraphernalia to get you through the trip. I think it is the laptop bag, rather than the nine hour flight that makes me want to hit the hotel mini bar as soon as I've collapsed on my king size bed.
While i-stay doesn't magically reduce your ancient 6kg laptop into a feather light ultrabook, it does distribute the weight across the whole of your shoulder.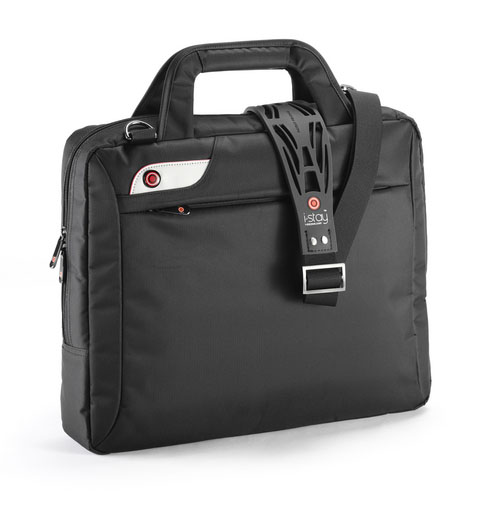 In fact the College of Chiropractors has actually commended the i-stay for its potential to help users avoid musculoskeletal discomfort and to minimise the aches and pains associated with carrying a heavy shoulder bag.
The detatchable strap has two adjustment buckles which allows the special patented i-stay non-slip stap to stay in the centre and comfortably on your shoulder. The strap can be adjusted to a very generous amount, allowing it to easily slip over your head and across your shoulders which distributed the weight even better. However, a larger person might find this option a little snug.
I've been using the messenger bag for a few weeks now and I've found it incredibly useful – and not once has it slipped off my shoulder as I run for the tube.
Feather light on its own, the laptop organiser bag has five zipped compartments. The main one in the middle has a specific secure foam area for your device, while the other compartments allow you to store A4 notepads; magazines; tablets; and smaller items in the front two zipped areas.
The bag also has two handles which are comfortable to hold, even for longer periods of time. I found myself swiftly picking up the bag by these handles while commuting on the tube, and using the longer strap while out in the open air.
It's black. It's not particularly attractive, but yours will stand out next to the other array of bags out there with its red target-looking logo.
The company also sells a traditional laptop bag, and a rucksack version, as well as 10-inch bags for notebooks or tablets, and a messenger bag.
The laptop organiser bag from the review is £49.99, but the non-slip straps can also be bought individually for £12.99 making a healthy spine affordable.