REVIEW: Microsoft's Surface tablet, RRP £479 (inc cover)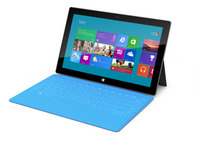 Seeing Windows 8 on a tablet is a welcomed breath of fresh air from Android or iOS operating systems which have dominated this new market over the past couple of years.
Microsoft's flagship tablet device, the Surface, one would like to think, should be the best showcase for this new operating system on a tablet.
Looks
The tablet design is sturdy and heavy. The 10.6inch screen has a 16:9 aspect ratio and weighs 680g which makes it very difficult to hold with one hand for more than 30 seconds. The extra weight and bulk of this laptop can be completely forgiven in exchange for a full USB 2.0 and a microSD slot which can expand the memory up to 64GB.
Inside the device is an ARM Nvidia Tegra 3 processor as well as 2GB of RAM, available with 32GB or 64GB of internal storage.
The kickstand is nicely moulded to the device, and pops out to provide a very firm stand, however you can't set this for different angles. When using the device with the Touch Cover the kickstand provides the perfect angle and mimics an ultrabook, however if you don't purchase a Touch Cover then I found typing on a flat surface very awkward.
Touch Cover will set you back an additional £80 and is very lightweight and actively protects the screen at the same time, however, at the high price tag, I'd also want a sturdy case for the entire device. The Touch Cover is the unique selling point for the Surface, available in a range of colours, it snaps onto the device with a very satisfying click.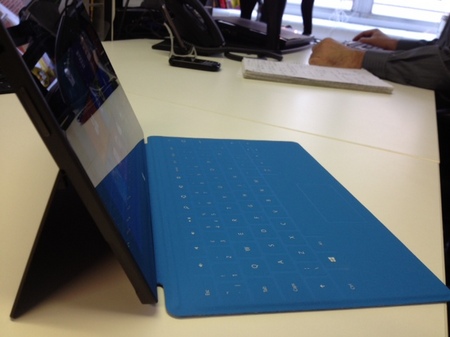 I played around with a Touch Cover with depressed keys (black model) and one without (the bright colour option). The ability to depress keys made typing a lot easier, feeling like a regular keyboard. As somebody who finds typing on a touchscreen effortless, I thought that I would get on well with the standard blue Touch Cover – I found that wasn't the case. You have to put quite a bit of pressure on the keys and my sentences came out half formed. I think I would adapt and get used to this, but I do think the Touch Cover with the keys is much much easier to use.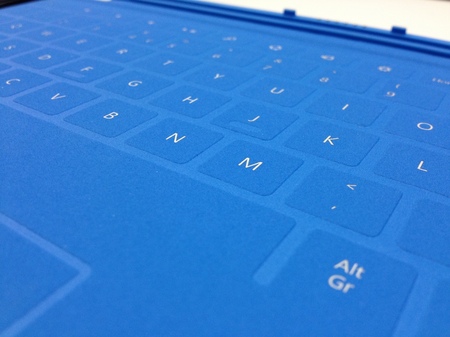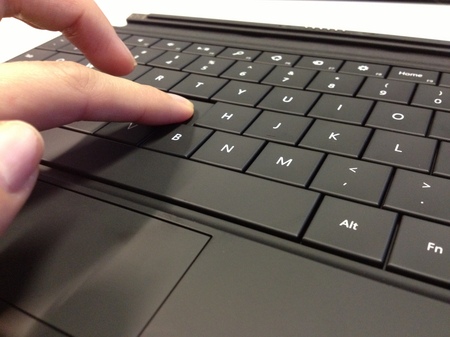 I also found the mouse track pad on both Touch Covers very clunky at times, and also confusing – with the track pad mouse option, it often made me forget I had a touch slate in front of me and I would automatically go back to using the device like a traditional laptop.
And while we're on the topic of the mouse, when using the Office suite or desktop mode, you have the regular Windows familiarity only in a shrunken down format, meaning that my fingertips were sometimes too big for the touch buttons, so I would accidently click on the wrong button – this is where the use of the touch pad mouse comes in handy.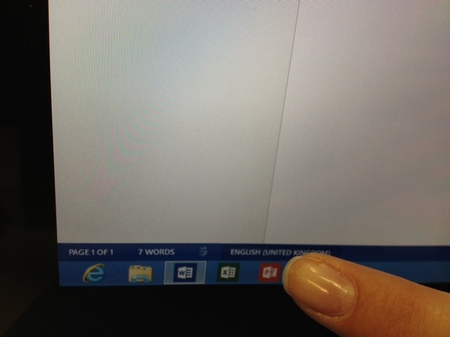 The tile interface on the other hand is obviously made for touch and is really smooth to scroll through and looks very attractive. It takes advantage of the widescreen and you scroll left to right to view three rows of your apps.
The only trouble I had was when scrolling left and right, if you swipe from the edge of the left or right, you pull up menus on either side. This became a little annoying when trying to quickly scroll, pulling up an unwanted menu. But this is the type of thing that after using the tablet for a little while will become second nature to you.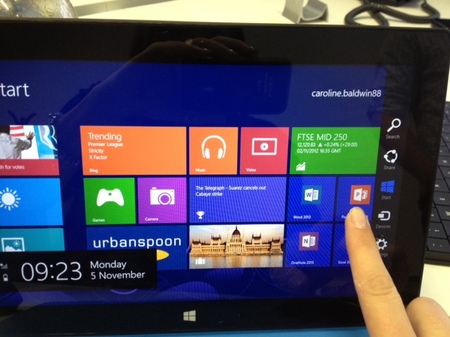 During the review, the battery held up very well, Microsoft claims it has 360 hours of stand-by time and up to 8 hours usage.
Software
As the tablet runs the RT version of Windows 8, the Surface tablet can only install third-party software that is available in the Windows Store, and so far the shelves are looking a bit bare (no iPlayer to be seen for instance).
In the Windows Store there are a measly 74 apps categorised for business use, which includes many random apps such as Jobs in Egypt and Stickies (notes). Apps of note included Citrix Receiver Preview (with very poor user ratings), Dynamics CRM KPI's for ONG's and a demo of SAP Business One Mobility.
However, I expect developers will start coding away as soon as they seen Windows 8 products being sold in abundance, but don't expect to enter the Windows Store and find the variety of apps that Android and Apple have.
The tablet does offer the Microsoft 2013 Office suite, which in terms of productivity is a dream. Email yourself a presentation you are building or pop a USB into the device and you can continue working on it in seconds. And Microsoft's cloud application SkyDrive ensures that all your documents are saved online and are shareable across your other devices.
Final thoughts
This tablet is sturdy and very portable, and offers the ability to produce documents and edit work on the go. For businesses running Windows PCs in the office, this product will be very useful for a mobile workforce as you can easily port in documents and continue working.
Its powerful and stylish enough to take on the iPad, but as long as early adopters have faith that the Windows Store will soon have enough apps to support it.
As a business gadget, the minimal applications in the Windows Store mean that – for now – the Surface is a glorified typewriter.