REVIEW: Fujitsu U904 Ultrabook
Windows 8 has been slowly seeping into our lives over the last few years, and yet I still feel overwhelmingly confused when I come across laptops running the no-longer-new OS.
This Fujitsu Ultrabook laptop, through its size and comfortable usability, helped me to move past my fear of new things and embrace this strange hybrid operating system as much as I could bear to.
In order to fully utilise Windows 8, the device has a combination of keyboard, mousepad and touchscreen. As with many computers with this combination it can often be awkward to use as there is a lot of reaching forward to use the touchscreen, then moving arms back and forth to switch between using the touch screen and the keyboard. When not using a tablet, I've never been sure whether a touch-screen element is actually necessary, but this laptop provides it in order to fully embrace the Windows 8 experience.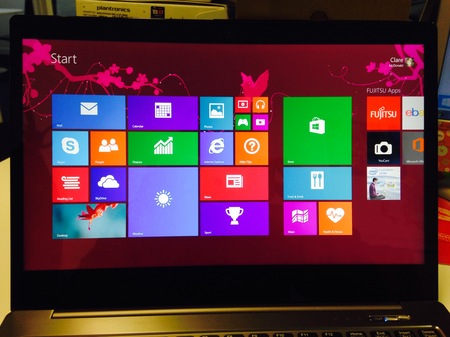 If you're not totally comfortable with the Windows 8 view, you can switch to classic view, and are automatically switched to classic view to use applications such as Microsoft office. It is a bit more difficult to navigate, however, as the menu bar has been replaced with the new Windows button, taking you back to the application menu filled with colourful panels and widgets.
Windows 8 allows the use of a Microsoft account to log into the laptop, automatically set up a profile and sync apps using your Windows profile, which can be quite handy if you don't want to go through a lengthily setup process.
Specs at a glance:
Fujitsu U904 Ultrabook
Display: 14 inch frameless touch screen
OS: Windows 8.1 Pro 64-bit
Resolution: 3200 x 1800
RAM: Maximum 10GB available
Optional 3G/4G
Battery life: up to 10 hours
Available processors:

Intel® Core™ vPro™,

Intel® Core™ i5-4300U , or Intel® Core™ i7-4600U

Warranty: 2 years (depending on country)
The overall look of this device is very easy on the eye. The lid is black, with a nice glittery finish, very symmetrical and is only 15.5mm thick. Although it only weighs 1.39kg it felt slightly heavier than I expected. It's by no means a monster though, and would be fine for those looking for portability. The only complaint I had about the physical appearance of the Ultrabook is the small toggle on the front of the lid to help open and close it. It's obviously very practical, but it spoils the clean-cut aesthetics a little bit.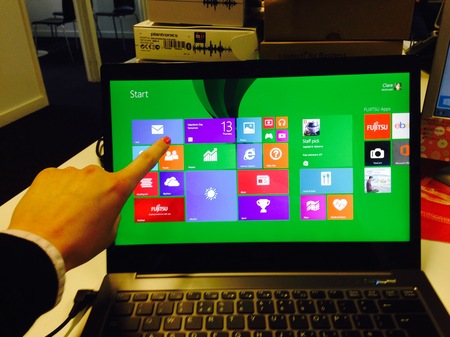 It's slightly larger than other business-focused laptops, but the use of both keys, mousepad and touchscreen makes it easier to use with the Windows 8 operating system, and it has docking station capabilities, as well as an integrated battery and a built in economy battery button to indicate when the device should conserve energy if you're out and about.
The integrated camera was slightly grainy, but fine for use with Skype calls or other similar applications. The keyboard also has a back-lighting feature that can be used in darker locations, for example if you're trying to use it during a presentation or seminar.
Prices vary depending on the retailer, but it seems you can snatch one up starting at around £1300, which although isn't cheap is still a good price based on the capabilities of the machine.
The Fujistu Ultrabook is sleek, it's usable, and it has a shiny metallic finish with a bit of sparkle. Who doesn't love that?