Pogoplug yet to jump over the pond
I'm very parochial when it comes to my property. I like to keep it where I can see it and Pogoplug looks like my kind of gadget. The problem is that it isn't available in Europe yet as the company only supplies the US and Canadian markets.
Pogoplug is a network-attached device for USB 2.0 storage units. Plug an external disk drive or a USB drive into it and you can access it on a home network or over the Internet from your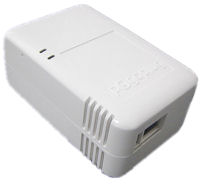 Windows, Mac or Linux PC – or even from your iPhone. If you need remote access to your pictures, films and other bits and pieces, this $99 unit is better than Cloud storage. And it's password protected, SSL linked and encrypted.
The downside is that it plugs into your router, it plugs into your storage module and, if you want more than one USB drive, it plugs into your hub. Cables, cables everywhere.
One good thing about its non-availability is that Pogoplug is looking at adding features such as wireless access so the final import might be more exciting.