Personally, I'm a sucker for anything that does stuff for free. Free lunches, nom. Free love – yay, take me back to the 60s man! Free power? Darling, you had me at "free".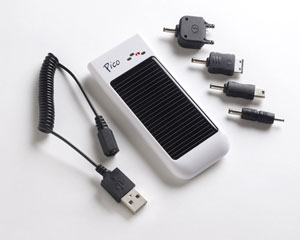 Enterprising UK company Solar Technology have just introduced the PICO, a lightweight, compact solar charger which they claim is capable of powering just about any gadget. A quick look at the specs suggests they might be right – with adaptors to fit most manufacturers phones and mini-USB for the rest.
Your device could be fully charged in as little as 30 minutes. The PICO stores solar energy in its own internal battery, or can be charged from conventional sources.
Oh and at £16.99, it's our second favourite thing: cheap.
Here's the science bit:
Technical Description:
• 75mA premium quality crystalline solar cells
• 800mAh environmentally friendly Li-ion battery – typical battery life is 2 years.
• Input Voltage – 5v / 250mA
• Freeloader PICO's solar panels can charge its internal battery in as little as 10 hours or 3 to 4 hours when using the supplied master cable
• Supplied with a power master cable and four adaptors to fit the following:
1) Small pin Nokia
2) Sony Ericsson
3) Mini USB for Motorola, Blackberry, most smart phones, Garmin and many GPS, PDA's etc
4) Samsung
Size – 105 x 45 x 11.5mm
Weight – 49g