On the tenth day of Christmas my true love (did not!) give to me... A Livescribe Sky Smartpen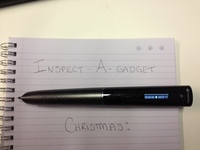 The Livescribe Sky Smartpen vs Murdoch and BSkyB
Recent news has caused me to debate whether I should include a review of the Livescribe Sky Smartpen on Inspect-a-Gadget anymore, because sadly, the company has recently removed its products from British shelves following a complaint from BSkyB over the use of 'Sky' in its name.
Now don't get me wrong, I didn't ponder over whether I should now conduct the review purely because the product looks like it's on the brink of a legal battle. I just didn't want to tell the readers of Inspect-a-Gadget about a brilliant little product that you may not be able to get your hands on.
But sorry guys, I think it needs to be done.
But first a little rant… The product I am about to review is a new version of a Livescribe Smartpen, the "Sky Edition" if you will. These pens are computing tools to aid while writing handwritten notes. Not a huge British satellite broadcasting, broadband and telephony services company.
According to the FT, BSkyB have stated that the product is a "clear infringement of our well-established Sky brand."
"While you might think that BSkyB is completely different from a pen, actually the goods and services covered by Sky's trademark would be similar to the equipment that Livescribe are producing," said Arty Rajendra, a partner at Rouse, an intellectual property law firm.
But let's hope that this complaint BSkyB has made will end up in a whole lot of free advertising for Livescribe, and that the product will be back on British shelves ASAP, because, as I am about to tell you, these nifty little gadgets are fantastic.
The Livescribe platform consists of a set of pens and a piece of software which originally synchronised audio while you took notes. You used your customised Livescribe stationary to take notes and then replay audio by using the pen's nib to touch your handwritten notes and the audio would skip to what you heard while writing that particular word.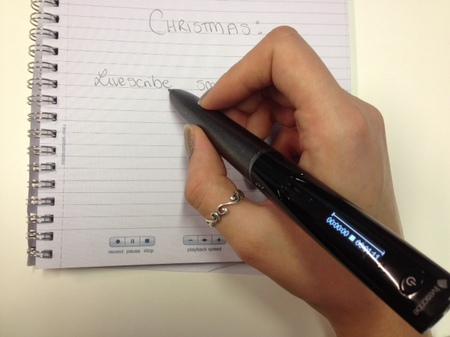 There have been a few different and updated versions of the Livescribe Pen, the latest being the "offending" Sky Pen. This model is a WiFi model with 2, 4 or 8GB of storage. While the pen still records everything you write and hear and replays the audio from a certain point in time, the pen also automatically and wirelessly sends your notes to be stored in Evernote.
Evernote is a piece of free software which works across all platforms, mobile devices and on a web interface, so you can literally access your notes anywhere and anytime.
The Sky Pen also includes a camera as well as audio recording, which means that your notes can appear in your handwritten form, safe and secure in your Evernote account. You can also watch your handwritten notes being written through a video platform, however I did find this a little odd as it was just my handwriting appearing on the screen, no writing implements, as if being written by a ghost. Creepy.
You can use your customised Livescribe stationary and additional stickers to activate your pen, such as scan for a WiFi network, change from left to right handed and also adjust the time and date. I expected this to be rather clunky, pressing the nib of your pen against a sticker with a command written on it, but in fact it was very smooth to use with a satisfying 'ping' to know the command was understood.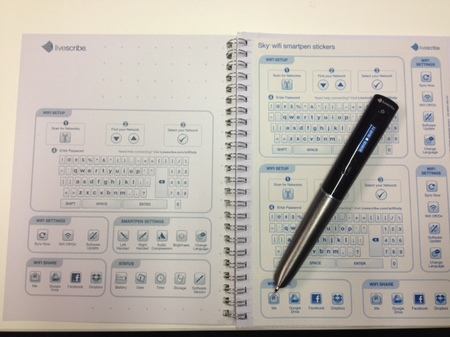 For such a clever pen, you can forgive it for being so chunky and reminiscent of a Sharpie permanent marker when you hold it in your hand. However large, the pen itself is rather stylish, with a streamlined shape and a black and silver design.
The amount of storage and WiFi capabilities does bump up the price of this product significantly, Livescribe predecessors were around the £100 mark, the Sky version pushed the £150 for 8GB of storage.
So while you won't be able to pick up a Livescribe pen for under the tree this Christmas, keep an eye out for when they (hopefully!) return and nab yourself a pen pal.
Livescribe advertisment video to help illustrate my description of what it does a little more coherently: