On the sixth day of Christmas my true love gave to me...MyTV2Go-M
This nifty little gadget is an aerial which plugs into your iPad or iPad, locates freeview channels and plays them straight to the screen – no excuse to miss all your favourite Christmas specials this holiday season.
I was a bit dubious about the MyTV2Go-M, I use my iPad mainly for streaming programmes from LoveFilm and iPlayer or watching films, and I didn't think that this very small device would provide a decent quality picture. I was proved wrong.
Once the MyTV2Go was charged via a USB port, it took about two minutes to plug it in, download the requested app and start watching TV programmes live. It quickly searched and found the majority of freeview channels such as BBC, ITV, E4 and Dave and after a few seconds of crackling, produced a sharp, clear picture.
The app itself is very useful; it gives you information about channels and upcoming programmes, while also giving you an option to record shows (as long as the application is open at the time).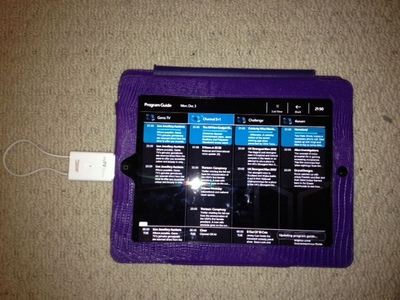 The device's internal battery only lasts for two hours of viewing , alternatively you can change the settings to use the iPad to charge the device, which the manufacturer says will provides nine hours in airplane mode.
And the other reason why this gadget is such a good idea, is that you don't need the internet to stream, as it works via a TV signal. No hunting for a WiFi network or using up your precious data allowance again.
Available from £79.99 upwards from online retailers such as Play.com, Amazon and eBay.