On the second day of Christmas my true love gave to me... a Filofax iPad case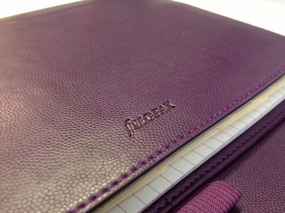 I'm an iPad user who also likes to use a pen and paper to take notes and I love the comfort of writing appointments in a traditional diary, although it is something I tend to do less and less these days.
My first impression of the Filofax Pennybridge case was: "I need this on my Christmas list – it weighs a lot and would not fit in my brand new handbag – but I need it in my life."
I was even happier when I realised that the organiser is removable from the case, making the product lighter, however kind of defeating the point.
My colleague, who is known for not being Apple's biggest fan, said: "I don't even have an iPad and I want one. I want to buy an iPad just to have one!"
Just some slight enthusiasm there then.
So, there you have it, Filofax, known for its high quality organiser range, has done it again – produced a luscious product that we don't really NEED, but we really really WANT.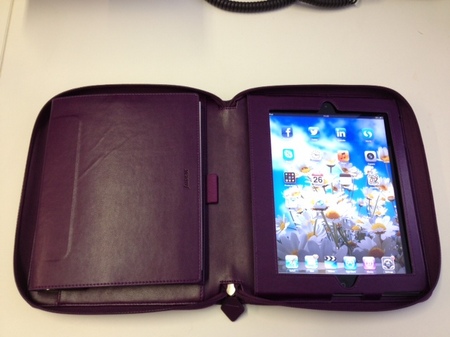 It's one of those products that in the heat of the moment you think will change your life, however come February 1st, you will have probably resigned back to your Outlook calendar. That doesn't mean it isn't any less desirable, come on – imagine the jealous stares when you get this out in the boardroom? Additionally, as the organiser inserts are replaceable, this can be used year after year.
It is rather heavy as it has a full A5 filofax organiser inside, which is removable, as is the A5 ruled notepad. As a journalist, I tend to carry a fair few things around with me when out and about at events, having the option to carry a case which could potentially hold my iPad, pens, a notepad and my phone, is an excuse to buy one in my eyes.
It also has slots for cards inside and a useful outer back pocket to slot things in. Additionally the case has thought about the ergonomics of the iPad and has included a hole for the camera.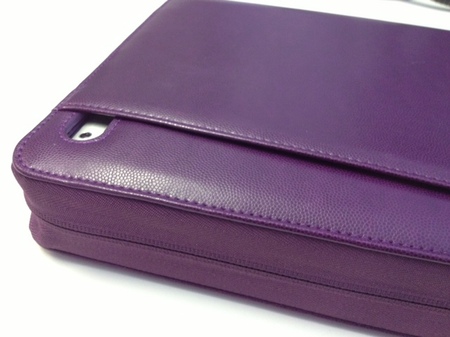 I think this would be a lovely gift for someone who uses an iPad frequently for work and who is in need of a new diary this Christmas (*cough cough* – yours truly). Some tablet users would think it was counter-productive to have a tablet AND a notepad, but sometimes there are instances when only good old fashioned paper and pen will do the job.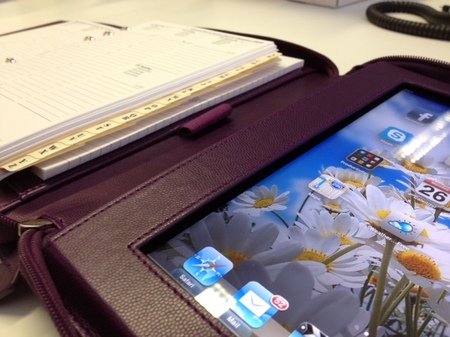 Negatives would be that if you do slip out the organiser section, the back cover to it doesn't match the rest of the case – it's made of black plastic and cheapens the product a bit.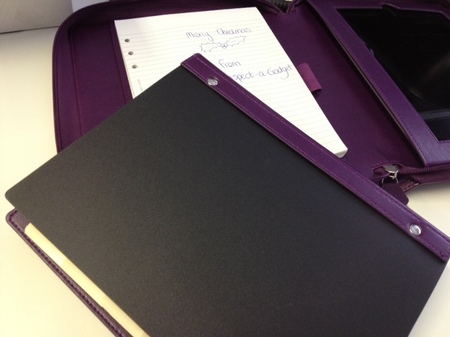 It's also a shame that you can't choose your organiser inserts, for example the paper colour and the type of diary, week to view, day to view etc.
It would be nice to see this organiser come in different sizes for different tablets, but that is unlikely to happen. With iPad still dominating in the accessories market, Filofax has obviously easily seen the opportunity in going down this route.
The Filofax Pennybridge comes in a gorgeous plum colour, as well as black and red in "leather-look" for £59.00.