On the ninth day of Christmas my true love gave to me... a Buffalo MiniStation Air
We are seeing increased demand on devices such as tablets to be used on the move, but with the average high-end amount of storage in tablets being around the 64GB mark, there is a need for a more portable storage solution, for those who work with large amounts of data.
The Buffalo MiniStation Air is hoping to be a solution to this problem, by providing 500GB of storage for data on the move. The handheld device is compatible with PC, Mac, and also tablets and smartphones through the use of an app. Cleverly, the device has its own internal wireless data connectivity, which allows you to stream to and from your devices while on the move. It also transfers data very quickly from your PC or Mac thanks to its USB 3.0 connectivity.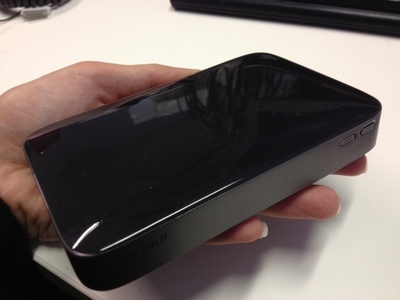 My first hurdle was turning on the device. There are two buttons on the side of the device, and I couldn't tell if the device was out of battery, or if I wasn't pressing the correct button, or even pushing it hard enough. I managed to switch it on a couple of times and it worked, but then I tried the same button to switch it on again and it wouldn't, so I resigned to giving it a good charge before trying again.
Again, I had trouble with the button, but after pressing it a few times, a couple of lights came up on the shiny black surface to indicate that it was on and that the WiFi was working. I then connected the gadget to my mobile device, by turning on the wireless and typing in the key which is on the back of the gadget. I then downloaded the accompanying app and was ready to give it a whirl.
I was testing it out using my iPhone 4, and annoyingly the app kept crashing which soon became very irritating. I figured out that if I didn't click on things too quickly and allowed the app a little more time to think, it wouldn't throw a hissy-fit and chuck me out of the application. But as soon as I became used to the layout of the app again, I'd pick up speed in accessing the files, and yet again I would be chucked out of the app!
When I did manage to spend more than 30 seconds at a time inside the app, I found it well organised. Data can be transferred from your computer onto the device in the same way as an external hard drive or USB stick. You could also add data from your mobile device onto the MiniStation Air, and also transfer data from the MiniStation Air onto your mobile device.
I was also really pleased with accessing photos, music and videos because it was extremely quick and easy to do so. There was an added joy that while watching videos, the wireless connection was so good that I didn't need to wait for any length of time for it to buffer.
For £100, you get a fair bit of storage for your money, however the fundamental bugs with the iOS app was very disappointing, but hopefully something that can be quickly fixed with an update.