On the first day of Christmas my true love gave to me... The Logitech "super mouse"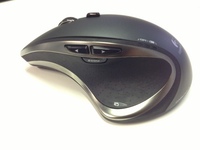 Long gone is the once-loved mouse mat, whether you had the simple block of colour, the logo of your favourite IT company or a novelty design along the lines of Wallace and Gromit.
And if you haven't quite forgotten about mouse mats, this "super mouse" from Logitech will definitely get you throwing any foam plastic squares straight into the bin.
What is great about this mouse, is that it claims to work on any surface, "especially glass". I can most certainly vouch for this – it was a dream to work on glass and all other surfaces I tried it on for that matter.
My first impression was that it is a really nice weight. It's surprisingly heavy to pick up, but this extra weight feels great when you are sliding it across your desk, it feels very stable under your hand. The mouse is moulded to your hand, with a really comfortable spot to rest your thumb.
But thinking about it, I have rather large hands. I wouldn't call them "man hands" but my fingers are very long (I used to be able to hit a whole two octaves on the piano by the way). So I asked my colleague with more lady-like mits to test it out and it was rather a big fit for her delicate hands.
This mouse is so much more than your standard mouse, shaped to mould your hand, in what Logitech call a natural "handshake-like" position, it has an array of ulterior motives when you install the software, such as your regular zoom, forward/back and scroll buttons but also a button to swiftly switch between screens.
Even the scroll wheel has two options, a standard scroll to allow you to scan slowly through documents or webpages, or click a button and you can switch to "hyper-fast scrolling" through long documents and your twitter feed to get to the part you need.
You charge the mouse via the micro USB charging cable which you can still use while in charge mode. The wireless receiver fits into a standard USB slot and is tiny, guaranteed not to take up any space on your desk.