On the eleventh day of Christmas, my true love sent to me... a Fujitsu ScanSnap S1300i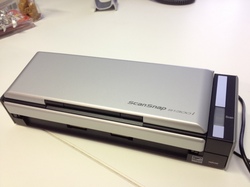 While the Fujitsu ScanSnap S1300i scanner is not portable enough to pop in your laptop bag, it is indeed a rather compact (although heavy for its size) device which can neatly sit on your desk, ready to scan two sides of a sheet of paper in a matter of seconds.
First things first, I opened the box to be welcomed by what seemed like a lot of components and even an instruction manual, I said a silent prayer to the Gadget Lords that this wouldn't be fiddly to set up.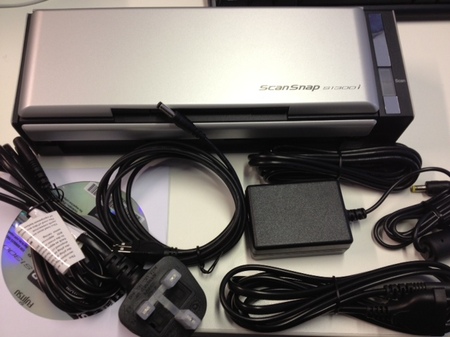 Another shocker, after I'd got over all the wires and cabling, was that I saw a CD-ROM lurking in the bottom of the box. Surely there would be a download option? Nope! Well, I spent a good couple of minutes searching for my disc drive before popping in the disc and following the tedious instructions to install the software. Now, I feel bad saying that it took a long time to download… errr… I mean INSTALL, it's just that I'm so used to clicking the big 'D' word, that installing a disc seems very 2002, not 2012.
After probably about eight minutes, the software was installed on my computer. I had the scanner plugged into the mains and also attached to my PC through a USB connection – NOTE: the scanner can also be powered through a second USB connection, so it's all about weighing up how many plugs versus USB ports you have nearby.
The ScanSnap claims to be able to scan 12 pages per minute and once I did have it all set up, I was astonished by how speedily it ate my piece of paper and spat it out the other side. The scan popped up on the software that I had painstakingly installed earlier, and even both sides of the sheet of paper was staring back at me in the form of a PDF on my computer screen in seconds.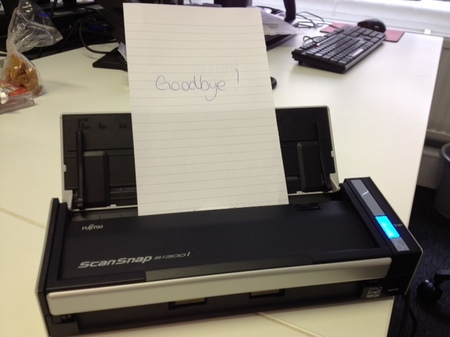 The quality of scans was great from all my tests, perfectly good enough for general office use – an ideal for scanning in receipts for expenses as the different sizes of paper didn't faze the gadget at all.
I tried to scan sheets at squiffy angles and it either works and straightens it out, or the software tells you that there is a problem. You can pop up to ten sheets of paper on the tray of the scanner and they feed through one at a time. Once you have scanned your sheets of paper, the ScanSnap software pops up and offers you a few options, such as 'scan to folder' 'scan to email' or 'scan to print'. You can also scan sheets to a mobile device, by downloading and app and entering a password.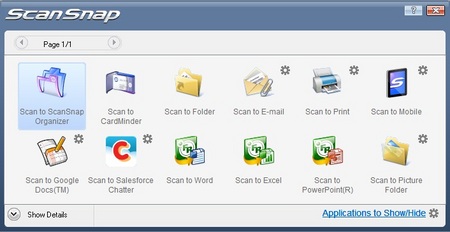 I would never want to lug this gadget around and therefore I can't deem it "portable" in my mind, and it does seem a little pricey compared to the much more portable scanners on the market at the moment but it is a fantastic little desktop gadget. You can pick it up for around the £220 mark from retailers such as Amazon.