Nokia N8 review: Great camera, Symbian disappoints again
Nokia needed to release a great smartphone otherwise they would fall so far behind Android and iPhone that their future would be in doubt.
They released the Nokia N8… it's good but it's definitely nowhere near great. Nokia are in deep trouble.
They might claim that they sell the most handsets globally but if they don't do something soon then that will not be the case in the next couple of years.
Nokia's latest flagship phone is the "best Nokia ever" but due to the continuously disappointing Symbian operating system it's still nowhere near as good as the iPhone or any high-end Android phone.
The body is solid aluminium and comes in five colours — silver, dark grey, orange, blue and green. It's a very solid phone but feels quite heavy. For some that's a good thing.
| | |
| --- | --- |
| Pro | Con |
| Awesome Camera | Terrible OS |
| HDMI Output | Lack of apps |
| Metal casing | Difficult to use |
| | Poor keyboard |
Camera
For video this is a beast, you will not find a phone that records HD footage as well as the N8 with 720p playback and a HDMI port.
It's got a 12-megapixel sensor, and Nokia claims that sensor is the biggest you can find in a mobile phone.
Paired with a Carl Zeiss lens and a Xenon flash, it's the best camera on a phone.
I would go so far as to say that it's a camera with a phone as oppose to calling it a camera-phone.
Along with HD video and HDMI output, it is the camera that's probably the stand-out feature in the N8, offering up images on par high-end compact cameras.
So if you want a camera that can call, get it. Because as a smartphone Symbian 3 is not intuitive whatsoever.
Here's a short movie created by Nokia using only the N8 and some famous actors like Dev 'slumdog boy' Patel and Pamela 'Baywatch' Anderson.
Symbian
Things like not having a back button when you browse make this phone insanely frustrating.
Navigating through the phones features is difficult especially having used Android and iPhone. It feels like there's always one too many clicks and too much need to navigate through menus unnecessarily.
The app library is thin with a distinct lack of high quality apps. Even the good apps are difficult to find!
The fact you have to have an Ovi account to do anything, including getting emails from your personal email accounts, is bad but what's worse is the fact that it's so difficult to use and sign up to often refusing you access.
It's these problems that leave Nokia so behind in the smartphone race.
Screen, battery and memory
The screen is OLED running at a 640 x 360-pixel resolution, and measures 3.5 inches diagonally with capacitive touch. It's not up there with the Samsung Galaxy S but all the same it's very good and responsive unlike it's resistive predecessors.
According to Nokia the battery lasts around 50 hours of music playback, or 7 hours of HD video. Not bad, but you can't remove it! Why Nokia have gone backwards I have no idea. It seems ridiculous to me.
It comes with 16gb on-board memory and can be expanded using microSDHC.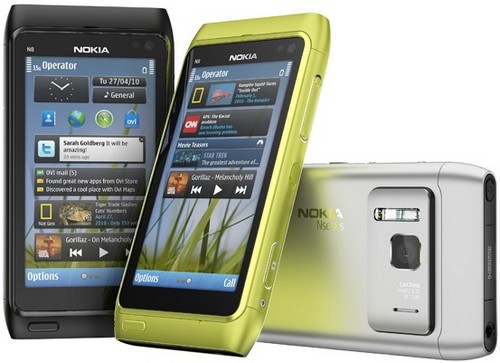 Get Social! (Don't use this phone, just go and meet people)

A great example of how Symbian tries to be 'down with the OS kids' and looks like a nerd that's just bought a leather jacket is the social networking app/widget.
You can update your Facebook and Twitter status live using the widget but it's just so difficult/complicated for something that should be so simple.
Why Nokia didn't just look at the iPhone and Android and just say 'Oh ok, that is how you communicate via social networking widget'.
The sooner they realise that they don't get it is when they will finally get it, get it?
Keyboard
The keyboard is difficult, like so many things on this phone. You can't use a QWERTY in portrait mode. They keyboard in landscape isn't good either compared to other phones.
I had the N97 and felt that the on-screen keyboard was an afterthought due to the slide-out QWERTY, but to see it still being used makes me angry.
The typing experience is a challenge when you're writing emails. For the odd text you'll be fine but for most people, this is terrible.
brightcove.createExperiences();
Verdict
If you've been using Nokias of late and you really have to get a Nokia, then I guess you should upgrade to the N8. Otherwise I would steer clear of this phone.
I found it difficult and frustrating. True the camera and video quality is brilliant but that's not enough anymore, maybe a few years ago having a great camera was a big deal, but now it's about ease of use and apps. Two things the N8 fails to deliver.
I had high hopes for this phone and want Nokia to do well but unless they look at adopting Android or making MeeGo good enough then I think they will find their best main business will be low-end mobile phones.