Nikon adds a twist to its D5000
Nikon is releasing its D5000 Digital SLR camera in May. Though it lacks the 1080p HD film mode of the Canon EOS Rebel, it does have a pivoting screen to make the camera functional in more situations than its rival.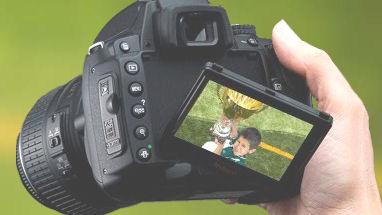 The D5000 uses a 12.5Mpixel DX format image sensor with a Multi-CAM100 11-point AF system offering subject tracking which will restart focusing on the subject even if it leaves and returns to the frame.
The camera carries 19 preset scene modes and six mood settings. It has a light sensitivity ISO range from 200 to a very fast 3,200 which means that images can be kept sharp under fairly low lighting conditions. There is also a Retouch Menu for editing the shots on the camera which is particularly useful when submitting images on location.
In D-Movie mode, the D5000 only manages to produce HD at 720p (1280x720pixels) resolution but, let's face it, stills are its main function and for video it's still probably best to use a digicam. Movies can either be viewed on the camera or directly on an HDTV using the HDMI cable.
The best feature is the articulated LCD screen which is particularly useful when shooting over the heads of a crowd or, at the other extreme, shooting upwards from ground level. The screen can even be pulled down and twisted to allow it to be viewed from in front of the lens, useful for self-portraits.
The camera will be available from May 1 and the street price will be around £720 excluding the lens or £800 with an 18-55mm Vibration Reduction (VR) lens.