New iPad, Old UI: Why Apple Needs to Reboot iOS
Apple's newest iPad took flight last Friday, but as more employers allow employees to bring their own devices into the workplace how long will it be before we look past the Gorilla Glass and retina displays to assess the genuine productivity merits of the tablets everybody is so keen to use?
In 2007 Apple wowed the world with the iPhone, the first genuine 'look mum, no stylus!' multitouch smartphone. It was a breakthrough device for user interface and interactivity design, winning universal plaudits and changing the course of mobile. In 2010 Apple did it again with the iPad, sprinkling its Cupertino magic dust over a previously tried but unfancied format and pulling from its hat another game-changing, ecosystem-initiating device. Innovative stuff all around, from hardware and software all the way to the App Store.
However, as far as user interface innovation goes, 2007 is pretty much where the story ends.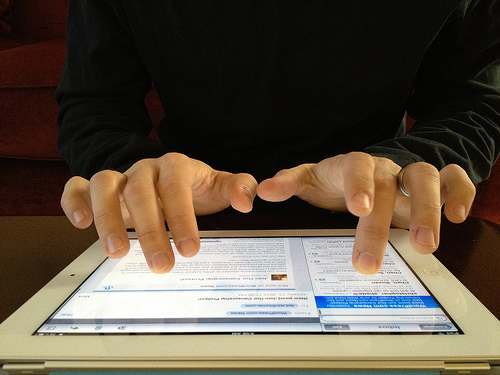 With the iPad Apple simply took an iPhone, planted it in compost and guessed at how big it could grow. Many a so-called cynic may have branded the iPad as little more than a giant iPhone but that's exactly what it is, albeit without the annoying phone bit that iPhone users rarely exercise. While the iPad's larger screen does enable touchscreen typing (for those patient enough to persevere) in user interface terms there really is very little that is new beyond the iPhone's original interface.
If the initial whoops and yelps were along the lines of 'hey, look at everything my iPad can do and how beautifully it can do it', the less-enthusiastic conversations these days are limited to, 'hey look, it's got great graphics'.
Apple's enhancements now focus on the cosmetic rather than improving the way in which we work. HD retina displays may well be an enabler for niche applications appreciated by those with 20:20 vision but it is yet to help me work on more than one email at a time, or to write notes in one app while reviewing content on a webpage or PDF in another – you know, the sort of stuff that we all do when we're actually doing some work.
Instead, when using iOS on my iPad I find myself finding ways to work around the operating system rather than benefiting from how the operating system works around me. It's a frustrating uphill struggle.
Picking up and appreciating devices such as the (unfortunately defunct) HP/Palm Touchpad and now the Samsung GALAXY Note 10.1 helps to reinforce just how hamstrung Apple's iOS currently feels on the iPad: for example, the Samsung's split screen feature I played with at MWC on the forthcoming GALAXY Note 10.1 makes perfect use of the tablet's landscape mode to present two independent portrait screens side by side, ideal for reviewing, commenting or copying; the multitasking and inter-device collaboration on the HP Touchpad was (on paper and mostly in practice) leaps ahead of the after-thought multitasking implemented into Apple's OS. The excuses of 'lack of processing power' present at the beginning of the tablet revolution simply don't hold water in today's dual- and quad-core processor landscape where performing multiple activities at once really shouldn't pose a problem.
The message is clear: Apple needs to innovate in the iOS interface and user experience once again, refocusing it around its users, or it will begin to lose out to other tablet manufacturers who persist in producing devices with genuine usability and productivity enhancements. The iPhone was five years ago, the iPad is now in its third year: since the initial wow common to most Apple product-line launches there have been very few enhancements to the core iOS interface. To some this may be an indication of how right Apple got their UI first time around, but for me and many others iOS 5.1 is beginning to show its age and is now in desperate need of a reboot.