Never again will you forget a password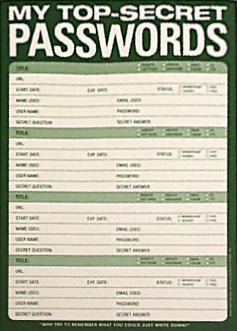 The mo
st secure passwords comprise upper and lower case characters and numbers. For higher security, change them regularly, with the new password bearing no relationship to previous ones. This may render them harder to crack but also makes them impossible to remember. Consequently, dozens of scribbled Post-It notes soon litter the workspace. Why not tidy things up with this dedicated pad. The bold labelling means that it is easy to find and it has spaces for start and expiry dates so you can plan ahead.
Why not buy one for your chief security officer to show them what an organised, forward-thinking worker you are. The My Top-Secret Passwords pad not only idiot-proo
fs your system but also proves you're an idiot.
The pad is only available from the US at Think Geek and costs $5.99. Each pad has 60 pages holding four passwords per page and measures 6in x 9in (152mm x 229mm) – a relatively small security hole.