NRF Big Show 2016: New York retailers showcase in-store and online technology
As part of the NRF Big Show 2016 in New York, e-commerce platform provider Demandware took me on a tour of some of the retailers in the Big Apple using its technology.
The level of technology usage varied from store to store, with one shop planning to introduce a customisation form to its website and another store implementing roaming point of sale (POS) systems to ensure store assistants can take credit for their sales.
Anya Hindmarch
As a luxury retailer, Anya Hindmarch focuses on delivering quality goods at a high price point, with good customer service as key.
The store on New York's Madison Avenue includes an 'Embossers Workshop' where handwritten customised messages can be embossed into the brand's leather products to create something personal.
One of the smaller customised products, such as a makeup bag, will cost around £280, whereas a bespoke weekend bag will set you back by around £795.
Currently, this process is done completely through paper forms in the shop, and although the service appears on the website, it's only in an advertising capacity.
The bespoke capabilities will soon be on the firm's Demandware website to allow customers the ability to research and order possible bespoke products without having to visit a store.
New Balance
Sports brand New Balance has the slogan "Always in Beta" printed across the window in the front of its store on 5th Avenue – an indicator of the constant innovation that goes on within the company.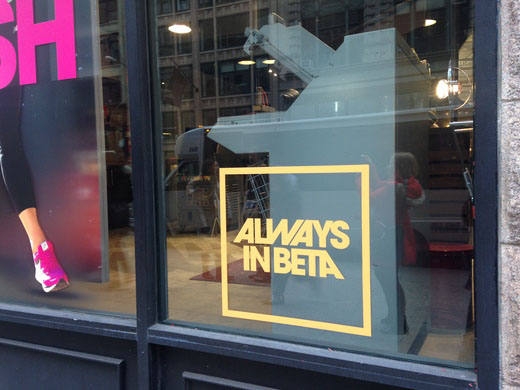 There were two pieces of technology showcased in this store – an interactive screen allowing users to play around with and customise virtual shoes, and a foot measuring technology which assesses customer's feet and suggests the right type of insole for their foot shape.
The shoe customisation demo features a touch screen interface allowing customers to choose different panels on a virtual model of a shoe and choose different colours based on personal taste, similar to the service on the brand's website.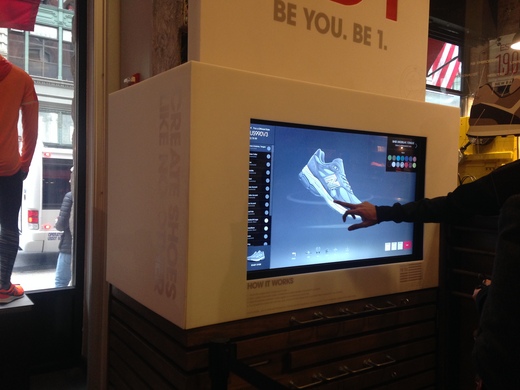 Currently, there is no direct connection between this service in the store and this service as offered on the brand's website – so for example if a customer started designing a shoe in the shop they could not then complete the design and order the shoe online at home.
New Balance's Atrex foot measuring solution is designed to measure your foot size and weight distribution to recommend the most comfortable insole for the inside of your trainer.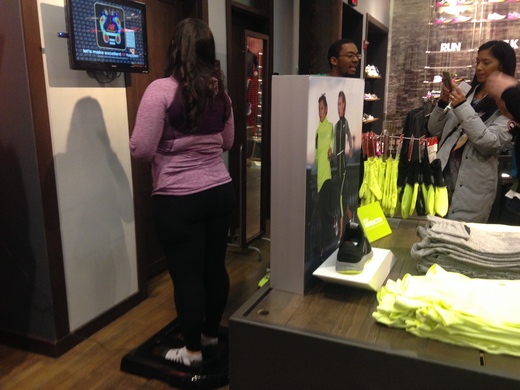 Both of these technologies aim to make the New Balance stores more relevant in an age of showrooming whereby customers use stores as a place to test products before buying online.
The stores offer these additional services to ensure the customer's brick and mortar visit was worthwhile and the correct product or set of products can be offered to a customer.
True Religion
True Religion is a luxury fashion outlet which has combined its Demandware endless aisle system with its Aptos mobile point of sale system to allow shop assistants to search through the brand's catalogue with customers before using a barcode to complete the transaction on a tablet.
Store assistants are equipped with "Band" technology, powered by Aptos – to me it looked like an Apple Watch – which can be used to search through potential products before displaying them on in-store LED screens to help interact with customers.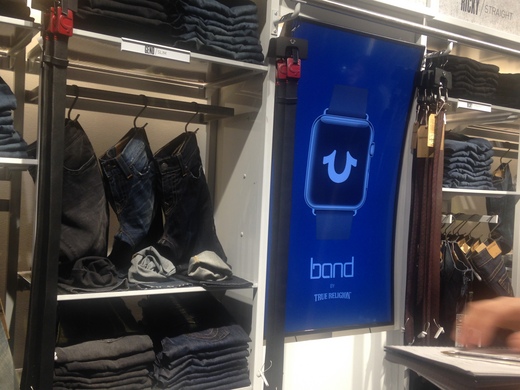 Touch screens around the store are also equipped with and endless aisle solution, which the True Religion head of e-commerce described as its Demandware e-ecommerce platform with payments stripped out, allowing customers or store assistants to search through products before completing the transaction by transferring the product to a mobile POS system using a unique barcode displayed alongside the product on the LED screen.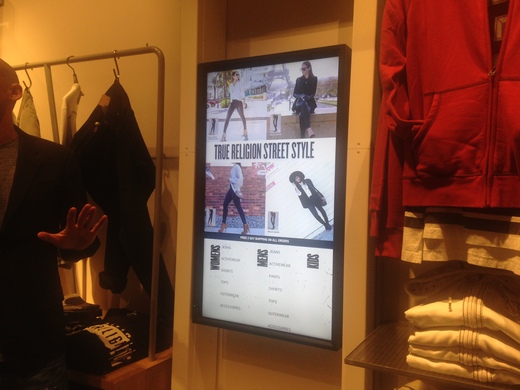 True Religion uses this combination of technology to ensure sales associates are receiving the credit for making a sale to ensure they embrace and assist customers with omni-channel interactions.