Motorola Flipout review: Good phone at a good price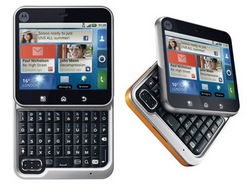 This phone is different and clever. The Motorola Flipout is a touch-screen square (67 x 67 x 17mm) that swivels out to reveal a full QWERTY keyboard. Running on Android 2.1 this could be a little gem of a phone.
The flipout action is strangely satisfying, rigid and addictive. You genuinely want people to call you so you can snap it out of your pocket.
The phone comes in three colours, Fairway Green, Saffron and Raspberry Crush, with interchangeable back covers. It looks like it's made of metal but when you hold it you quickly find that it's actually plastic and a nice weight to it.
Typing / keyboard
A lot of the time you won't need to flip it out due to the capacitive touch screen which is surprisingly responsive. But on those occasions that you need to type then you'll find a fantastic keyboard to use.
The keyboard has chunky raised keys that are well spread and easy to use. It's great to write long emails on and for short texts you can just use the on-screen keyboard. The only problem is is the directional pad, it's too small and very very difficult to use and very frustrating.
brightcove.createExperiences();
Camera and battery
It has a 3-megapixel camera without flash and poor zoom. This is one of the main problems with the phone. If you're in low-light conditions then taking pictures will be very difficult.
The battery should last you around 4.5 hours of talk time, and you will be able to get through the day without needing to charge it unless you use the web quite a lot.
Android and Motoblur
The Motorola Flipout runs on Android 2.1 with the Motoblur skin. As with other variants of the Motoblur Android interface from Motorola, you are have five customisable pages that you can add widgets, folders, shortcuts, applications or contacts to. It's not as good as HTC Sense but it's still good.
Last but not least, Moto Phone Portal is also worth a mention as it enables you to access and manage your phone's data from any browser through a USB or Wi-Fi connection on your PC or Mac. That means editing content and viewing phone information while at home or on-the-go.
Screen
The worst thing about this phone is the screen. Yes it's responsive but the screen / resolution quality is awful. I feel like I'm using a Sega Gamegear again, it's that bad. Everything looks quite pixellated and 'Motoblurry'. I understand whhy this is, it's because this is a low-end phone so they scrimped on the screen.
Verdict
I like this phone for all the reasons stated above but I find that the screen is something I can't get past.
If you're looking for a good Android phone that won't cost too much then this is really good and rivals the Sony Ericsson Mini Pro despite the price difference.
This phone gives you all the advantages of Android and a QWERTY keyboard in a neat little package.