Microsoft flattens to flatter (MWC)
Microsoft is keen to show off its new version of Windows Mobile. So keen, that it even hauled CEO Steve Ballmer up on stage to give the phone OS a big push at MWC in Barcelona. The new release will version-jump from 6.1 to 6.5 and it shows that the company is listening to its critics – sorry, users.
The Home screen of Windows Mobile (WinMo) 6.5 now shows the Today screen with new emails, texts, calendar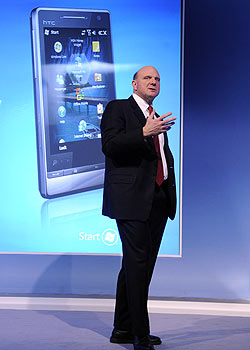 appointments and missed calls on display. Gone are the
Start and Programs menus because Microsoft has flattened the menu and placed all apps and folders in a long scrollable honeycomb of hexagonal icons to make access faster and easier. This interface is customisable to ensure regularly-used features are at your fingertips in seconds.
Talking of fingertips, fingers are the new the stylus. All of the icons are now bigger and this points the way to where WinMo is going. Let's face it, Microsoft followed Apple into the windowed computer interface arena and now WinMo is heading into iPhone territory. Yes, folks, Microsoft "innovates" again by leading from the back. With iPhone, Palm and Android blazing a trail, it's no wonder that Microsoft is pushing its product so hard – especially since we won't be using version 6.5 until "later this year", according to Ballmer.
The OS development also sees a move into online services. My Phone offers free storage space on the Web that will allow personal data to be uploaded and restored. In limited beta at the moment, the site gives password-protected space so that data can be stored retrieved or moved to a new phone when required.
The second service is Windows Marketplace for Mobile where apps for the new OS can be found. Hosted on Windows Live ID, developers will be able to tout their wares for online payments. An online app store, what a good idea.
It seems that Microsoft is still shaping up Windows Mobile to be competitive in the fast-changing OS market. The new features are primarily cosmetic and the bulk of the code remains the same. Whether this is a kludge or an edge will only be revealed when users get the hands-on experience.