Microsoft, Google Bin Smartphones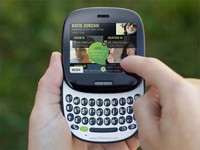 Apple may well be suffering the slings and arrows of outrageous fortune (and frothing at the gob tech journalists), but two other behemoths have quietly admitted defeat in the mobile arena this week.
Google has
retired the Nexus One
direct sales channel, and Microsoft has completely binned the Kin One and Two. Both "iPhone killers" have gone to the great charity shop in the sky due to lack of interest. Both devices competed with Apple's offering, feature for feature – with downloadable apps and social networking front and centre.
In the Kin's case, this comes just SIX WEEKS after launch.
Official reports say they only shifted 9,000 handsets, but according to sources inside Microsoft –
reported by Business Insider
– they've only sold 503. Not that's not a typo. 503. Five hundred and fricking three.
An emollient press release from Microsoft on 30th of June announced a shift of emphasis to the Windows 7 launch and the Windows Phone project. It promised that although the phone launch in Europe had been canned, Kins would still be sold in the US. Nuh-uh,
replied Kin mobile operator Verizon, yesterday
. Have your 'Kin phones back, we imagine they had said, clearing their shelves of the MS gadget. Long story short, you can no longer buy a Kin, anywhere.
The Kin is dead. Long live the Kin.
As for Google's Nexus One – that's had a longer, slightly more promising life – and will continue to have one. The Nexus One is essentially an HTC Desire without the slick UI. The Desire remains one of the most popular smartphones on the market – the connosieurs choice. So, you can have a Desire if you want – and Vodafone will continue to sell the Google version if that's what you'd prefer.
But it seems that Google has realised it doesn't want to be Carphone Warehouse. Following lousy web sales, the Nexus retail web site is to be retired. The last shipment of phones was received by Google this week.