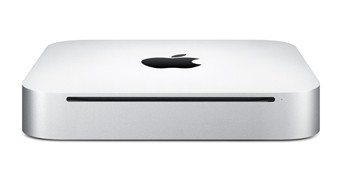 Psst. Wanna buy a Mac Mini? Apple's diminutive Mac makes a great media centre computer, homework machine or discreet server. And now, in Europe, Apple have knocked £50 off the starting price.
There's been no official announcement (yet) but
a German Mac rumour site
picked up on the price change this morning and a quick visit to the online Apple shop confirms it.
The entry level Mac Mini, with a decent 2.4 Ghz Core Duo processor, 2GB RAM, 320GB HD configuration, is now £599 instead of £649. The more powerful server version has had a similar £50 price drop, from £929 to £879.
The current Mac Mini – beautiful and usable as it is – is far from being the budget choice it was back in 2005, when it launched at a very desirable £339. Still £599 is the lowest price you'll pay to own a new Mac, unless you build one yourself… And, for once, folks in Europe are getting special treatment. Mac Mini prices in the US stay the same.