MWC 2014 First Look: Huawei MediaPad X1 7.0
This week's Mobile World Congress in Barcelona has seen a slew of new devices hit the show floor, ranging from the high end market dominators like the new Samsung Galaxy S5 through to the entry level smartphones running Mozilla Firefox's mobile OS.
But trying to be heard through all the noise was Chinese manufacturer Huawei. Despite the media focus on its networking solutions – and the security of them – the firm also has a thriving mobile devices unit and used MWC to launch a number of new products.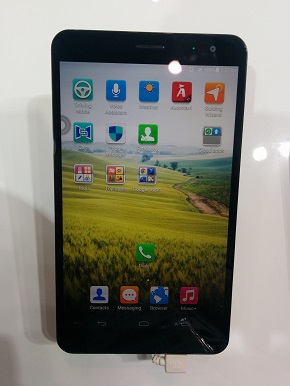 One that drew a lot of attention was the Huawei MediaPad X1 7.0. The Android-based tablet only runs Jelly Bean – 4.2 – rather than the most current OS KitKat – 4.4 – but comes with Huawei's own Emotion UI to give swiping through the screens and lists of apps a nippy and stylish feel. It does mean it will launch behind its other Android rivals though so we still think missing out of the latest software was a mistake.
It runs on an Huawei built quadcore 1.6GHz processor, which is not quite as quick as the favoured Snapdragon chipsets, but still offers speed and performance necessary for such a tablet size. The device comes with 2GB of RAM and available in either a 16GB or 32GB model.
The seven inch device looks very sleek, measuring just 7.18mm thick and weighing in at 239g. It was very comfortable to hold without the slipping or stickiness other devices have.
It also competed well with alternative seven inch tablets when it came to its stunning screen, offering a resolution of 1920 x 1200 pixels and Corning Gorilla Glass for a smooth finish.
Where it tops other tablets in this size range, however, it the fact it has phone capabilities. Arguably this puts it into the smartphone/phablet market rather than tablet, but it is clear from the design it is meant to be a tablet first with extra communication capabilities.
Huawei offers 4G versions of the device and although one feels very silly holding such a large tablet/smartphone up to your ear, the appeal of an all-in-one device will definitely win some customers over.
This does, of course, raise the price of the MediaPad X1 7.0 when compared to the likes of Google's Nexus 7. The latter comes in at less than £200 whereas Huawei is expecting to launch for around £329.
But, if it is a strong tablet device with the extra communication attached that you are looking for, this could be a contender. If only they would update it to Android KitKat…
A launch date has yet to be confirmed.
More photos of the Huawei MediaPad X1 7.0