Logitech Harmony Hub: bridging wi-fi with infrared
For the last few years I've used a Logitech Harmony 1100 universal infrared remote to control various devices around the house.
Logitech is moving away from such remotes due to the popularity of tablet computers and smartphones as universal devices. But tablets and smartphones generally don't include infrared ports, so they cannot be used to control home entertainment systems and TVs that rely on infrared remotes control codes.
The Harmony Smart Control is Logitech's answer – a gadget that translates Wi-Fi into infrared codes and bluetooth commands (for games consoles). It uses a gadget called the Harmony Hub in conjunction with a smartphone app, available both on the Apple AppStore and Google Play marketplace.
Logitech uses an online database of remote codes, to simplify the setup. Initially, you plug the Harmony Hub into a spare USB port on a PC or Mac and create an account on Logitech's MyHarmony.com portal. To get going you need Microsoft Silverlight and a plugin, both of which are available direct from the MyHarmony.com portal.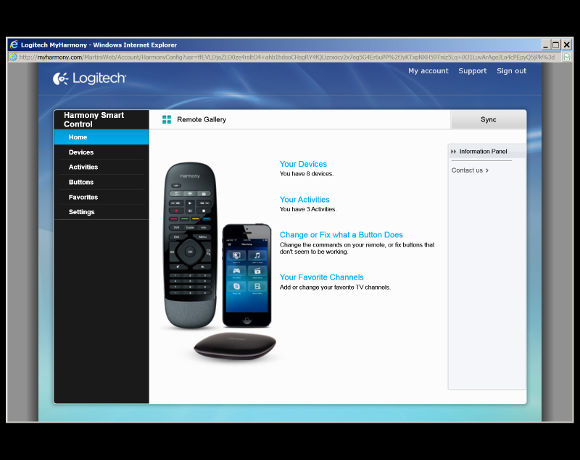 From here you can setup devices and associate activities – such as listening to music or watching a DVD – with a set of devices. For instance, to watch a DVD, you may need to switch on the TV, DVD player and surround amplifier, then select the right video and audio sources as inputs to get sound and picture from the DVD player.onto the TV.
This probably sounds quite complicated, but it is intuitive, especially if you have setup other Harmony remotes. Previous Harmony remote owners can also use the MyHarmony.com portal to transfer their remote settings to the Harmony Hub.
To complete the setup, you select Sync to send the configuration to the Harmony Hub. It can now be disconnected from the USB port, then plugged in to a power socket where it can relay infrared codes to your Hi-Fi, TV and other devices.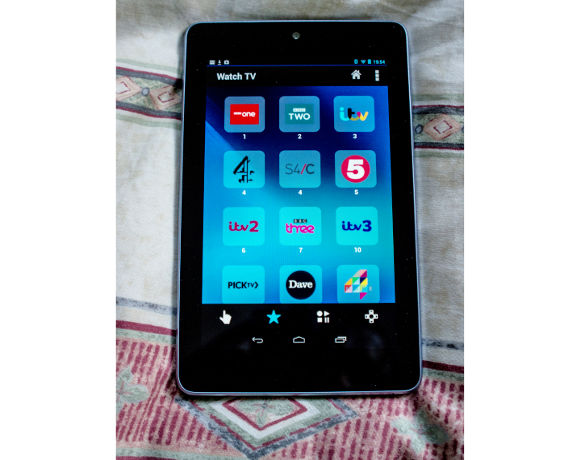 The above image shows the Android app running my "Watch TV" activity, which took a matter of seconds as Logitech automatically downloaded the relevant channels for Freeview.
Generally, I found the Harmony Hub easy to setup, but there were no actual instructions. You are told to log into MyHarmony.com. Personally, a step-by-step guide would have helped. For watching TV, the Channel logos are a good touch and the learning IR codes function works well.
But using my Nexus 7 with the Harmony Hub is no replacement for a dedicated remote control. Battery life is poor compared to the Harmony 1100, which would last almost a week on a full charge. I was also unable to create a custom screen on the app, with favourite buttons – something that was easy on the Harmony 1100.
In theory, the Harmony Hub can work work with any infrared device. For instance, I was able to control a Varlight infrared light dimmer. It would be brilliant if the Harmony Hub could accept commands remotely, ie not just over Wi-Fi, to control gadgets remotely from the MyHarmony.com portal. Imagine being able to link home to the internet cost-effectively. For the Logitech Smart Control and Harmony Hub to succeed I think Logitech needs to open up the platform to enable third-party developers to create apps that build on the MyHarmony portal. For now, however, it is a £109 add-on for a smartphone or tablet, that, in my opinion, is not as good as a dedicated universal remote control.