Lending an ear to the Asus NX90
Danish high-end hi-fi specialist Bang & Olufsen and Asus look as though they could be a force to be reckoned with. The resulting multimedia laptop is the NX90 with B&O ICEpower sound.
The laptop looks expensive which is just as well because it will be expensive at around £2,000. A mirror-smooth aluminium lid and wrist rest set against a matt black keboard matches the signature B&O styling for its home entertainment systems. I only hope that Asus provides a polishing cloth as part of the pack because polished aluminium soon show up fingerprints and other smudges. When the laptop goes on sale in spring, it will also be available in matt black and will look no less impressive because the size of the unit demands your attention.
The keyboard is interesting because there are two trackpads integrated on either side of the keys, rather than in the middle of the wrist rest. An interesting development because I found that the cursor could be moved by using my little finger (or pinkie, to our American readers) without moving my hand away from the keyboard. It's also a nice gesture to those of us with the sinister tendency to favour our left hand rather than right.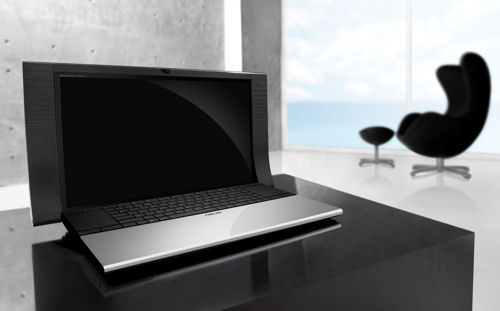 The main part of any multimedia computer is the screen and the speakers. In the past, the audio side has been sadly neglected with tinny sounds accompanying impressive images. The size of the NX90 is governed by the 18.4in wide format screen and additional speakers that run to the height of the screen on either side. This is a big notebook that demands a new genre name of deskbook and is designed to grace a table. The speakers actually overhang the edges of the keyboard to allow greater depth to the enclosures to improve the sound quality.
The Nvidia GeForce GT335M driving the screen will allow HD playback of movies and is backed by 4GB of computer memory epandable to 12GB. There is the option of a Blu-ray drive but as yet accurate pricing has yet to be finalised.
The speakers and the ICEpower module provide excellent sound but I'm an old hi-fi geek and I would have liked something to give me a bass response to rattles my bones. This apart, the quality is way above anything I've heard from a portable system.
The NX90 is designed for a niche market of demanding, rich, multimedia, hi-fi fans who don't mind spending a bit more for an impressive piece of functional furniture.