Kindle Fire will finally arrive in UK and Europe in October
The next generation of Kindle Fire was announced last night – the Kindle Fire HD – and we will finally be able to purchase it in the UK and Europe.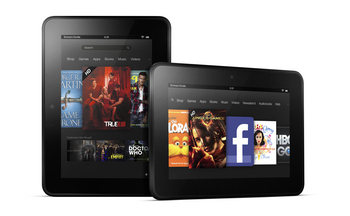 This is a big one for me – I have been waiting for this ever since
Amazon
announced the Kindle Fire nearly a year ago. I debated holding out for it and waited patiently for a couple of months for it to grace our shelves next to the Kindle e-readers, but alas, no, it never arrived. I gave up and bought a full-sized tablet, but I have still been waiting to see if us Brits would ever be worthy of the Kindle Fire.
According to Amazon, the Kindle Fire, quickly became the most successful product launch in the company's history and managed to capture 22% of US tablet sales in nine months.
Now Amazon feel that it's time to try and break the UK and Europe tablet market as the Kindle Fire HD (available in 16GB and 32GB) and the all-new Kindle Fire will be reaching our shores on 25 October.
Here are the specs of the Kindle Fire HD:
7″ 10 point capacitive touch high definition colour display with IPS (in-plane switching) technology, advanced polarising filter, Gorilla Glass, and anti-glare technology which provides 25% less glare
1280×800 resolution, video playback at 720p
395 grams, 193 mm x 137 mm x 10.3 mm
11 hours of battery
Dual antenna, dual-band Wi-Fi for ultra-fast downloads and HD streaming – this apparently is the fastest Wi-Fi available on any tablet on the market, providing 40% faster downloads and streaming
High performance 1.2 Ghz dual-core processor with Imagination PowerVR 3D graphics core for fast and fluid performance
Dual stereo speakers with Dolby Digital Plus audio
Front-facing HD camera
New Amazon-exclusive features: X-Ray for Movies, X-Ray for Textbooks, Immersion Reading, Whispersync for Voice, Whispersync for Games, and Kindle FreeTime.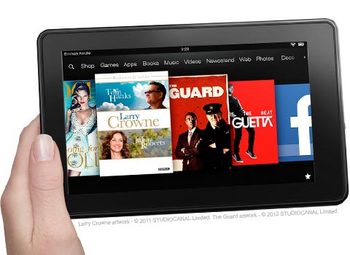 They had to hold something back for the US though – the Kindle Fire will also be available with a larger 8.9in (22.6cm) screen, but only in the United States from November.
It's already available to pre-order on the Amazon store and one Computer Weekly colleague has done just that, while my finger also hovers over the 'pre-order this item today' button – do I, don't I?
Kindle Fire HD, available for £159 in 16GB and £199 in 32GB, and the all-new Kindle Fire £129. To achieve this low price point, the devices will provide special offer Amazon adverts when the Fire is on lock screen.
You can most definitely add this to the list of devices you can expect your staff will want to bring into the workplace, right next to the Samsung Galaxy Note 10.1, Google's Nexus 7, Microsoft's upcoming Surface tablet, and what ever magical product Apple decides to unveil next week, an iPad mini perhaps?