Is the Sony Xperia M2 Aqua really waterproof? VIDEO
These days it seems like every new phone that hits the market has to have a gimmick. For example the new curved Samsung Galaxy S6 or the Lenovo Yoga Tablet 2 with its fancy 'AnyPen' technology.
Well the Sony Xperia M2 Aqua is allegedly waterproof. It's the one you'll have seen being wielded by booth babes in scuba gear and a tank of water the last time you went to a trade show.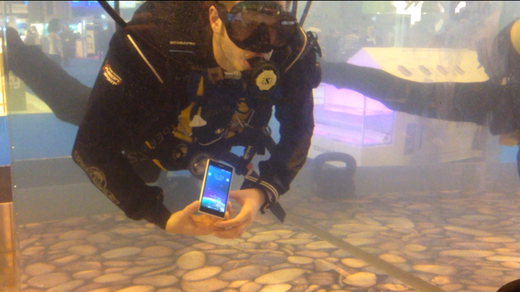 Like this…
So I managed to get my hands on an M2 Aqua to try it out and the results were… mixed.
Branded with TT Charcoal & Teal. Related link and Similar Video filmstrip included.
brightcove.createExperiences();
Video by Tom Walker
The phone was functioning just fine before I put it into the tank of fresh water. I say fresh water because it's advised the device is only waterproof in saline water and not salt water, as I mention in the video.
Once I took it out of the tank it continued to work fine, and I was merrily taking photos of my colleague surrounded by dinosaurs using the Augmented Reality photobooth I had demoed on the Sony Xperia at International CES in January this year.
The device has CMOS Image sensor – Exmor RS for mobile and features ClearAudio+ sound improvement software to make sound on videos clearer if you want to upload them to the internet.
I left the device for a few days and the battery went dead – as you might expect. Then once I tried to charge it to test it further it started to act squiffy…
Sony Xperian M2 Aqua specs at a glance:
Weight:

149g

Dimensions:

140 x 72 x 8.6 mm

OS:

Google Android 4.4 KitKat

Battery:

12 hours medium use, 641 hours on standby

Camera:

8 MP

Processor: Qualcomm Snapdragon 400 1.2 GHz Quad-core processor
Memory:

1GB RAM

Storage:

8GB Flash expandable to 32GB MicroSD
I left the phone on charge for a while but it still refused to turn on and gave me a battery warning every time I tried.
I attempted a different plug and nothing. I attempted a different cable and nothing. I left it 'on charge' for a few hours to mind its own business and it still refused to turn on.
Before anyone asks the obvious – yes all of the protective covers were properly shut, yes it was fresh water, and no, I didn't leave it in the water for more than 30 minutes – it was more like 30 seconds.
Whether there's a correlation between me dropping the phone in a fish-tank of water and it then failing to charge I'm not sure. But the fact of the matter is it was working before, and now it is not.