InFocus BigTouch: A touch too much?
Technology goes through fads when it comes to size. Just a few years ago we were all competing to have the easiest to lose smartphone, whereas now manufacturers are touting bigger screens than ever, harking back to the days of PDAs. With laptops we want light, flexible and easy to fit in your carry on rather than all singing, all dancing sizeable morsels. But there is no denying when it comes to PCs, a nice, big screen puts the matching sized smile onto anyone's face, be it a gamer or corporate user.
However, there is big, then there is BIG and the InFocus BigTouch is not for the fainted hearted. At 55 inches, this all in one PC is quite a daunting piece of kit to behold with an equally daunting price tag of around £3,000. Yet this isn't exactly designed for the office admin to do a few spreadsheets on.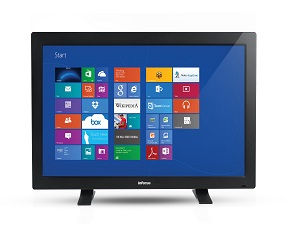 The BigTouch is instead being aimed at the education sector for use in classrooms or the large enterprise who need that special something for delivering presentations in the boardroom. Touchscreen by default – although there are plenty of USBs for adding keyboard, mouse, camera, sound etc – we defy anyone to be sat in a room with it and not want to have a play. Although, prepare to ache if trying to reach from one side of the screen to the other.
Despite its mammoth size and price tag, the specs aren't as breath-taking, with an Intel core i5 processor powering the beast. But with SSD speeds, the latest Windows 8 Pro operating system – which screams out for this touchscreen capability – and 1920 × 1080 resolution, it would still be something to write home about if you came across it in your next meeting or lecture.
Unfortunately due to mix ups with power cables, we didn't get to have a full test run with the BigTouch, but we did get to go through the painful two man work out to put it together. The large feet holding it up didn't fill us with the utmost confidence and the actual plain black bezel took something away from the design, which you would expect to have more flare.
But, from the videos we have seen with this piece of kit in action, we don't think anyone will be paying attention to these pieces when a slideshow is in full swing on this uber screen and its ease of use makes it great for anyone to show off on, regardless of their technical ability.
Is it worth shelling out so much cash for when a decent projector and HDMI cable would come in at the fraction of the cost? Well, if interactive presentations aren't imperative to the way you do business, we would say no. But there is definitely something about the BigTouch that makes us think certain companies would have no fear of signing that cheque and we suggest those guys have a play.