In-depth review of the Garmin Fenix 3 smart watch
With all the hype surrounding the Apple Watch, it is easy to forget that health and fitness watches are not a new thing. Runners, cyclists and triathletes have been using smart wearables for years, to help them improve their performance.
I have owned three running watches: a Garmin Forerunner 405, a Nike+ Sportwatch and a Garmin 310 XT.
A month ago I took delivery of Garmin's first fully-fledged smartwatch, the Fenix 3 with heart rate monitor. The Fenix 3 is the first Garmin that can be worn every day, with battery life of up to six weeks under normal use.
In terms of spec, it offers an altimeter, barometer, compass VO2 Max tracking and waypoints, allowing hikers and runners to navigate a predetermined route.
Among the big changes Garmin has made in recent years is providing connectivity to other running apps so you don't have to stick with Garmin Connect. I now use Strava, which is paired to my Garmin Connect account. Synching the two accounts is automatic and happens in a matter of minutes after a run has been uploaded to Garmin Connect.
As a wristwatch, the first thing I noticed was that the Fenix 3 needed a GPS signal to initially set the time. Once this has been done, it is then possible to switch over to change the time manually.
GPS is clearly a useful way to keep the watch accurate, but it's no use when you get off a plane at Charles de Gaulle airport, Paris, which I did 12 days ago, for the Paris Marathon – basically, you need to be able to see the sky to get a GPS lock.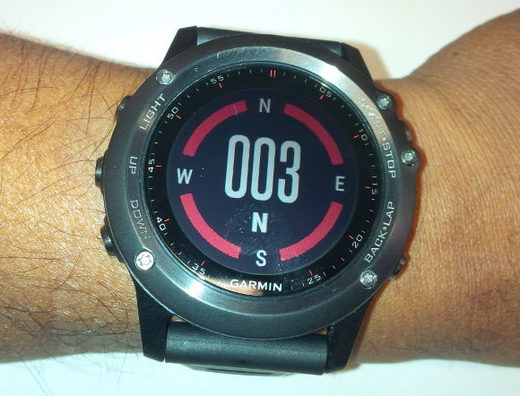 One thing to look out for when wearing it is that the metal buckle on the watch strap is quite large. When I've accidentally worn the strap is tool tight, the metal buckle has caused a big dent on my wrist.
Wi-Fi and Bluetooth
To set up the watch fully I needed to download the Garmin Express software onto my PC. I already had a Garmin Connect account for logging runs, and it was able to use this as my user name. Express allows you to set up Wi-Fi, by preconfiguring the SSID and Wi-Fi access code needed to connect to your network.
I have not found any way to setup a Wi-Fi connection without Express, so this could be a bit limiting if you have not already used Express to setup a new Wi-Fi network on the Fenix 3.
Bluetooth pairing was a lot easier. Just enable it in the Fenix 3's settings menu, and pair with your smartphone. In theory, it is possible to control a music playlist on your smartphone via the Fenix 3. I have the Fenix 3 app but I have yet to try this feature.
I can also get messages and alerts from the phone sent to the Fenix 3, which is pretty cool until you realise how much power Bluetooth takes. So for me, Bluetooth is definitely disabled.
Wi-Fi, on the other hand, is only enabled when you stop a run. If Wi-Fi is setup, the Fenix 3 will use your Wi-Fi connection to upload runs onto your Garmin Connect site. If you manually enable Wi-Fi, it will attempt to upload new runs. Wi-Fi will be disabled once all runs have been uploaded or if it fail to connect to a stored Wi-Fi network.
User interface
Yes this is a smart watch, and yes I went onto the Garmin ConnectIQ app store and downloaded a "sporty analogue" watch face – but at the end of the day, my primary use for the Fenix 3 is as a running watch.
Pressing the Red button on the right brings up the Activities menu. For me, running is already highlighted, so I can press Run to start a new run. The Fenix 3 then goes away searching for any attached heart rate monitor and GPS. The dial flashes green once a GPS lock has been obtained. I simply press the red button again to start my run.
I do half of my running in London so I find auto-pause worth enabling, given the stops waiting for the green man at traffic lights!
The left side of the Fenix 3 has three bottoms: top is for backlighting, while the middle and lower buttons are for scrolling menus.
I have only used scrolling during setup and once during the Paris Marathon, when I girl asked me for the time. While each screen of the Fenix 3 can be configured with several running parameters like heart rate, actual pace, average pace, distance, elapsed time etc, sadly, I didn't see the need to see the actual time – especially during a marathon run.
Running outside in direct sunshine, as was the case in Paris on April 12, Garmin's anti-glare screen wasn't quite that easy to read without twisting my wrist away from the sunlight. And although I had set up two screens of parameters, I found it quite tricky while running to switch between the screens.
Final thoughts
Having completed Paris in 4:34:13, apart from being surprised at actually finishing, I was pleasantly surprised that there was still 79% charge remaining, which is pretty good going. While locking onto GPS at the marathon took under 30 seconds, three days later I took the Fenix 3 out for a short recovery run and GPS took well over a minute to lock. So from now on I'll try to remember to keep the Fenix 3 full charged.
The Garmin Fenix 3 retails for £399, which includes a heart rate monitor. There is also a more up-market model, the Fenix 3 Sapphire with a metal strap, which costs £480.
Specs:
Physical & Performance

Physical dimensions

2.0″ x 2.0″ x 0.6″ (51.0 x 51.0 x 16.0 mm)

Display size, WxH

1.2″ (30.4 mm)

Display resolution, WxH

218 x 218 pixels; transflective MIP color

Color display

Negative mode display

Weight

Silver/Dark: 2.9 oz (82 g)

Battery

Rechargeable 300 mAh lithium-ion

Battery life

Up to 50 hours in UltraTrac mode; up to 20 hours in GPS training mode; up to 6 weeks in watch mode

10 ATM

GPS-enabled

GLONASS

High-sensitivity receiver

Barometric altimeter

Electronic compass

Smart notifications (displays email, text and other alerts when paired with your compatible phone)

Vibration alert

Music control

Find my phone

VIRB® control

Watch functions

Time of day (12/24h), calendar (day/date), daily alarm