Huawei MateBook E Windows tablet (laptop)
Many older laptops die off within about three years of use, especially if you're a heavy compute user that installs a whole bag of apps and pushes the device in and out of airports once or twice a month – somehow, the processor workload and accompanying casing just take too much of a bashing in the end.
The upshot of this observation is the inevitable need to replace the unit – and the need to get yourself an accompanying tablet to travel with, although these usually last longer into the five-year lifetime span, if not longer.
The exception that has proved the rule in our case is the HP Spectre 360 laptop-cum-tablet that Microsoft gave out to attendees at Build 2015 (full disclosure, this free unit was accepted) – which provides both a laptop and tablet experience that really works interchangeably well… and the thing is still running in 2022 at the time of writing.
Why the beef here then?
Because the Windows tablet that works effectively as a laptop and the Windows laptop that works effectively as a tablet has always been a bit of a tough act to pull off unless you opt for the Windows Surface Pro range, which don't come at bargain basement prices.
Could Huawei have a contender in this space in the shape of the HUAWEI MateBook E perhaps?
Number #1 on this devices feature list is this statement, "Built for versatility. [This Windows 11 device offers] flexible transition from tablet to laptop."
Creative Station
Indeed, Huawei refers to the device as a laptop, but it is really a tablet with a nice neat docking unit and keyboard, so maybe the line between the two will finally start to blur if the user experience is strong. The company calls the mounting unit the provision of a 'creative station' – users can set the screen back easily with keyboard adjustment for the perfect angle for writing or drawing, something that most tablet mounts really don't offer.
Snapped to the screen, the keyboard offers adjustable viewing angles of 110° and 160°. To replicate the user experience of traditional laptops, the Huawei-branded Smart Magnetic Keyboard comes with a large touchpad at the bottom.
We know that a low-end Windows Surface comes in at around £600 at the time of writing (but that's an underpowered option anyway, so any professional user would need to spend closer to four-figures) so how much is this device?
The MateBook E for the UK market is priced at £999.

It comes with an Huawei OLED real colour 'FullView' display, a Huawei M-Pencil, as already suggested it ships with Windows 11 and it has a full HD camera, quad microphones and quad speaker, AI noise cancellation and a 12.6 inches screen.
While we're on specs, let's also mention the fact that the unit can be as light as 709g (without the keyboard) and as thin as 7.99mm (ditto), it offers portable fast charging, fingerprint unlock and 13 MP rear camera plus 8 MP front camera.
Super Device
Possibly lost in translation between Chinese and English, Huawei now champions what it calls Super Device technology. While most of us stopped saying super-dooper at the end of the 1980s, Huawei is using the term to denote Super Device in this MateBook, which lets users connect the device with other Huawei smartphones, tablets, monitors and with it's own Huawei Vision (TV broadcast) technology.
In the Super Device interface, accessible from the corresponding system tray icon, users drag the icons representing Huawei smartphone, tablet, monitors and Huawei Vision towards the Huawei MateBook E icon at the centre to initiate pairing.
Inside the box here we find an 11th Generation Intel Core processor and Iris Xe graphics card, which are kept cool with an independent Shark Fin Fan and an eight-layer heat dissipation structure.
That OLED display provides a 90% screen-to-body ratio, which is a standard that a lot of us are getting used to these days.
The Huawei M-Pencil is a nice piece of technology, but as much as the manufacturers tell us that we will now be able to 'seamlessly' switch input methods between pen, keyboard and voice, that evolution is still (arguably) probably not quite with us.
Given that Huawei calls this tablet a laptop, we might have expected more than the quite slim number of ports that come with this machine. A 3.5mm headphone jack is there and just one USB-C connector (which also works as a Thunderbolt 4 connection) are all you get – given the widespread use of Bluetooth headphones today and Huawei doing away with headphone jacks on its smartphones, surely that 3.5mm jack space could have been better used?
Windows 11 Gestures
The Huawei MateBook E supports a range of new gestures that come with the new operating system.
One-finger gesture: Swipe from the left end of the screen to the right, app wedges will show up on the screen. Swipe from right to left to show Notifications and Calendar.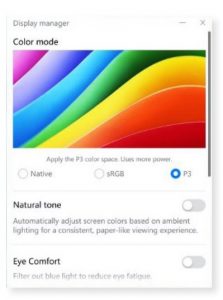 Three-finger gesture: Swipe the screen from right to left and the other way around to switch between apps. Three-finger/four-finger gestures: Swipe down to minimise the app window and return to the Desktop. Swipe up to maximise the app window. Swipe up again to call out the multi-task/desktop manager.
Four-finger gestures: Swipe from left to right and the other way around the switch to a virtual desktop. Each virtual desktop can be assigned with a theme and name, and used to separately handle different tasks. Swipe up to show an overview of all virtual desktops.
An OLED first
According to Huawei, the MateBook E is the very first Huawei 'laptop' (well, tablet laptop) to come with an OLED display.
"What makes that special is the contrast ratio it offers. Conventional LCD panels found in most laptops today require a backlight and are not equipped to display 'pure' blacks. However, because every individual pixel on an OLED panel can emit light, a panel can simply turn a pixel off to display blacks. In other words, the theoretical contrast ratio OLED panels offer is infinite," states the company, in a product sheet.
Overall then, the Huawei MateBook E Windows tablet does a fairly convincing job of being the Huawei MateBook E Windows laptop, but with just enough differences to leave the user knowing it's not laptop laptop, if you get the gist of the meaning. If this means that the line between the two form factors is finally blurring and that Microsoft is being challenged at its own Surface game, then that's arguably a good thing for us users too.