How will retailers know if polymer banknotes are real?
Many retailers are still unaware that polymer bank notes are on their way to the UK, so how will they identify a real one during the purchasing process?
Everyone knows that if you hold a traditional British note up to sunlight a legitimate one will have the Queen's face smiling back at you.
But in the second half of 2016, the UK is introducing polymer bank notes, similar to those in Australia, beginning with smaller £5 denominations and increasing to £10 notes the following year.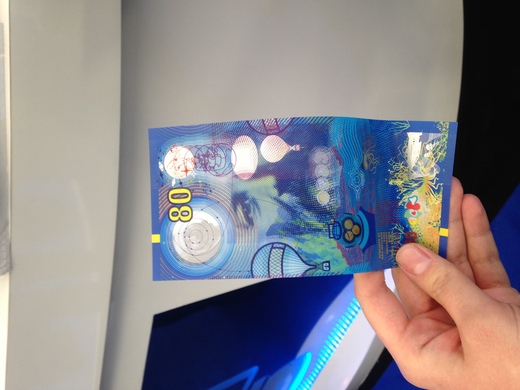 Example bank note
The five pound note is the denomination that receives the most wear and tear, and new polymer notes will be stronger, waterproof and more difficult to counterfeit.
The notes are made from the same materials that are used to produce certain types of plastic, allowing features such as windows and metallic inks to be used, unlike on paper notes.
Businesses will have to make changes to prepare for the introduction of these new smaller notes by adapting cash machines and making appropriate software updates if necessary.
One of the ways in which businesses will have to adapt is to ensure staff will be able to recognise a real bank note, or identify a fake one.
In order to help businesses with this, payments solution firm Secure Retail plans to distribute several types of polymer bank note reader, produced by manufacturer Innovia, to help staff identify fake notes from real ones.
Innovia also produce the film that the UK banknotes will be made of, meaning the security level of the technology is higher as it has been made to specifically identify the film which Innovia also manufactures.
If the note is real, the light turns green and if it's potentially suspicious, made of a different substance or produced by a different company, the reader will turn red.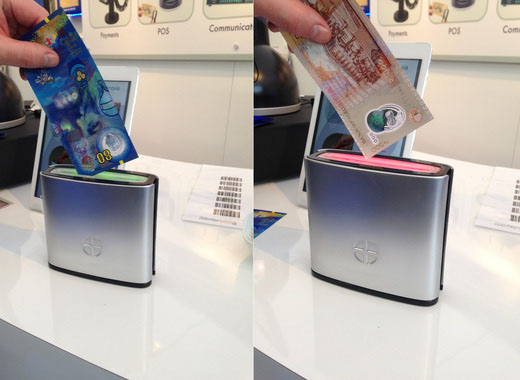 The scanners detect whether or not the note is real because of the type of light refraction caused by the materials the notes are made from.
By ensuring they have this equipment in store, retailers can protect themselves from the fines that have to be paid for accepting counterfeit notes and more easily adapt to the new currency.
Larger behind-the-counter scanners will be available for approximately £250, with smaller hand-held scanners available for under £100.