Hear the Killers the way the Killers hear the Killers
With the release of Ultimate Ears 700 earphones, Logitech is cashing in on its investment in the company that makes noise excluding earphones for rock stars like the Killers, Green Day and Fall Out Boy. Ultimate Ears, acquired by Logitech last year, claims that it produces customised on-stage monitoring earphones for 75% of the current crop of rock performers so they can hear the music above the wall of noise created by their speaker stacks and the echoes in the auditorium.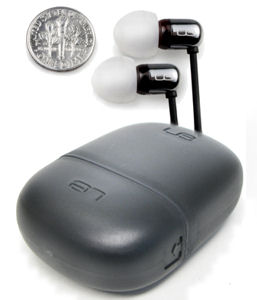 The earphones offer 26dB of noise isolation and may lack the individually customised ear cushions that the stars enjoy but do come with plenty of options to make a better fit for your ears. Supplied as standard are two Comply foam ear cushions and a set of three silicone ones in small, medium and large sizes so your ears can be filled with sound whatever size they are.
Also supplied is a neat carry case to stop your cables tangling up in your bag or your pocket when the phones are not in use. There is also airline attenuator protection for unstable sound sources – such as the imbalance between the movie you're watching on a plane and the cabin staff announcements that boom through to warn of turbulence.
The advantage of the external noise reduction is that the MP3 player can be used at lower volume levels, reducing distortion, increasing battery life and making it less likely that you'll annoy those around you. Despite the high sound quality, the UE 700s are tiny. They are shown in comparison to a US dime which is about the size of a European two cent piece or a UK 5p coin.
These are the aristocrats of personal stereo earphones and the price reflects this. It's one for the audiophiles because a tag of £149.99 may not be music to many people's ears.