Hands-on Preview of Canon EOS-1D X DSLR
The Canon EOS-1D X DSLR may not strictly be a business piece of kit, but as a pro camera it certainly means business.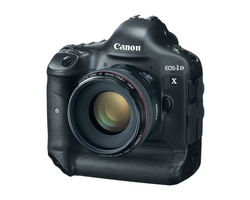 The 18.1 megapixel industrially-specced professional camera was announced by Canon late in October and a gaggle of eager journalists had an opportunity to get hands-on with a pre-production model at the Canon Pro Solutions event in London last week.
The fact that the Canon EOS-1D X includes its own gigabit Ethernet port suggests that this truly is enterprise level equipment.
Other heavy-duty specs include not one, not two, but three of Canon's advanced digital image processors – two of the brand new DIGIC 5+ chips for churning through the images themselves plus a DIGIC 4 dedicated to metering and autofocus – all of which are housed inside a weather- and dust-proof magnesium alloy casing.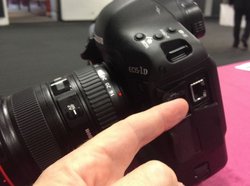 In the few minutes I had with the 1D X I was particularly blown away by its super fast burst mode shooting (up to 14 frames per second when shooting to JPG), with its intuitive interface and ease of use, and with the astonishing depth of field shots (admittedly in a press room rather short of interesting subjects) capable with its full frame sensor coupled with an f/1.2 50mm lens. I found it weighty but not unwieldy – although in practice much of its portability will depend upon which lens you shoot with.
Movie Mode
Whilst the inclusion of a wired connectivity option into a portable camera is an interesting move by Canon, many film-makers tempted into working with DSLR cameras may have preferred to see an XLR input for pro-grade sound instead. That said, in spite of some souped-up movie mode specs the 1D X really isn't a camera aimed at movie-makers, its size, price and feature-set heavily leaning it towards the stills shooter. Even though the Canon EOS 5D Mk II is the current darling of DoPs and has been used to acclaim on feature films and major drama series such as Iron Man and House, now at 3 years old its successor is highly-anticipated so perhaps the EOS-1D X hints at some of the movie goodness we can expect very soon from the 5D Mk II's heir.
How soon? Well, Canon has sent invitations for an event later this week in which it promises to include an 'historic global announcement'. What could this be? That the event is in Hollywood does suggest the launch of a new film-maker friendly camera, although rumours suggest what will be revealed instead of a 5D Mk II successor will be a dedicated Super 35mm 4K camera to rival the likes of established movie machines by the likes of RED and Arri.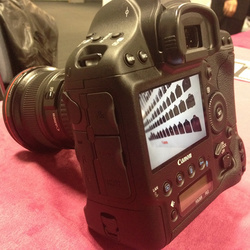 Nevertheless, the Canon EOS-1D X is a sublime piece of engineering that will undoubtedly appeal to all pros, from paparazzi to sports photographers, who simply need to grab the best shots possible with minimal fuss and no mistakes.
The Canon EOS-1D X is due out in March 2012 with an anticipated price tag of $6,800 (in the region of £4,300).