HANDS ON: A closer look at the BlackBerry Q5
Inspect-a-Gadget quizzes Computer Weekly's networking editor, Jennifer Scott, about her thoughts on the BlackBerry Q5. A Z10 fangirl BlackBerry convert, she has spent the past five months cradling her stylish Z10, loving its functionality while equally being wooed by its beauty.

Download this free guide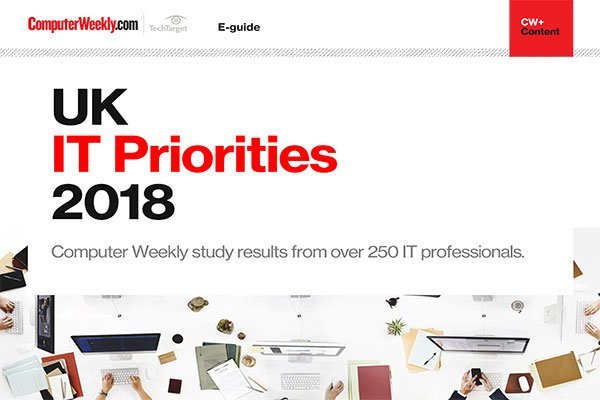 UK IT Priorities 2018 survey results
Download this e-guide to discover the results of our 2018 UK IT Priorities survey, where IT leaders shared with us what they are going to be investing in over the coming 12 months.
By submitting your personal information, you agree that TechTarget and its partners may contact you regarding relevant content, products and special offers.
You also agree that your personal information may be transferred and processed in the United States, and that you have read and agree to the Terms of Use and the Privacy Policy.
So when a Q5 landed on the gadget pile, we thought she'd be the best person to give it a test drive. Here are her thoughts…
First thoughts?
I was impressed by the size of the screen as often with your typical BlackBerry QWERTY device, it pales in significance to the size of the keyboard. I was also taken aback by how light the device felt considering its measurements. However, it doesn't look as sleek as others on the market. It is a little square in my eyes and incredibly plain, making it fade into the background rather than standout from the crowd.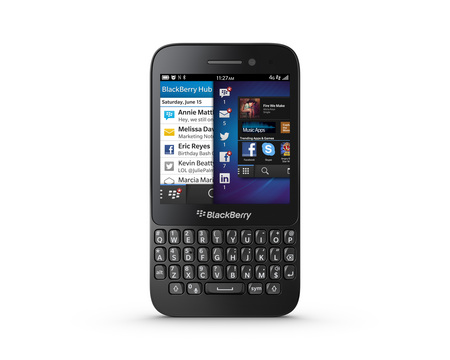 How did it feel in your hand?
The device was smooth but almost too smooth. Although the plastic backing felt sturdier than others on the market, like Samsung, it still made your hand feel clammy if using it for extended times. However, the size was perfect. You are able to use the device with one hand if you are just taking advantage of the screen but don't feel cramped if you want to get both your mitts on it and type away.
Three key differences between the Z10 and the Q5?
1) The keyboard, having physical buttons rather than the newly designed touchscreen. A matter of preference of course, but I prefer the latter.
2) The quality. Obviously this is reflected in the price, but it only takes one look at the much sleeker and stylish Z10 to see it is the high-end and the square, slightly dowdy Q5 to see the lower.
3) Bigger and bolder icons. Some people will prefer less apps on each screen and the icons being larger, but I prefer the smaller, more delicate items on the Z10, reminding me off the difference between a size 10 Arial font and a size 14 Comic Sans.
What was it like using a keyboard again?
Keyboards have never been a big selling point for me and it always takes me quite a while to get used to, but once I was at full speed, it felt like the same old BlackBerry experience. That doesn't necessarily have to be a bad thing, for many BlackBerry fans it is what they crave, I am just glad they get the addition of the screen with BB10 to show them the future is brighter.
How did it feel compared to the BlackBerry Bold or Curve?
There are definite nods to the Curve with this device. A similar feel, an ease of use and a cheaper design, although somehow still iconically BlackBerry – something the keyboard plays a huge part in. But the Bold was again a much more stylish device. This one is far more fisher price toy than executive toy.
Does the Q5 feel like a mid-range handset? Why?
It does but that is because of the OS. I have not been backward in coming forward about my adoration of the BlackBerry 10 operating system and what impresses me even more is how well it works of a smaller, lower resolution screen and a cheaper device taken up with a keyboard. Because all of the features you expect on the higher end devices are available here, you feel like you have got quite a bargain.
What about apps?
As with all of the devices based on the BlackBerry 10 OS, the app store is where it falls down. I can rant and rave for days about how intuitive and beautiful the UI is, but with billions of apps setting the industry alight, it is crazy how few are available for BB10. Of course, they are working on this and new launches are coming all the time – Skype, for example, has finally been launched. However, I could understand why people might want to wait until the next generation before investing into the software.
Will businesses want to use it?
There are a number of business features on the BlackBerry 10 operating system to keep the traditional enterprise user happy. From the inbuilt security of BlackBerry Balance, separating personal life from corporate life, or the back-end BlackBerry Enterprise Server 10 for the IT department to keep things safe, it's are all here. The price of this lower end device will be attractive to the bean counters too to ensure budgets are kept on a leash. But I do think employees might stray to their Android or iOS devices due to the lack of apps and the slight lack of style of the Q5, unless they are already BlackBerry keyboard enthusiasts.
You can get hold of a BlackBerry Q5 on a 24 month EE contract for £30 per month which gives you 1GB of 4G data, 1,000 minutes and 1,000 texts.