Fujitsu ScanSnap iX500 - your new friend in the workplace
The iX500 is Fujitsu's new offering for a desktop scanner, with hardware updates, including the option of wireless scanning to iOS and Android devices.
Where the company's very portable ScanSnap S1100 is an extremely thin and portable device, you would have to manually scan one-by-one, single sided, with a maximum speed of eight sheets per minute, the desktop iX500 scans both sides of a document at 25 pages per minute.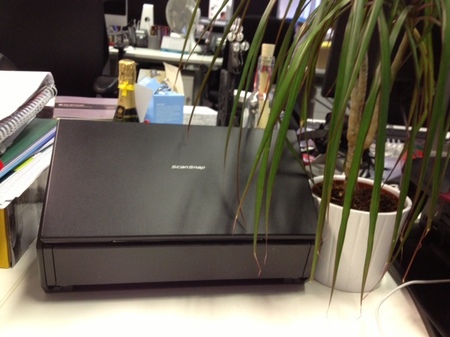 The scanner automatically scans both sides of a document, recognises a blank page and deletes it. It also recognises the orientation, and if the page has been skewed during the feeding process, correcting it as you go along.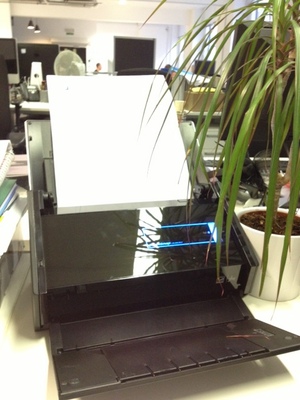 The accompanying software offers a Quick Menu when you scan your documents, with options such as scan to folder, iPhoto or Photo Gallery, print, email or cloud applications such as Evernote and Dropbox. You can organise the various options into 'favourite' to make the Quick Menu even easier to navigate.
What I found particularly clever about the software was the option to import any internal business applications you may need to use. If your business application recognises PDFs, you will be able to import your scanned item straight into it.
Additionally, you can use the settings to make the device as independent as possible. For instance, when using Gmail, if you select to attach a document and then open the software and scan an item, it will attach automatically and can also be selected to delete from your computer locally, avoiding a build-up of unnecessary files.
Wireless
The iX500 is fitted with a GI chip to enable wireless scanning. Download the software through an app from the App Store or Google Play, connect the scanner and away you go. You can even remotely press the scan button 'on' from your tablet and a few seconds later the item appears on your screen with the option to view in various applications such as DropBox, iBooks or email. It is expected that future scanners from Fujitsu will also come with wireless capabilities.
Business card heaven
While I was using the scanner and becoming more and more smitten, it was when I realised I could pop up to 20 business cards in the feeder and have them scanned in seconds, which is what the video below demonstrates.
The Fujitsu software, Card Minder, recognises the business cards and extracts the scanned data into relevant fields, this data is then editable and exportable – like creating and alphabetising your own virtual rollerdex. For an organised soul, this is a dream!
However, when I tested it out on my array of different business cards I have stacked on my desk, it wasn't as easy as scanning a stack of identical cards. It was still astonished at how quickly they scanned through and how the software (most of the time) managed to recognise the different types of information and pop them into different fields. However, if a business card was double sided or more "creative" than the traditional white card with lines of text, about 2 out of 10 times is wouldn't recognise my cards. This was slightly frustrating, but it was still easy enough to edit the fields manually if you were determined to use this system. However, I do blame working in media and the array of whacky business cards for this problem.
A desktop's new best friend
I've previously reviewed the Fujitsu ScanSnap S1300i scanner and I was really pleased with the speed and features, however due to not really being portable, I didn't really see the point, when there are ultra portable scanners, like the S1100, which you can pop into your laptop bag without a thought.
The iX500 should be a staple piece of equipment for the office desk, perfect for the individual who does the most scanning, such as a secretary, and due to the wireless features, anybody in the office with a tablet can also easily access the joys of ScanSnap.
The iX500 was available from January 7 for a RRP of £395.00 ex VAT.