Free iPhone - well, SIM free anyway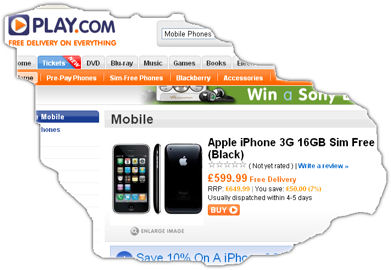 Play.com has been on a schmooze cruise to la continent to find a supplier of unlocked Apple iPhones. The result is a case or two of iPhone non-Réserve Spéciale.
The phones are not tied to any telecom company – I repeat, they are supplied unlocked and legal – so just slip in a SIM and off you go. Well, after you've paid £599.99 for the 16GB version or £549.99 for the 8GB.
The offer is the result of a bit of entente cordiale between Play.com and a continental supplier. The unnamed company has access to network-free iPhones because of EU legislation. In France, in particular, there is a law that allows network-locked phones only if there is also a SIM free version available. Apple has had to comply with this to allow it to enter the market and Play.com is using the loophole to import iPhones into the UK.
The iPhones carry a full warranty and can be registered with Apple to access App Store' and its 30,000 applications.