Do flexible plastic e-paper displays have a place in the market?
I wrote late last year about Nokia and Samsung developing flexible displays and it now appears that flexible screens are becoming widely accepted as the next step in the evolution of mobile devices/computing.
Question is, do the flexible plastic e-paper displays, like the one LG unveiled today, have a place in the market?
Short answer: I think it will all boil down to the pricing of devices that include these new displays.
Long answer: Kindles and other e-books are successful because they are useful bits of kit that excel in one area (replacing books) and, because it's only one area, the pricing is reasonable and affordable.
Tablets can do a number of jobs, including the one e-paper displays can, but with the added bonus of colour and in a better resolution.
However, if these displays can be utilised in devices that can offer a similar battery life to that of the current Kindle then I think they will have a fan base.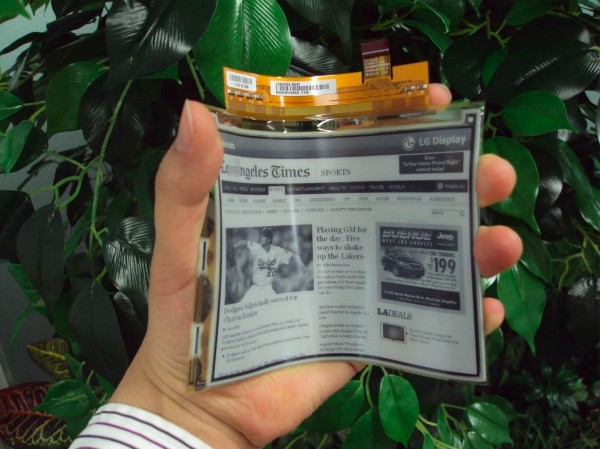 Formalities over, I am a fan of these fexible displays, they seem to go back to the past to offer a new future….. That made more sense in my head.
What I mean is that they could well be the future of the faltering newspaper industry, being that they are flexible like the pages of a newspaper. Paper boys should be scared, they could be in for a cold winter.
I think people of the older generations that have reluctantly started getting to grips with smartphones, tablets and e-books will feel more comfortable with this but if they are to be widely successful the younger generation will have to get on board too.
Touch sensitive, HD, colour flexible screens will undoubtedly take off in the next generation of hand-held devices but I am eager to see how these plastic e-paper displays are received. Once they have been approved by original design manufacturer, they could hit the European market as early as the start of May.