Dell's Latitude 10 tablet has serious offerings for businesses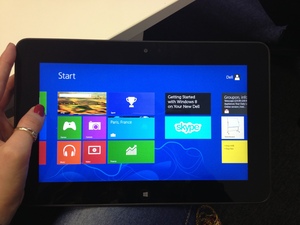 A tablet for the business environment is the holy grail for hardware manufacturers at the moment. Trying to provide a sturdy piece of hardware, with performance specs which can include security features to satisfy IT departments, while still be sexy enough to throw around the boardroom, at a price point that can reflect kitting out an entire workforce? That's a tall order that I can't list outloud in one breath…. and therefore usually something has to give.
A third-party study conducted by Principled Technologies found that the Latitude 10 tablets are up to 17 times faster and 94%less expensive to deploy than iPads in large scale enterprise implementations. It seems that Dell is taking Bring-Your-Own-Device (BYOD) seriously, but is it at the expense of key specs?
Overall I feel that the Latitude 10 almost passes the tests. Light enough to carry around at a mere 725g; the 10.1-inch screen gleams at me through its Gorilla Glass protection, while its capacitive 10 finger touch is nice and sensitive. The device is held within a robust rubber frame. Usually, plastic-like casings don't do it for me, but this remained smooth and sultry, proving that durability can sometimes come along without sacrificing on style. The tablet is sleek and lightweight, meaning I was more than happy to be using it on a day-to-day basis.
Found it much easier to operate while using a sturdy stylus than my finger. Then I remembered that the device came with its own pen and the game changed. The pen has very smooth doodling capabilities, however you still have to revert back to your finger when scrolling through pages as the pen is too specific. I'm still amazed by devices where you can rest your whole hand on the screen and write, as if you were naturally writing on a piece of paper, and this doesn't fail to impress me.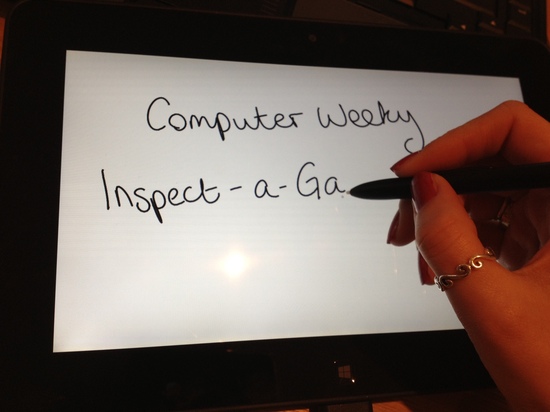 The device runs Windows Pro and I found it very responsive. The joy of Windows 8 is the tablet experience, which is where it shines, making scrolling through news articles and apps so seamless and attractive.
The device houses an Intel Atom (SoC) chip, while including 2GB of internal memory and a storage option of up to 128GB. When it comes to a business computer, it wouldn't quite hit the mark for many businesses thanks to these specs. And it doesn't seem to be pushing the boundaries of performance on Windows, but will run office productivity tools.
Docking system
At the end of the day, you are working with a screen of10.1-inches. Any bigger and you'd be complaining it wouldn't be portable enough, but 10.1-inches is painfully small to work with at a desk office environment. This is where the docking system comes into its own. The docking system allows the device to convert into a PC for the office; being able to attach keyboards, and a monitor if you so wish via the dock's own connectivity.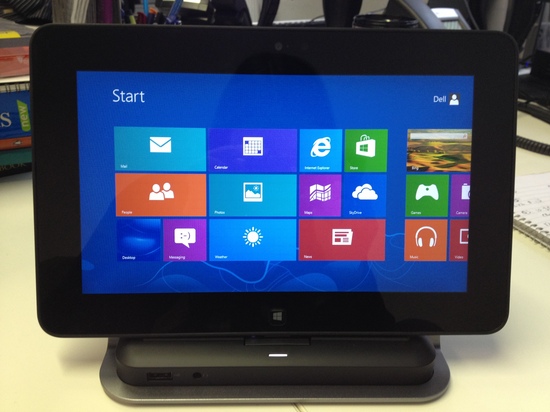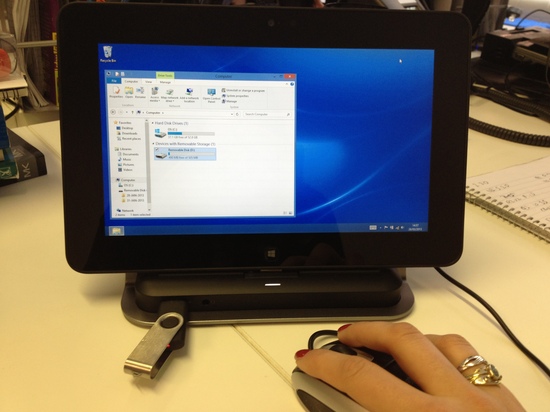 When you pop the tablet onto the dock, it has to be pushed down very hard to make its connection, this isn't a problem, but just ruins the illusion of a seamless experience a little bit for me, however it does make a chirpy noise and a little light illuminates to tell you when it is connected.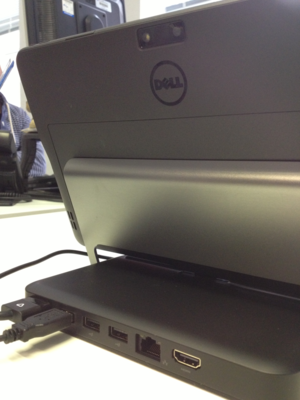 If you do wish to use the device without a monitor, using the touch element becomes very tiresome for your elbows and back as you lean across your desk in an unnatural fashion to touch the screen. However, the dock does provide four USB ports so you can easily attach both a keyboard and mouse in order to continuing working as normal in your office environment.
Added extras
The tablet has the option to replace the battery, which itself is so slim and lightweight, I wouldn't begrudge carrying around a spare with me on a long business trip. Dell gives you the option to choose from 2-cell (30 WHr) or 4-cell (60 WHr) Lithium Ion swappable batteries.
The device also has great connectivity. Out of ports and slots, it has a full USB 2.0, and SD card reader. As well as a headphone jack, micro-USB charging port and a mini-HDMI port. It has an option for a micro SIM for mobile broadband as well as WiFi and Bluetooth.
Enhanced Security
The device comes with Intel Platform Trust Technology, an optional fingerprint reader or smart card reader, as well a optional Dell Data Protection Encryption (DDPE).
During a meeting last month about the Dells new encryption solution (DDPE), Neil Hand, Dell global vice president, personal computing product group told me that due to the ubiquitous nature of data, security problems are rife in the data protection space. A lost laptop can cost tens of thousands of dollars, rather than just a couple of hundred to replace the device, due to the data security laws that are in place.
"And cloud makes the issue even more problematic," he said. "It's only going to get worse, not better. We need to encrypt and lock down the data."
Dell launch of a key management solution: Dell Data Protection Encryption (DDPE), works in the cloud. Prices will range dependent on a fleet and licensing models.
Pricing and availability
The Latitude 10 essentials 64GB configuration is available starting at £430. The Latitude 10 essentials 32GB configuration is available for £391- this is where the tablet hits the sweet spot, why would you buy Windows RT or Android tablets, when you can run Windows Pro at a very reasonable price? Additionally, at a price point this low, you don't feel short changed when you still have to use your desktop computer when you are sat at your desk.
Fully fledge high performance computer replacement it is not, top of the range tablet device which you can use part-time as a desktop it is.